Who needs solar lighting for outdoor walkways when you can use solar power to illuminate the path itself? That appears to be the thinking behind the Solar Lighted Walkway Tiles from Hammacher Schlemmer.
According to Green Packs, the Solar Walkway Tiles come embedded with a PV panel about the size of a matchbook that absorbs sunlight during the day and powers up four inlaid LEDs by night. Made from planks of PVC and reportedly completely waterproof, these tiles can be spaced out or locked together on any side to form a contiguous surface; the solar panels are protected against damage from the elements (and feet) by tempered glass.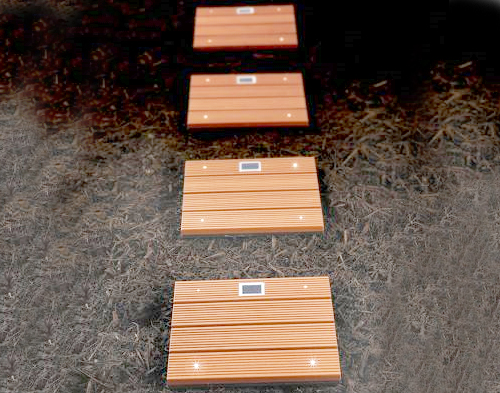 These solar tiles seem like a great combination walkway/outdoor lighting solution as well as a product with potential for other outdoor applications. If you haven't dug your tiles in too deep, for example, you might just want to fit them together for an impromptu backyard stage or patio that lights up after dark.
Like what you are reading? Did you know EarthTechling also does lengthy and original features on green technology? Check it out!