There are plenty of different solar garden lights on the market, but this surely must qualify as one of the most unique. The Blossoming Garden Solar Light actually looks like a flower, and acts like one, too–opening up during the day to catch some rays, then closing up at dusk.
Coolest Gadgets reports that these accent lights are built around long-lasting LED bulbs and powered by an attached solar panel. When that panel senses sunshine, the translucent  "petals" open into a lovely little flower; when the sun goes down, those petals fold up and the light comes on, creating an intriguing little glowing bud amongst your garden beds. It doesn't look like these lights are high-powered enough to illuminate sidewalks, but as far as fairy-lights go, they're perfect.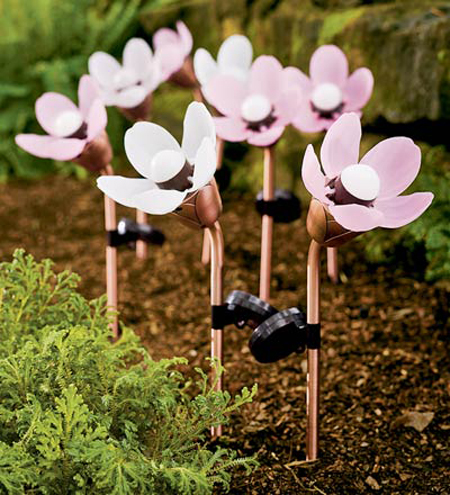 While the $34.95 price tag may seem a bit steep for an accent light, it's worth considering that this garden accessory is at least as attractive by day as it is as night, perhaps taking the place of these other little doodads you may feel inclined to plant amongst your petunias. Curious to see the Blossoming Light in action? Check out the video on the product page at Plow Hearth.
Are you on Facebook? Consider becoming a fan of EarthTechling to interact with other green tech lovers and read the latest in green tech news and features!