How To Be Prepared When A Natural Disaster Strikes
Taking just a few simple steps each year can make a huge difference in preparing your home for a natural disaster. Keeping your yard neat and replacing combustible materials like mulch around your house with rock or gravel are simple, low-cost steps homeowners should take to prevent wildfires from destroying your home. Larger home improvements like air filtration systems, fire-retardant building materials, and even solar with batteries can help keep you comfortable and safe as emergencies like wildfires and power outages become more common.
There are also simple, concrete steps you can take right now to prepare for a natural disaster. Taking time today to put put together a comprehensive emergency kit allows you to quickly evacuate or keeps you safe and connected if the grid goes down and you're stuck in your house. A basic emergency kit includes food and water, but a more built-out kit can keep your phones charged up so you can communicate with family and emergency services.
Get Your Emergency Kit
You can buy premade emergency kits, like the Emergency Zone 72-Hour Survival Kit, which includes food and water, emergency tools and first aid, hygiene equipment, and even playing cards. You can also put together your own kit pretty easily. Here are the basics you will need:
Prepare for Long-term Power Outages with Solar Plus Battery Storage
California suffers from the highest number of power outages in the country. In 2018, electrical tech company Eaton analyzed blackouts over the entire US and found that, of the 3526 events across the US in 2017, California accounted for over 400 of them – the highest percentage of any state for the 9th year in a row.
As wildfires continue growing in frequency and California utilities 'turn off' the grid both during risky events that could spark wildfires and as it replaces aging infrastructure, California residents can expect more power outages. In fact, PG&E – the state's largest utility – said that its customers should expect outages for the next ten years as it updates its aging infrastructure.
California utilities are already testing ways to make these outages less intrusive, including new sensors on power lines that allow the utility to respond more quickly to damaged equipment.
However, as a homeowner you can also take steps to avoid power outages. By adding your own electricity generation and battery back-up to your home, you can keep your lights and appliances on, even when the grid is turned off.
When you add solar panels on your roof, all the electricity flows through an inverter (which converts the electricity from DC to the AC used in our homes) before moving to the electrical box on the side of your house. When the grid goes down, conventional solar inverters actually turn off as a safety precaution for those working on the grid. However, newer inverters are actually able to safely continue running, even when the grid is down. This allows you to enjoy your electricity even when everyone else is sitting at home. With batteries attached, you're even able to use your solar electricity at night.
The best part about solar installations? They're a financial investment. As utility costs continue increasing and outages likely become more commonplace, you'll actually see a return on your money and live more comfortably.
Immediate Preparation Steps
First, let's take a look at a few easy, no- and low-cost steps to protect your home and yourself during a natural disaster. Performing these simple steps ahead of time can – quite literally – save your home as well as you and your family's lives. Many of the preparations around your house, like clearing away flammable debris in your yard, are no-cost solutions and can be completed in an afternoon.
Protect Your Home
Preparing your home for wildfires and earthquakes generally entails ensuring your home's structural integrity is up to snuff and that you've cleared away all flammable objects around the home.
Clear away debris and flammable objects in your yard. The NFPA divides your yard into three zones: the Immediate Zone (0 to 5 feet around your house), Intermediate Zone (5 to 30 feet), and Extended Zone (30 to 100 feet). In the Intermediate and Extended Zones, take a weekend each year to clear away all combustible materials from your yard, including dead grass and leaves, and dead or resinous bushes or trees, as well as wooden items. In essence, you're removing any fuel a wildfire could use to get to your home.
Creating small 'fuel breaks' in your yard, which are sections of non-combustible materials like gravel or stone, can also help keep fire at bay. In California, by law homeowners must clear all the zones around their houses (Immediate, Intermediate, and Extended), space trees 10 feet apart, mow the lawn regularly, introduce more native vegetation and other steps to prevent fire.
Trim bushes and clean the area directly around your house. In the Immediate Zone directly around your home, remove all flammable materials. Replace mulch with non-combustible alternatives like rock or gravel. Trim branches and bushes that overhang your roof. And don't forget to clean your gutters!
Repair and replace damaged roofing, so embers can't get inside. California's winds can blow embers far away from the wildfire, and it's these embers that oftentimes lead to home fires. Embers can fall onto your roof, and if it lands on damaged sections, the embers can smolder, causing a fire. So inspect your shingles and replace any that are loose or missing.
Add screens to roof and attic vents to prevent air-borne embers from getting inside. Make sure the screen holes are at least one-quarter inch. Special fire-proof screens with a fine mesh are now on the market, but their finer mesh needs more maintenance than the typical large sizes as they clog easily.
Assess your home's structural integrity for weaknesses during earthquakes. Depending on the age and design of your home, it might suffer from structural weaknesses, all unbeknownst to you. According to FEMA, common issues include homes that are poorly anchored to the foundation, weak walls in the crawl space, and unbraced or unreinforced foundations. If you're knowledgeable on what to look for, walk through the home yourself. However, an assessment from a structural engineer will provide the most detailed, useful information if any problems exist and lay out options to fix them.
Use flexible connectors on all gas appliances. During earthquakes, Flexible connectors allow appliances to move freely without breaking any connections. Without flexible connections, gas lines can rupture, causing a potentially explosive situation. If you don't already have flexible gas connectors for you heater, stove, or any other gas appliance, contact a plumber have them added.
Protect Yourself
Add an air quality monitor and air filtration system to your life. Wildfires can add huge amounts of unhealthy particulates into the air you breathe – both outside and inside the home. Small particulates – known as PM2.5 – are the most dangerous, as they're so small you can inhale them into your lungs, causing asthma and other respiratory issues.
An air quality monitor is a valuable addition to your home. It assesses the amount of particulate contaminants in your air, alerting you if there are dangerous amounts present.
During wildfire events (and even in your normal life), portable air purifiers fitted with a HEPA filter or whole-home air filtration systems can efficiently remove these PM2.5 contaminants from your air, keeping you much healthier.
Move all furniture that could fall during earthquakes. Any unsecured object can move, break, or fall over during earthquakes, so take time and move all potentially dangerous furniture away from your bed or from above seating areas. Pay particular attention to large items like bookcases and refrigerators. If you can't move the item (like your water heater for example), secure them to the wall with straps. It might seem frivolous or unimportant right now, but it could prevent serious situations down the road.
Prepare an Emergency Kit
Emergency kits are similar no matter what natural disaster might befall. You can use these kits during an evacuation or if you're stuck inside your home without electricity. Kits should cover the basic necessities like food and water, but batteries and a solar charger can come in handy when you're trying to communicate with the fire department, emergency responders, or family. Here's a few key items to include in your emergency kit:
Portable Battery Pack: Electricity can easily go out during disasters, so having a portable battery to charge up your phone can be crucial. Backup batteries come in all sizes, from small units designed to provide just a single smartphone charge to larger systems that can charge your whole family's corral of smartphones and tablets.
Portable Solar Charger: If the grid goes down during a wildfire, earthquake, or other disaster, a portable solar charger can keep your phone, radio, backup batteries, and even tablets topped up. Like portable battery packs, portable solar chargers come in a variety of sizes. They can be small, compact items big enough to charge a single device or large enough to handle multiple devices at the same time.
Food and Water for 3 Days: Don't forget food and water. You can simply buy gallons of water at the supermarket or opt for something more purpose-built, like emergency water pouches. You can also pick up non-perishable foods at your local grocery store or buy emergency food kits that contain enough for food multiple days and can last a decade or more without going bad.
Survival Kit: The state of California recommends building or purchasing an emergency survival kit, which includes food and water mentioned above, but also basic first aid supplies, tools like duck tape and fire extinguishers, and back-up bedding and clothes.
Other Necessities: You don't want to lose important items like social security cards, birth certificates, pictures, and prescription medications. Make sure they're easily accessible in case you need to quickly evacuate.
Long-term Preparations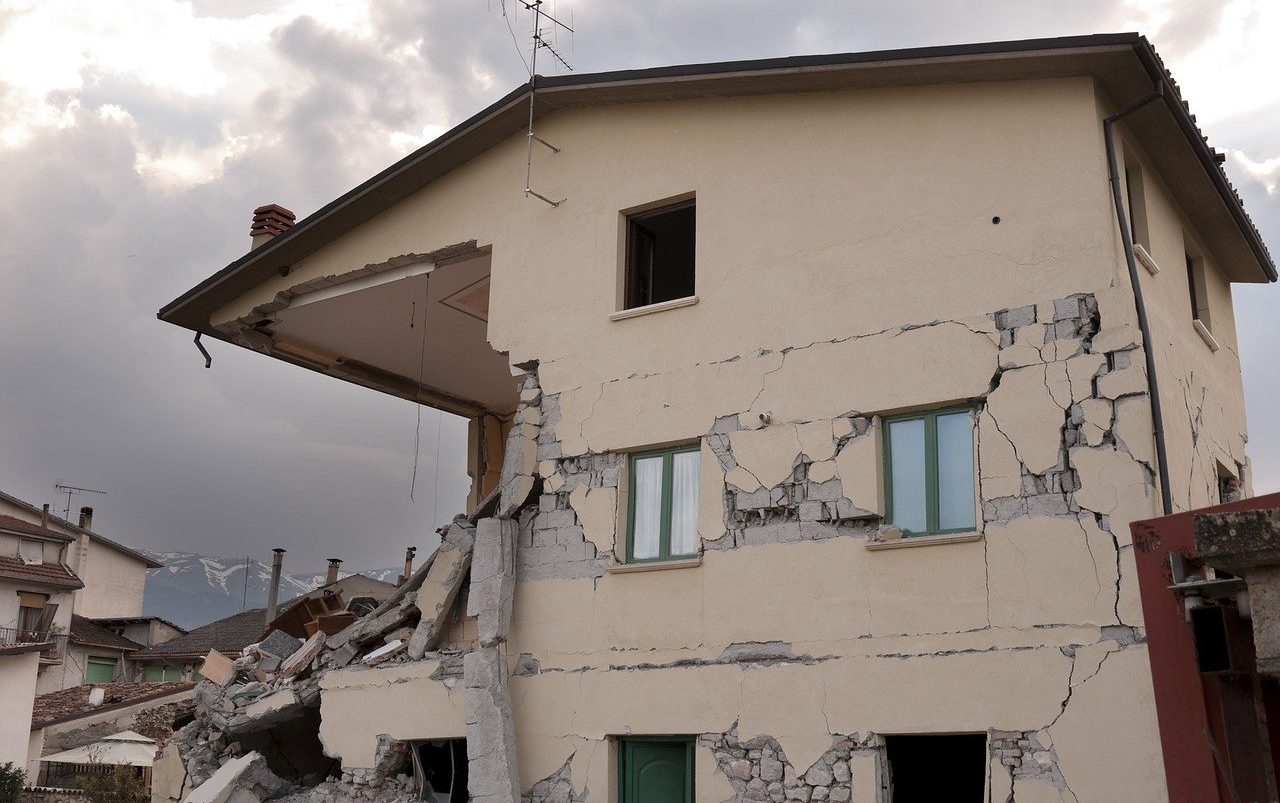 The steps above are easy measures designed to keep you and your home safe and healthy during an actual emergency. Now, let's look at bigger steps to take to prepare your home for the long-term. Overall, this focuses around creating a stronger, more resilient home that can better cope with wildfires, power outages, and earthquakes.
Fire-proof Your Home
If you want to get serious about \fireproofing your home, there are numerous steps beyond simply clearing away flammable brush and grass from your yard.
Add fire-retardant siding and roofing: If your home doesn't already have these components, consider adding fire-retardant siding and roofing to your home. Vinyl siding can melt, but fire-proof materials like fiber cement, stucco, stone, and brick can keep flames from engulfing your home and they last for decades. In fact, all of these materials are rated Class A for fireproof-ness, which is the highest rating.
On your roof, install non-combustible roofing materials like the ever-popular fiberglass-based asphalt shingle, metal tiles with a fireproof underlayment, clay tiles, or fancy slate. Installed correctly, all of these are rated Class A on the fireproof scale. And if you haven't added screens to your attic vents to prevent embers from entering, now is a good time to do that too!
Install a Whole-Home Air Filtration System: During wildfire events, dangerous small particulate contaminants (known as PM2.5) in the air can increase 1,900%. Air purifiers can remove these harmful particulates, which can lead to asthma and bronchitis, from your indoor air.
If you're tired of wheeling around multiple air purifiers from room to room, consider adding a whole-home air filtration system to your existing HVAC system. These large filters simply plug into your existing ducts and either provide an extra layer of filtration when your AC or heater is on, or work independently. If you live in a mild climate like the Bay Area, you'll probably want a filtration system with its own blower for those mild days when you don't need extra heat or cooling, but still want to ensure your air is as clean as possible.
Earthquake-proof Your Home
After you've assessed your home's structural integrity, it's time to make any improvements recommended by your structural engineer. Fixes can be minor improvements that cost a few hundred dollars to major foundation work that can cost thousands. Your engineer and potential contractors can help you find the safest, most cost-effective solutions for your home.
Climate Change Leading to More Wildfires
In California, where wildfires burn larger than in any other state, climate change and an ever-growing population are leading to bigger and bigger wildfires. The state of California also names an increasing temperatures – which dry out surface area, grasses, and trees – as a major culprit in the growing scourge of wildfires. In the state's 2019 Climate Change Assessment, researchers estimate that wildfires will continue to grow and the average burned area could grow 77% by 2100 if emissions continue at today's rate.
At the same time, while costs to generate electricity are expected to decrease over the next thirty years, infrastructure costs will actually increase as utilities replace aging and outdated poles, wires, and equipment. In California, where wildfires run rampant, utilities are making major upgrades to their equipment to make a more resilient grid that both can safely react to these disasters.
Mega-utility PG&E's aging infrastructure actually led to the disastrous Camp Fire in 2018, which led to 85 deaths. Now, the utility is proactively turning off power to avoid similar situations. In early October 2019, it cut off electricity to 800,000 customers in northern California, when meteorologists predicted dangerous high winds that could lead to damaged power lines. The utility has warned customers to expect more power outages over the next 10 years, as it continues to update its infrastructure to create a safer grid that can better handle natural disasters.
So, to wrap up: Over the next decades, Californians can expect more wildfires and more power outages. Not too fun, right?
However, even as these disasters increase, there are steps you can take with your own home to ensure both it and your family will be safe for years to come. Let's run through the steps to prepare your home for natural disasters, focusing on earthquakes and wildfires. First, we'll look at simple, no and n-cost items like cleaning up your yard and putting together an emergency kit. Then, we'll move on to larger, longer term solutions like replacing siding with non-combustible materials and adding solar and batteries to keep your home running during those power outages.
Be Ready If The Worst Occurs
Earthquakes and wildfires can be deadly and destructive. As climate change continues to alter our weather and populations continue to grow, experts expect wildfires to continue becoming more destructive. As these disasters increase and utilities prepare for these inevitabilities, expect failures in the power grid to grow in frequency as well.
Proactively taking steps to deal with these situations not only ensures the immediate safety of your home and family, but long-term solutions like structural upgrades, fire-retardant materials, air filtration systems, and solar and batteries will keep you healthy and safe for years to come.
Image Sources: Public Domain via Pixabay – 1,2 and FEMA