The 8 best solar battery chargers for your car, phone, boat, RV, and more!
Many of the devices that we depend on throughout the day run on batteries and it's never fun when those batteries run down. A solar battery charger is an easy, earth-friendly way to keep all your batteries juiced up and ready to go. The beauty of a solar battery charger is that they work anywhere where you can find sunshine, no outlets required! In most cases, all you have to do is put the solar panel in the sun and connect your battery. It's that easy.

A solar battery charger will include a solar panel, as well as wires to connect the solar panel to your battery or device. Some kits also include a few tech items like charge controllers and blocking diodes (more on those later).

Before we move on, here's something important that you should know. Most 12-volt solar chargers are designed to maintain your battery's charge when it's not in use. These small solar chargers aren't big enough to fully charge dead batteries, they trickle charge them instead. This ensures that the battery is always ready for your next adventure.

Solar chargers for smartphones and tablets, however, produce the 5-volts your iPhone needs to recharge after a complete discharge.

Needless to say, solar chargers for vehicles and smartphones are different and not typically interchangeable. We chose a variety of chargers so that you can get a good idea of what's available.

We searched through hundreds of options and narrowed our list to eight products in eight different categories. All the solar chargers we've included are cost-competitive, durable, and backed up with great customer service.

Of course, some are more expensive than others, but if they are, we've laid out exactly why you'd want to spend that extra cash. After taking a look at these sweet products, we think you'll agree!
Top 8 Best Solar Battery Chargers in 2021
---
Solar Battery Charger Reviews
Read on to learn more about each of the best solar charger companies on our list to find the perfect one for your battery or devices.
Ready? Let's get to it!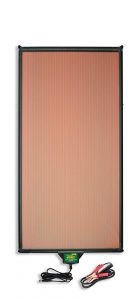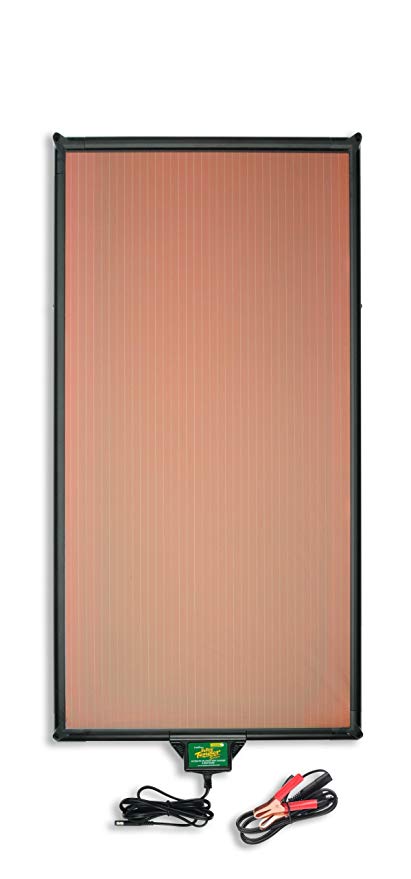 Best Solar Battery Charger for Cars
Quick Look: A physically large, waterproof solar charger that comes in three sizes, from 5W to 15W, built-in controller, and diode.
Check Price at Amazon
If you're looking for a well-built, leave-it-and-forget it solar battery maintainer for your car, Battery Tender's Solar Charger is the perfect solution. It is heavy-duty, waterproof, and comes with everything you need to keep your battery topped up with free, clean energy.

Battery Tender has been around for ages and you can find their products online and in stores like Walmart and auto parts stores. On Amazon, you can find their Solar Charger in 5W, 10W, and 15W. Each comes with alligator clips to easily attach to your battery.

It's waterproof, so you can leave it outside, but remember it's quite large – the 15W panel is over 3 feet long and a foot wide. However, it's got some great features that set it apart from almost every other solar battery maintainer out there.

First, Battery Tender's Solar Charger includes a built-in charge controller to protect your battery from inconsistent charging and over-charging.
Many solar chargers don't include a controller, so this is a nice addition. Some manufacturers and users argue that including a charge controller on solar panels this small is overkill, but they are a vital addition if you plan on using the charge controller consistently.
Second, Battery Tender also includes an integrated blocking diode in their solar chargers. Without a blocking diode, your battery can leach electricity when the solar panel isn't in use, leading to a dead battery. If you don't have a blocking diode in your solar charger, you have to disconnect your battery from your solar charger every night.
People use these solar chargers for all sorts of vehicles: boats, RVs, cars and trucks, and camper trailers. Some even permanently mount the solar charger to the front or top of their camper trailer.
Customers confirm the charger's great performance stats and noted that, even though the chargers are large, they are lightweight and easy to maneuver.
If you're looking to keep your car topped up, you can simply attach the alligator clips to your battery and place the solar panel on your dash and let the sunlight do its work.

Bottom Line: Battery Tender's Solar Charger is a bit more expensive than others on our list, but you get an integrated charge controller and blocking diode. Even though it's larger than others on our list, with these nice additions you don't have to worry about your car's battery. It's one of the safest, easiest chargers to use.
Learn More & Buy Now at Amazon
---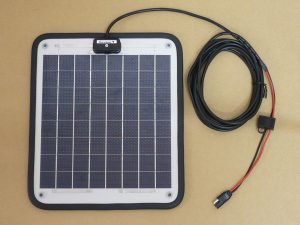 Best Solar Battery Charger for Boats
Quick Look: DuraVolt's sturdy solar chargers are specifically designed for heavy-duty marine use.
Check Price at Amazon
The DuraVolt 20W Marine Solar Battery Charger tops our list for the best solar battery charger for boats.
Solar panel manufacturer ITC Solar originally manufactured their DuraVolt solar panels to power high-tech buoys designed to monitor water quality in Tasman Bay in New Zealand. Realizing recreational boaters and other industries could benefit from these small, durable solar panels, they branded them as DuraVolt and now you can find them on Amazon.

These solar chargers are semi-flexible and covered in a plastic film and aluminum backing. The solar charger is wrapped in a heavy-duty rubber gasket with a mounting hole in each corner. Their 20W solar charger is quite small, only 14" x 16" and just 1/4" thick.

The solar chargers come pre-installed with an SAE output plug, as well as alligator clips, battery terminals, and a lighter adapter so you can charge your boat in whatever manner is easiest.

An important note: The charger doesn't come with a blocking diode or charge controller.

DuraVolt claims that a blocking diode is unnecessary, thanks to their solar panels' high-quality internal components. If you're not comfortable taking their word for it, they will send you one for free.

A handful of buyers have installed blocking diodes or kill switches themselves to avoid any potential issues.

DuraVolt also notes that their 12v chargers don't need a charge controller, as they use self-regulating panels with a lower operating voltage than other 12v solar panels. A handful of buyers still use a charge controller, but the manufacturer notes that it is not necessary thanks to this low voltage.

Many buyers permanently attach the charger to the deck or T-top and use it to keep the battery topped up when moored or when out on the boat during the day.

Reviewers continually praise the charger's simplicity and toughness. All you have to do is bolt it down, put on the right adapter, and connect it to your battery.

Bottom Line: The DuraVolt 20W Marine Solar Battery Charger is the perfect option for your boat or any other intense setting where ruggedness and dependability are key – and water is imminent.
Learn More & Buy Now at Amazon
---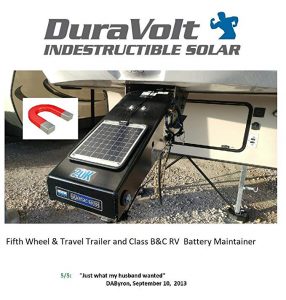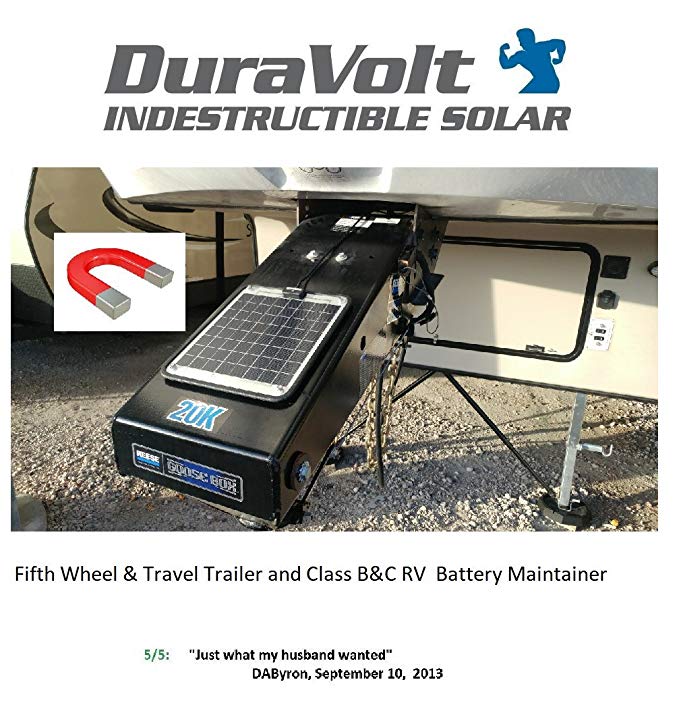 Best Solar Battery Charger for RVs
Quick Look: Thanks to the ultra-strong magnetic back, DuraVolt's Magnetic Battery Maintainer is about the easiest solar charger to install.
Check Price at Amazon
We looked at DuraVolt's Marine Solar Charger above, but their solar chargers are not just for boats. DuraVolt also manufactures a magnetic solar charger based around the same extremely rugged solar panel as their marine products.

Their Magnetic Battery Maintainer is specifically designed for fifth wheel and camper trailers. The 8.3W solar panel has an extremely powerful magnetic back that sticks to any surface, including your fifth wheel's hitch or even the hood of your vehicle.

DuraVolt uses neodymium magnets, the strongest magnet on the market, for these chargers. Many users note that they were initially skeptical of the magnet, but they found that the panel does not move an inch even after high speeds and bumpy roads. This makes DuraVolt's magnetic solar panel – quite literally – the easiest installation of all the chargers on our list!

Just like DuraVolt's marine charger above, this solar panel is covered in a semi-flexible plastic film and aluminum backing for maximum durability, while also making the solar panel incredibly light. It's 12" x 10", just a ¼" thick, and weighs 1.9 pounds. As the solar panel is semi-flexible, it can flex to the curve of your vehicle's hood or any other metal, 'gently curved' surface.

The charger includes a 10′ cord that ends with an SAE output as well as alligator clips and battery terminal adapters.

DuraVolt claims that their solar battery chargers do not need a blocking diode or charge controller, thanks to their unique design and quality components. Some buyers choose to add them after buying the kit, but most seem to install the kit exactly how it is and the charger still works great.

DuraVolt customers typically have two things to say about the company. First, their solar panels are incredibly durable. You'll certainly pay more for them, but you'll also know your RV's battery will always be ready to go. Second, DuraVolt's customer service is excellent. Wait time is short, there's no long phone prompt menu, and the employees are knowledgeable.

Bottom Line: DuraVolt's Magnetic Battery Maintainer might be more expensive than other similarly-sized battery chargers, but it's easy to install, extremely rugged, and backed up by excellent customer service.
Learn More & Buy Now at Amazon
---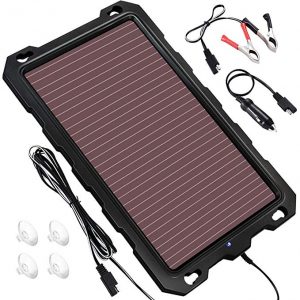 Best Solar Battery Charger for Motorcycles
Quick Look: A compact, low-cost solar charger with great customer reviews.
Check Price at Amazon
Keeping your motorcycle battery topped up in the off-season is easy with POWOXI's 3.3 watt solar charger. It is compact and 100% waterproof.

The charger uses amorphous silicon solar cells, which perform well in low-light conditions. At 3.3W, you should have more than enough power to keep your bike's battery charged up. The solar panel is encased within UV-resistant ABS plastic and includes mounting holes in each corner, along with suction cups to mount the panel.
The charger itself is 14" x 8.5" and just under an inch thick. At only 2.2lb, this compact solar panel is extremely portable and easy to set up. It includes a 10' cord ending in an SAE output, with alligator clips and a cigarette lighter adapter (if you want to charge a vehicle).

POWOXI also integrates a blocking diode into the charger, so you're able to leave the charger connected to the battery 24/7 without fear of damaging it (read more on blocking diodes at the end of this article).

The solar panel also includes a small blue LED light right on the front which flashes when it is charging your battery – a nice little touch that allows you quickly keep tabs on your battery's charging status.

This kit doesn't come with a charge controller, but most experts agree that any 12v solar kit under 5W doesn't need a controller, so you should be good to go without one.

Of course, this solar charger isn't just for motorcycles. Customers report using this little battery charger for jet skis, RVs, trucks, and cars. Many users report that it works great in low light, cold weather, and extreme heat – exactly what you want to hear for an all-weather, outdoor solar charger.

If you want to shave some costs, you've got a couple of options. First, POWOXI also manufactures a monocrystalline version of this same solar charger for a bit less. It won't produce as much electricity in low light conditions, but if you're just going to connect the charger and leave it for a full season, it'll work just fine and save you a few bucks.

If 3.3W is still too big for your needs, POWOXI also manufactures a smaller 1.8W version at about half the price, so take a look at that one for an even more budget-friendly option.

Bottom Line: POWOXI's solar battery charger is low-cost, compact, and easy to set up, perfect for winter when your motorcycle is in storage.
Learn More & Buy Now at Amazon
---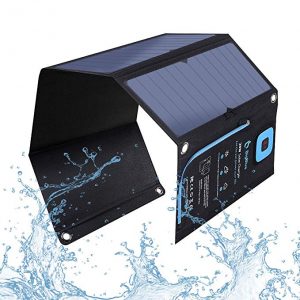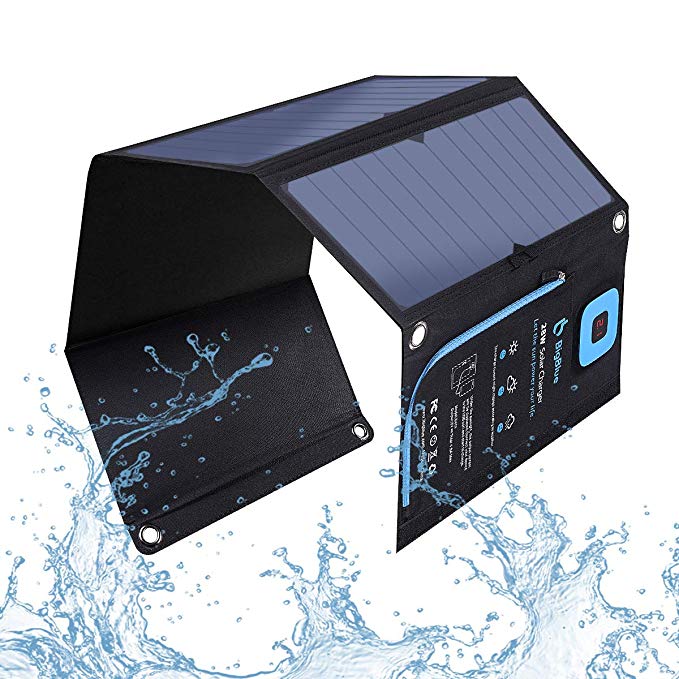 Best Solar Battery Charger for Phones
Quick Look: This compact, durable solar battery charger includes 2 USB ports for your smartphone and includes a built-in ammeter that tells you how much juice your solar panels are producing.
Check Price at Amazon
BigBlue's 5v, 28W solar charger packs a punch big enough to charge your smartphone, tablet, or any other 5v gadget. It uses Sunpower solar panels, some of the most efficient solar panels currently available! Needless to say, it's a quality item that you can depend on.

The charger comes with two USB ports, providing up to 2.4 amps per port, with a max of 4 amps overall. This charger detects your connected devices and charges each in the fastest method.

Some solar chargers have a hard time restarting after shade or rain block sunlight. With these products, users have to unplug their devices to jolt the device into working again. BigBlue has solved the issue by including a chip that automatically pauses charging when shaded, then restarts when sunlight is available again. Needless to say, this means you don't have to worry about your charger no matter the weather.

The device even includes a built-in ammeter, so you know how much electricity your solar panels are producing. This is the only charger on our list that has this very helpful feature!

The solar charger measures 11" x 16" x 1" when closed, and weighs just 21 ounces. It's smaller and lighter than a laptop, so it's easy to throw in a backpack when you're on a day hike or moving around the city all day. Once unfolded, you'll find four small solar panels wrapped in heavy-duty, waterproof canvas.

This is one of the more popular solar chargers for iPhones and other smartphones and for good reason. Users routinely say the charger is durable, fast-charging, and well-priced.

Some seemed disappointed that the charger doesn't provide a full 28W, but unless you're in absolutely perfect conditions, no solar panel is going to provide its nameplate wattage – that's just how it works.

Bottom Line: BigBlue's solar charger is the perfect option to charge your iPhone. It's extremely portable, low cost, and well-made.
Learn More & Buy Now at Amazon
---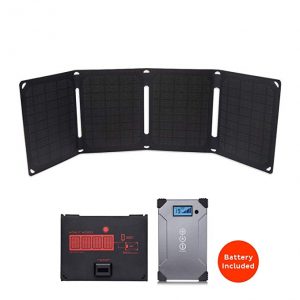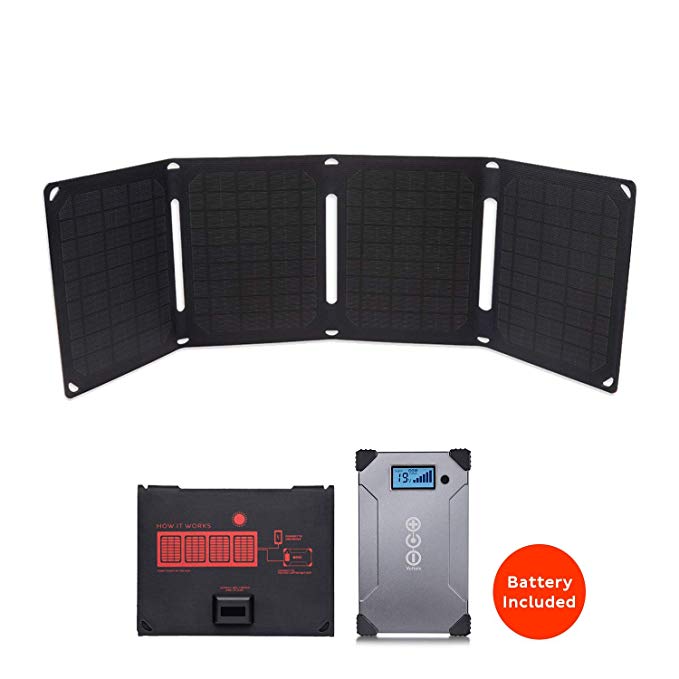 Best Solar Battery Charger for Laptops
Quick Look: A serious off-grid solar+battery kit that provides 5 to 24 volts and can charge laptops, phones, tablets, and other gadgets.
Check Price at Amazon
The most expensive item on this list, but also one of the most capable, Voltaic System's Arc 20 is specifically designed to charge laptops and includes not only a solar panel, but a battery pack as well. It's designed and built for those times when the utility grid is simply not an option.

Most of the solar battery chargers that are designed for smartphones typically provide only 5v of power because that's all the power you should need to charge your phone or tablet. The Arc 20 includes three different power output options:
1 USB 5v/2A output
1 USB-C 5v/3A output
1 high-voltage laptop port (12V/6A, 16v/5A, 19v/4.5A, and 24v/3.5A)
The battery pack has a capacity of 24,000mAh, enough for 1 laptop charge, 7 smartphone charges, or 3 tablet charges. The kit pretty much has everything you need to get all your devices running off solar, including:
DC output for laptops
10 connectors for different laptops, but check the list to make sure your laptop is one of them!
Car charger
AC wall adapter
With pass-through charging, you can also charge both the battery pack and your device from the solar panel at the same time. Voltaic Systems estimates 6 hours for a full laptop charge and 1 hour for smartphones.

The foldable 20W solar panel is wrapped in heavy-duty canvas and outputs 18v to charge the battery pack in just six hours – pretty quick considering the size of the battery pack.

The whole kit weighs just 3.25lb and is about the same size as a laptop, so you can add it to your backpack without too much trouble.
Customers absolutely love this kit. This kit doesn't have as many reviews as some, probably due to the higher cost, but customers certainly put this thing through the wringer, claiming it's for serious off-grid use and that it's up to the task.

Peace Corps trips in West Africa and extended trips in the backcountry are just a couple of the situations in which people have successfully used this charger.

Bottom Line: The Voltaic Solar Charger may be pricier than others on our list, but it is built to take any extended, harsh off-grid trip you can throw at it. Buy it and know you'll always have juice for your laptop, no matter what.
Learn More & Buy Now at Amazon
---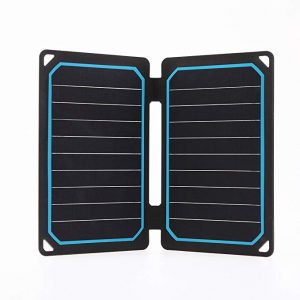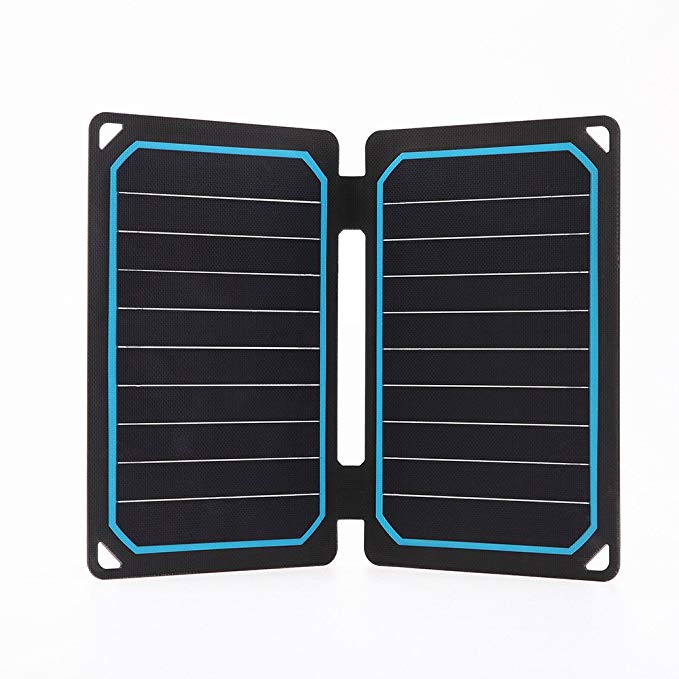 Best Solar Battery Charger for Backpacking
Quick Look: A thin, ultralight – and ultra simple – solar battery charger perfect for those extended backpacking trips.
Check Price at Amazon
When backpacking, you're carrying everything right on your back for days at a time. Shaving weight from your pack means you can travel faster, longer, and with less fear of tiring out or injury.

With smartphones increasingly used as camera, compass, GPS, map, guidebook, notebook, and emergency communicator, keeping your phone charged becomes increasingly important.

Of course, a solar charger is just one more thing to bring, but thankfully Renogy's E.FLEX solar charger is perfectly designed for backpacking trips. First off, it's only 0.08" thick and 9" x 6" when folded, so it's easy to throw it in your pack or clip to the outside of your backpack while hiking.

Second, it's incredibly lightweight at just 0.7lb – one of the lightest solar chargers, if not the lightest, on the market.

It comes with 4 suction cups and 2 small carabiners so you can attach it to the car windshield on the way to the trailhead or to your backpack or tent while in the backcountry.

At 10W, this solar charger doesn't produce too much energy, but it is certainly enough for your smartphone. Users note it can charge smartphones and laptops in a few hours, but it needs full sunlight to charge efficiently. If you're stuck in cloudy or rainy weather, 10W just isn't enough to charge.

However, don't let that turn you off to this awesome little solar charger. Renogy makes excellent solar-related products and their gear always enjoys top-notch reviews from customers. This small solar charger is no different. Most customers praise its charging abilities, simplicity, and lightweight design.

Renogy actually makes a few different models of the E.FLEX solar charger:
10W Plus: This is the product we review here. It features a polycrystalline silicon solar panel and it's thinner and lighter than the standard option below.
10W Mono: About half the price of the 10W Plus, the 10W Mono is about 2 ounces heavier and almost 2x as thick (which, at 0.13 inches is still incredibly thin). Other than that, it's got the same specs as the Plus (namely 5v/2A power output) at a much lower price.
5W Plus: All of the benefits of the 10W Plus, but half the wattage and only 5.6 ounces.
5W Mono: Same as the 10W Mono, but only 5 watts and 6.7 ounces.
Bottom Line: Renogy's E.FLEX line of ultra-thin solar chargers are the best option available for backpackers. They're cheap, reliable, and extremely lightweight.
Learn More & Buy Now at Amazon
---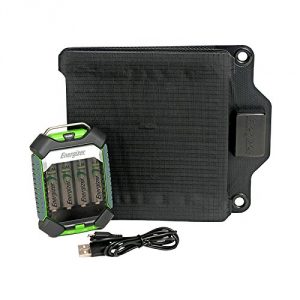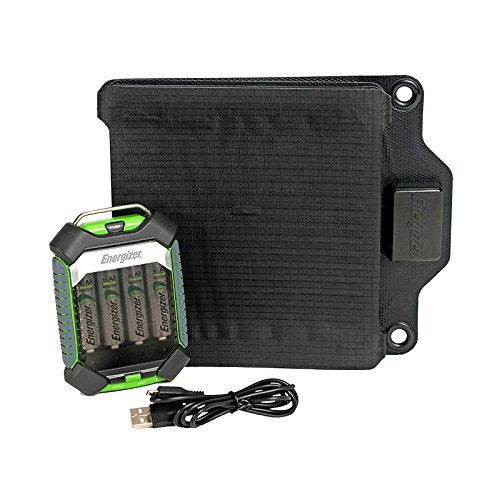 Best Solar Battery Charger for Rechargeable Batteries
Quick Look: Solar battery charger for AA, AAA, and 9v batteries. Includes 7 charging bays, 2W crystalline solar panel, and built-in LED indicator lights. Compact box design with retractable handle.
Check Price at Amazon
Keeping all of our devices well charged is important, but sometimes we need batteries for other things like flashlights, toys, and remotes controls. Wouldn't it be great if you could charge those batteries with solar as well? Well, great news, you can!

With this portable battery charger from Sunway Solar, you can charge your AA, AAA, and 9v batteries anywhere where you can find sunshine.

This small box-like charger is 6.9″ x 6.7″ and weighs only 1.15lbs, the perfect size for camping trips. The retractable handle makes it extra portable and easy to set up. The handle doubles as a stand so you can angle the solar panel for effective charging.

Sunway Solar also included convenient LED indicator lights so you always know your charger's charging status. It also comes with a built-in diode to prevent power leaching.

Bottom Line: The Sunway Solar battery charger is the perfect way to keep all your household battery-operated devices charged up. The compact design makes it easy to use at home or on the go!
Learn More & Buy Now at Amazon
---
Tips for Choosing the Right Solar Charger
Solar battery chargers are pretty simple pieces of equipment. That being said, there are a few things you need to know if you're in the market for a new solar charger. Here are a couple of tips to help you find the right solar charger for you.
Size
With solar chargers coming in sizes from 2W to 30W, finding the right size for your needs is key. You want it to be big enough to keep your battery topped up but not too big, since you don't want to waste money.

Most solar chargers for vehicle batteries come in around 5W to 15W. Larger vehicles typically require larger batteries, but it depends on your vehicle's phantom load (the power pulled from the battery even when the key isn't in the ignition) and driving frequency. If you're worried, 10W to 15W should be enough to keep any vehicle ready for use.

If you're looking to charge your smartphone or tablet, you'll probably want a larger solar panel. Most solar chargers for small devices sit around 15W to 30W, with the average coming in around 22W to 28W. Exactly how many watts you need depends on the specific devices you want to charge, as well as how many devices. We recommend 20 watts or more for general use.
Features
If you're looking for a solar charger for your 12v battery (like the one in your car, boat, or RV), you'll want your charger to include a blocking diode and the correct cords for your application. You'll want alligator clips for short-term use, battery terminal rings for long-term storage, cigarette adapters if you want to charge in the car.

On top of that, you'll want to ensure the panel can be installed in the manner you'd like. Does it have mounting holes in each corner? Can it be glued down or not? These questions are easily answered by reading the description and customer reviews or even asking the extremely-helpful Amazon community.

If you want to charge your 5v gadgets (smartphones and tablets), you'll need to ensure the charger has enough ports for your needs as well as the right type – USB, USB-C, etc.

Also, how about mounting? Does it have holes in each corner? Does it come with carabiners or suction cups to clip or stick to different surfaces? Take a second to read the description and reviews to see exactly what features come with the charger.
Cost
Solar battery chargers aren't particularly expensive, typically between $20 to $60, depending on the size of the solar panel and the included features. The higher-end models can come in at $100+ and tacking on a battery pack can add even more.

If you're looking at solar chargers for your vehicle or boat, you'll find that solar chargers are a bit more expensive than a typical battery charger that you plug into your wall. However, the benefits of a solar charger, mainly its portability and versatility, far outweigh the slight cost increase.
Charge Controllers and Diodes
If you're looking at solar chargers for a 12v battery, you'll probably see a lot of discussion around blocking diodes and charge controllers and whether this or that particular product needs one. But what the heck are they? And are they even important?
Blocking Diodes – You Need Em!
Most of the better solar chargers include a blocking diode integrated into the solar panel. The diode allows electricity to flow towards the battery, but blocks electricity from flowing in the opposite direction. Without a blocking diode, your battery can send electricity back to the solar panel at night, when the panel isn't producing electricity.
If your solar charger doesn't have a blocking diode, you'll need to disconnect the charger from your battery each night. With a blocking diode, you don't have to worry about this power leaching.

Unless the manufacturer specifically notes that blocking diodes aren't necessary (like DuraVolt above), make sure your solar battery charger includes one!
Charge Controller – You Might Need It
Charge controllers keep your solar panel from overcharging and damaging your battery. For large solar installations, they are a required piece of equipment. Small battery chargers don't typically include a solar charger and many manufactures note that 12v solar chargers don't need a controller, as they don't provide enough juice to overcharge the battery.
However, some recommend purchasing and using a charge controller for any solar panel larger than 5W. Many people report they use their solar battery charger without any charge controller and haven't experienced any negative issues.
If there are ever any voltage spikes or your battery charger is left connected to your battery for an extended period of time, there's a chance you could damage it.
If you're worried at all, it's probably best to either buy a solar charger with an integrated charge controller (like the Battery Tender above) or spend the extra $20 on a separate charge controller.
Pros and Cons of Solar Chargers
Solar chargers are a great way to keep your batteries easily charged up, but they're not perfect. Let's take a look at the pros and cons of solar chargers.
Pros of Solar Chargers
Free energy: This is an easy one. Once you buy the solar charger, you never have to pay for electricity or generator gas to top your batteries up. Use it for a year or 20 years, your fuel costs will be the same: absolutely zero.
Charge without utility power: This is the biggest draw to solar chargers. Since they're powered by the sun, you're able to charge your devices anywhere there's sunlight. On your boat, while camping, in your RV, your driveway – you name it! No longer do you have to worry about moving your batteries into the garage or running cords outside. Just hook the charger to your battery and put the solar panel in the sun!
Easy setup: No need to take out your batteries or move your boat or ATV close to the garage. Just hook your battery or smartphone up to your solar charger and place the charger in the sun. Done!
Cons of Solar Chargers
Not a ton of power: Solar chargers typically only produce about 2W to 30W of electricity, depending on the intended use. It's more than enough to keep your battery topped up, but that's not a lot of electricity. You'll need to base the size of your charger on your own needs. The more you use the battery, the bigger your solar charger needs to be. If you want to keep two batteries fully charged, you'll need to buy two solar chargers.
Higher cost: Solar battery chargers are more expensive to purchase than plug-in chargers. That's just a fact. Of course, with a solar charger, you don't have to pay for any electricity, but we add this to the list of cons to keep everything balanced.
Overall, we think the flexibility, functionality, and ease of use of solar-powered battery chargers easily make up for their higher purchase price.

If you're looking to keep your vehicles' battery or smartphone topped up, solar chargers can get it done.
How To Get The Most Out of Your Solar Charger
These chargers are easy to use and require little to no maintenance, but there are a few things you can do to ensure that you get the most out of your charger.
Keep it clean
If you know anything about solar panels, then you should know that keeping the panel clear of dirt and debris is vital. It cannot generate power if the sun can't get through, so make sure your solar panel is clean.
Watch the weather
It is important to know what your solar charger is capable of in terms of surviving the weather. Many models are weatherproof, but some are not, so be sure to double-check your panel's specs before leaving your panel out in the bad weather.
Conclusion
We hope you enjoyed our list of the best solar battery chargers in 2021. Just as a quick review, we looked at hundreds of battery chargers on the market, and chose the best in 8 different categories. Here are the top picks.
Compare the Best Solar Battery Chargers for 2021
Take a look at the products above and find the best solar battery charger for you! Like we've pointed out, the best options are durable, cost-competitive, and backed up by excellent customer service. And beyond the versatility and ease of use, using a solar battery charger and running your life off the sun –even if it's just a tiny part of it – is great for you and the environment!