Well known for its door-to-door sales technique, Vivint Solar is one of the largest residential solar installers in the US.
Founded in Lehi, Utah, in 2011, they've installed 1,163 MW of solar and a total of 169,000 installations since that time. Vivint Solar is an offshoot of a larger company, Vivint, which installs home security and home automation systems.
In late 2020, Vivint Solar was acquired by another big name in solar power: Sunrun. The two companies combined have more than three gigawatts of solar power and more than 600,000 customers. Although Sunrun owns Vivint Solar, Vivint Solar is continuing to operate as a subsidiary of the larger company, meaning that if you choose Vivint as your installer you can expect to pay their prices and deal with their customer service agents and employees.
Whether you just found Vivint online or one of their salespeople paid you a visit, you're obviously curious about whether this is the company for you. Well, wonder no longer! In this article, you'll find a rundown on Vivint's installation costs, customer service, warranties, long-term outlook, and other factors to consider before you sign that dotted line.
If you want to compare Vivint to the best solar companies in your area, the first place to star is to get free estimates from multiple installers and see if solar panels are right for your home.
Vivint Solar Costs
Quick Look: Vivint Solar reports some of the highest installation costs of any nationwide installer.
As of 2021, Vivint's installation costs are $3.56 per watt, according to its latest financial report. This is quite a bit higher than the national average installation cost, which hovers around $3.00 per watt. That's a pretty major cost difference. For an average-sized system of 6,000 watts, that's an extra $3,500 out of your pocket.
Here's how Vivint's costs stack up for some common installation sizes:
| Installation Size | Cost at National Average ($2.98/watt) | Total Vivint Installation Cost ($3.56/watt) |
| --- | --- | --- |
| Small Installation (4 kW) | $11,920 | $14,240 |
| Medium Installation (6 kW) | $17,880 | $21,360 |
| Large Installation (12 kW) | $35,760 | $42,720 |
Compared to other large installers like Sunrun and Tesla, Vivint actually reports some of the highest costs in the industry. Rival Sunrun reports installation costs around $3.39 per watt, according to its own financial report – about 5% less than Vivint. Tesla recently dropped its prices to about $2.50 per watt – 30% less than Vivint, though the sustainability of that ultra-low price is yet to be seen.
Here's how Vivint Solar's costs compare to Sunrun and Tesla:
| Company | Installation Costs (2019) | % Difference from National Average | Mid-Sized System Cost (6 kW) |
| --- | --- | --- | --- |
| Vivint Solar | $3.56 per watt | +19% | $21,360 |
| Sunrun | $3.39 per watt | +14% | $20,340 |
| National Average | $2.98 per watt | 0% | $17,880 |
| Tesla | $2.50 per watt | -16% | $14,880 (though Tesla only sells in block sizes) |
Overall, Vivint reports that its installation costs are 28% higher than the national average, likely due to the high sales and marketing costs that nationwide installers incur. Installation costs for both Sunrun and Vivint have increased over the previous year due to higher customer-acquisition costs. In the 2nd quarter of 2018, Vivint reported an installation cost of $3.23 per watt, equating to a 10% increase year over year.
A previous study from the Lawrence Berkeley Energy Lab (LBL) found that small installers typically provide estimates at 10% less than nationwide companies, thanks to lower overhead, sales, and marketing costs. However, in 2018 LBL found that average installation prices for large companies like Vivint and Sunrun as well as small, local installers hover around $3 to $4 per watt. According to this study, Vivint is still in the range of competitive prices, though assuredly on the higher end.
While Vivint's installation costs are higher than other key players, they certainly aren't exorbitant. The cost of solar installation overall has dropped approximately 20% over the last five years. Hopefully, this, combined with the Sunrun merger, will encourage Vivint to bring their prices a little closer to the national average.
Vivint Solar Customer Service
Quick Look: Customer reviews for Vivint are far better than some (we're looking at you Tesla), but many customers warn against spotty communication and poor system monitoring after the installation is complete.
When installing solar, customer service isn't just about ensuring you have a pain-free installation. It also entails providing consistent, knowledgeable communication on sales, costs, and savings beforehand as well as monitoring your panels' performance after the installation is complete (if system monitoring is in your agreement).
Installing a large solar system can be complicated and little details can quickly escalate into huge issues. This is why constant vigilance and communication on the part of the installer are vital to a smooth installation process. As such, reading reviews from actual customers is a crucial step when deciding which installer to go with. We can turn to review sites like Best Company and Consumer Affairs to get a broad view of any solar installers' customer experience.
On these two platforms, customers rate Vivint's customer service far above Tesla/SolarCity , but they don't quite live up to Sunrun's customer experience. Here's how the scores fall, as of January 2021:
| Company | Best Company (out of 10) | Consumer Affairs (out of 5) |
| --- | --- | --- |
| Vivint Solar | 6.7 (848 reviews) | 3.2 (558 reviews) |
| Sunrun | 9 (1,315 reviews) | 3.8 (626 reviews) |
| Tesla (aka SolarCity) | 4.6 (661 reviews) | 1 (44 reviews) |
Contrary to the average above, if you look a bit deeper into the reviews, you'll find that most homeowners don't actually give Vivint a 3-star review. Instead, about half give a perfect 5 stars, and the rest give 1 star. Here's how Vivint's Best Company reviews break down:
5 stars: 43% of reviews
4 stars: 10% of reviews
3 stars: 2% of reviews
2 stars: 5% of reviews
1 star: 40% of reviews
No matter what installer you look at, the breakdown of review scores are remarkably similar. As noted before, solar installations involve many hands: sales, design, project management, city building departments, and utilities. When everything runs smoothly, each step is quick and painless. However, if something unexpected shows up or if the county building department gets swamped, the process can slow to an agonizing crawl. That's when review scores start to plummet, even if it's not the installer's fault.
A well-trained staff can fix many issues, but some things simply can't be helped, like waiting weeks for the utility to give you PTO, or Permission to Operate, your installation. However, with great communication practices, solar installers can at least educate and warn homeowners of any long-winded processes.
In the positive reviews, homeowners report that Vivint's sales staff is patient and informative, focusing on providing useful information instead of pure sales dribble. Customers report that Vivint's installers are professional and the company provides consistent communication both before and during the installation.
On the flip side, many homeowners complained of poor customer support after their installations were complete, with the company's system monitoring a major weak point. Several homeowners noted that, even with the monitoring system, Vivint didn't notice their system stopped working and the homeowners therefore ended up paying a very expensive utility bill or two (or three) on top of the Vivint bill, since the solar installation wasn't producing electricity.
Other homeowners reported that their installation took 2x to 3x longer to turn on than originally estimated. While this isn't necessarily Vivint's fault (the utility's inspection department might've been booked solid), it is Vivint's responsibility to communicate these issues – and many homeowners report they were left in the dark for weeks or months on end, with no updates or communication.
Vivint Solar Offerings
Vivint Solar's financing, warranties, and coverage area compare favorably to other installers.
Coverage Area
Quick Look: Vivint installs in 24 states, so if you live in a solar-friendly area, chances are you're within Vivint's territory.
Vivint currently operates in 24 states, focusing mainly in the southwest (California, Arizona, Texas) and northeast (Virginia up to New Hampshire), though they also install in Florida, South Carolina, Illinois, and Hawaii.
Here the full list of states in which Vivint does installs:
Arizona
California
Colorado
Connecticut
Delaware
Florida
Hawaii
Illinois
Maryland
Massachusetts
Nevada
New Hampshire
New Jersey
New York
Ohio
Pennsylvania
Rhode Island
South Carolina
Texas
Utah
Vermont
Virginia
Financing Options
Quick Look: Vivint offers the same financing options as any other nationwide installer, supporting cash, loan, leasing, and PPAs.
Vivint, like Sunrun and Tesla, makes it bread-and-butter on solar leases and power purchase agreements (PPAs).
Leases and PPAs are a form of third-party ownership, a financing mechanism in which your solar installer retains ownership of the installation on your roof. With a solar lease, you pay a monthly fee to use the installation and all the energy it produces. With a PPA, you pay your installer for each kilowatt-hour of electricity the solar panels produce – some months you'll pay more, if your installation produces more energy.
If you do move forward with a lease or PPA, watch out for monthly escalators, which increase your monthly payments each year, typically at 2.9%.
Vivint also installs solar installations financed in cash or loan. The company has its own financing partner, but you can also work with a local bank or credit union, financing via a personal loan or Home Equity Loan or HELOC.
Leases and PPAs are an easy way to go solar, as you don't have pay any upfront costs or worry about maintenance. However, you'll typically save more money by financing your installation via cash or loan (either through your installer's financing partner, a local bank, or credit union). Owning the system also lets you directly take advantage of all available tax credits, like the federal income tax credit.
Some states do not allow solar companies to offer PPAs, so installers instead offer leases. DSIRE publishes an updated map of each state's PPA laws, but you can also simply ask your installer what your local regulations are.
Warranties
Bottom Line: Vivint offers a 10-year workmanship warranty, similar to Sunrun or Tesla. Solar panels and inverter warranties range from 10 to 25 years, depending on your equipment.
Vivint offers a 10-year workmanship warranty for all rooftop solar, on top of the 25-year solar panel warranty and 10-year (or more, depending on the equipment installed) inverter warranty.
Workmanship warranties protect you from any damage caused during or by the installation, like a leaky roof, structural issues, damage to your shingles, etc. We've seen workmanship warranties as short as two years, all the way up to 25 years, so Vivint's 10-year warranty falls right in the middle.
Sunrun also warranties against roof leaks for 10 years, as does Tesla. However, Tesla offers a 20-year warranty for all other installation and equipment concerns, so it's slightly better than Vivint.
No matter your installer, your contract will lay out each piece of your warranty, what it covers, and for how long. You can (and should) review it with your salesperson, but take some time to read over it yourself as well. The details could end up being very important in 10 years.
Home Security and Automation
Quick Look: Vivint Solar's partner company Vivint installs security and smart home equipment, as well as electric vehicle chargers.
Vivint Solar's parent company (Vivint) installs home security and automation equipment, but is completely separate from its solar offerings. If you're interested in installing wi-fi locks, a smart thermostat, security cameras, or an EV charger, you'll have to go through that process separately with the non-solar Vivint.
Home automation and EV chargers pair well with solar, as they help you save energy. Many local installers take Vivint's approach and install solar, EV chargers, and smart home equipment.
Vivint Solar Long-term Outlook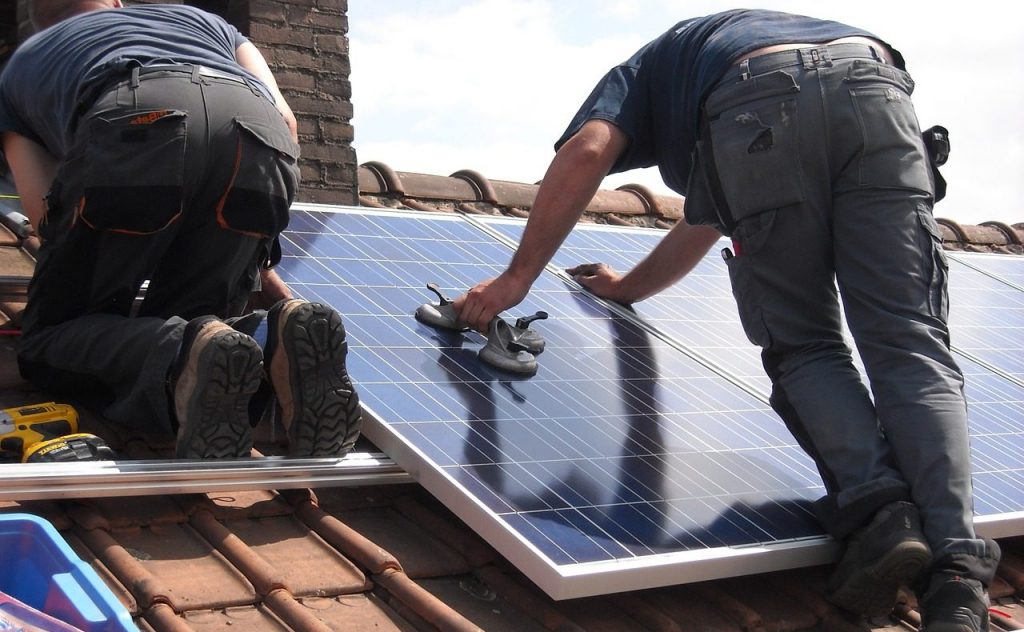 Quick Look: Vivint continues to grow in 2021, but market forces could hamper that growth in the mid-term future.
In an industry as tumultuous as the solar industry, you need a crystal ball to figure out a company's future. While Vivint has sustained healthy growth in the last year and is one of the country's biggest installers, rising customer-acquisition costs and an industry that continues to move away from solar leasing could mean rocky ground in the next few years.
Vivint certainly isn't disappearing anytime soon, but Tesla's own fall over the last few years and its desperate struggle to recapture its former glory is testament to just how quickly things can turn sour in the solar industry.
Here are a few considerations, both good and bad, when attempting to assess the health of Vivint Solar.
Positive or Challenge?
Fact
Consider that:
Positive
In 2019, Vivint Solar grew at a faster rate than the solar industry.
While the residential solar industry grew 6% from Q1 2018 to Q1 2019, Vivint installed 45.6 MW of solar in Q1 2019, a 13% increase from the previous year. That's double the national average, but below rival Sunrun, which saw a 27% YOY increase.
Positive
Vivint Solar stock has increased 102% in 2019
Since January 2019, Vivint's stock has been on the rise, growing 102%, though this increase is likely partially caused by economic factors like low-interest rates and new pro-solar policies at the state level.
Challenge
Vivint Solar continues to lose market share to Sunrun
While Vivint is still growing, its market share has almost continually shrunk since 2014, when it controlled about 12% of all residential solar. Today, it's still the 2nd biggest residential installer with about 8% market share, compared to frontrunner Sunrun's 11%.
Challenge
The solar lease is waning
All three big installers (Vivint, Sunrun, Tesla) have suffered in the last four years, as homeowners move away from leases and into cash or loan purchases. While these three companies together controlled over 50% of the solar market in 2015, today they total about 25%, replaced predominately by small, local installers that don't offer leases or PPAs.

TPO financing is Vivint's cash crop, and the industry is moving away from this financing mechanism, leaving Vivint on tenuous ground.
Challenge
Sales and Marketing costs continue to increase
With solar leases, Vivint and Sunrun need a continual stream of new customers. Since all the low-hanging fruit has already been picked over the last decade, finding those new customers is becoming more and more difficult.

Vivint's Sales and Marketing expenses increased from $0.96/watt in Q2 2018 to $1.27/watt in Q2 2019 – a 32% increase YOY. Vivint's installation costs have increased over the previous year, almost exclusively due to its rising sales and marketing expenses.

Basically, finding willing customers is getting harder, and total installation costs will likely continue to rise, even as equipment costs continues to fall.
Should You Go Solar with Vivint Solar?
Compared to Sunrun or Tesla, Vivint fares okay. Its costs are higher and its customer service is mixed. Homeowner reviews show that your experience is largely dependent on the knowledge and communication of your sales person and project manager.
If you want to finance your solar installation via a lease or PPA, Vivint could be a good option. Be sure to compare other solar companies that offer leases/PPAs to ensure you're getting a good deal. If you want to pay in cash or via a loan, we'd recommend looking into smaller, local companies that can frequently offer lower prices, faster installation times, and more attentive customer service.
Learn more about different solar panel companies and see if solar panels are right for your home.