There are a lot of challenges in life, but taking a bath should never be one of them. Unfortunately, for seniors and those with disabilities, something as simple as a bath can present many challenges. Thankfully, with the right walk-in tub, you can remove any challenges and turn baths back into the relaxing luxury that they should be.
Walk-in tubs come in all different styles and sizes and have a myriad of features to choose from. Finding the best one can seem daunting, but we are here for you. We have done the research and we are ready to show you some of our favorite walk-in tubs as well as tell you all about what you should know in order to find the best walk-in tub for you or your loved one.
Top 4 Best Walk-In Tubs of 2021
---
Reviews Of The Best Walk-In Tubs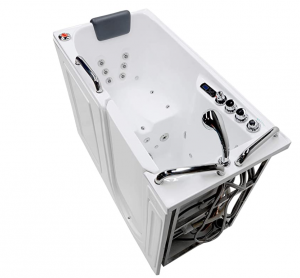 Quick Look: 53x23x40, right-hand drain, inward opening door. Hydro and air therapy jets, ADA compliant seat, and quality construction. Comes with LED lighting and a limited lifetime warranty.
Check Price at Amazon
Anzzi designed this walk-in tub to provide you with the ultimate bath time experience without any of the stress. With 12 adjustable hydro-therapeutic jets and 18 air jets, you can enjoy a relaxing bath and a massage at the same time with the Anzzi Whirlpool Walk-In Tub. You can even add to your relaxation by enjoying some chromotherapy with multi-colored LED lighting.
Safety features are a very important part of every walk-in tub and this one goes above and beyond. This model has a very low step-in threshold, making entering and exiting the tub a breeze. It also comes with three safety handles and a slip-resistant floor. The seat is ADA compliant and is easy to get in and out of.
You can also enjoy quick filling with this walk-in tub, so no waiting around while it fills up. It is also compatible with Anzzi's aromatherapy massage bubbles for an even more relaxing experience. Made with quality marine-grade acrylic and a stainless steel frame, this tub is built to last. Anzzi offers a limited lifetime warranty, showing that they stand behind their products.
Learn More and Buy Now at Amazon
---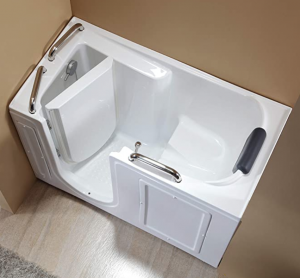 Quick Look: 52.5x26.5x40, high-quality acrylic, with ergonomic fixtures. Wide door, safety handles on inside and outside, and low threshold. Comes with a 3-year limited warranty.
Check Price at Amazon
Sometimes simple is best and that is what you'll find with this straightforward and budget-friendly model from Empava. The Empava Freestanding Walk In Tub has the safety features you need and none of the frills that you don't.
This tub is made in the USA from durable acrylic that is made to stand up to daily use. It comes with all the fixtures preinstalled for an easier installation process. The classy freestanding design makes this a great option for those who are looking to combine safety with style.
Speaking of safety, this model has all the safety features you need for a comfortable bath experience. The threshold is less than 4" and there are three stainless steel safety handles. It also comes with a wide door and slip-resistant floor, meaning you can get in and out of the tub with ease.
Learn More and Buy Now at Amazon
---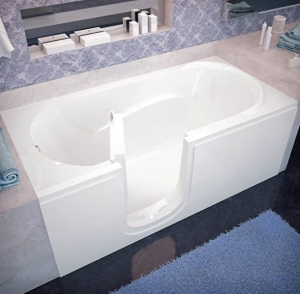 Quick Look: 30x60x32, standard tub with leak-proof inward opening door. Left-hand drain.
Check Price at Amazon
Want to keep your regular shower, but need a tub that is a little easier to get into? Then check out the Spa World Venzi Walk In Tub. It is the same shape and size as a standard tub but has the added benefit of a door for easy access.
This model is a great choice for those who do not need a seat in the shower, but still want the ease of being able to step into the shower without having to lift their feet. You can use this tub just like a regular tub, so if you want to stretch out and relax in a warm bath you can do just that without having to worry about the leak-proof door ever letting water escape the tub.
Made with industrial-grade materials, this tub is made to last. The sleek white design would look good with any decor. The door seals tightly and blends in with the design perfectly, giving you the style you want with the convenience you need.
Learn More and Buy Now at Amazon
---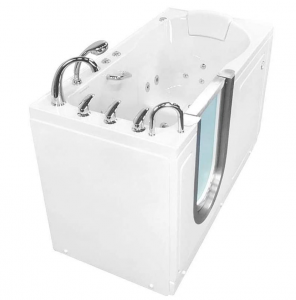 Quick Look: 30x55x38 luxury walk-in tub with hydrotherapy jets, heated seat and backrest, and dual drains. Brass faucet and fittings, stainless steel safety handles, and a slip-resistant floor. In-line water heater and ozone filtration. Comes with a limited lifetime warranty.
Check Price at Amazon
If you are looking for the ultimate luxury bath experience then look no further than the Ella's Bubbles Deluxe Walk-In Tub. With handy extras like a heated seat and backrest and an in-line water heater, this model has everything you need for a truly relaxing bath as well as all the safety features you need to feel secure from start to finish.
The 12 adjustable jets allow you to enjoy a hydro-massage at your speed while you relax in the 20" wide molded seat. The sleek brass fixtures allow you to easily control water flow and temperature. The retractable shower head has a 5ft. hose, so you can wash and rinse your hair with ease. This model also has LED lighting and the option for aromatherapy baths, giving you everything you need to relax and enjoy your bath.
The safety features on this tub are exactly what you would expect from a high-quality walk-in tub. It comes with a textured floor and safety handles to protect you from slipping. The shell is made from highly durable acrylic that is scratch and mold-resistant. All of this surrounds a stainless steel frame that is built to last.
Learn More and Buy Now at Amazon
---
How We Chose The Best Walk-In Tubs
For most buyers, the main purpose of choosing a walk-in bath is to provide a safe and secure bathing experience for themselves or a loved one who has trouble using a standard tub. With that in mind, we chose our favorite walk-in tubs based on their safety features as well as quality materials and ease of use.
Safety Features
The number and type of safety features required are based on each individual. We tried to find a variety of models that offered different safety features, but the main features we looked for were low thresholds, safety handles, and non-slip floors. Each of these features can make the difference between a nerve-wracking experience and a worry-free bath. These features allow individuals to enter and exit the tub safely, even if they have some mobility issues. For some, these features make it possible for them to bathe assistance-free which would not be possible in a standard tub.
Quality Materials
A walk-in tub is a big investment, so you definitely want it to be built out of quality materials that will withstand years of daily use. That is why we looked for tubs that were made out of heavy-duty acrylic and stainless steel. Tough acrylic is scratch resistant and easy to clean are stainless steel is strong and less likely to rust.
Ease of Use
These tubs are designed to make bathing easier for those with mobility issues, so it only makes sense that we would look for models that were easy to operate no matter how many extra features they have. We also looked for models that were simple to install. Most of these models can be installed just like a regular tub, some even going as far as to include extenders so that they can be installed in a standard 60" bathtub space. Although it is always a good idea to have a professional install your tub, there is no sense making it more difficult for them, so easy installation is a must.
What You Need To Know About Walk-In Tubs
Before you begin your search for the best walk-in tub, there are a few things you should know that will aid you in your search.
Type
First of all, there are several different types of walk-in tubs and knowing the type you need will help to narrow your search. The main types are:
Soaking: Soaking tubs are basically just a regular tub with a door. These can be shaped just like a standard tub or they can be more upright and have an integrated seat. These are the straightforward, no-frills models that are mostly just for bathing or simple soaking.
Aerotherapy and Hydrotherapy Tubs: These tubs are more like mini hot tubs. They have air jets or water jets that move the water while you soak. This can help to exfoliate your skin as well as give you a comforting massage while you bathe. There are also combination models that have both types of jets for even more relaxation.
Therapy Tubs: This category contains a few different types of tubs that have extras like chromotherapy lighting or aromatherapy bubbles. Chromotherapy uses multi-colored lights to help you relax where aromatherapy uses pleasant scents to make your bath more enjoyable. These options are usually only found on the more expensive models that offer lots of different features.
Extra Features
Each type of walk-in tub comes with its own features, but there are a few extra features that can be found on any type of walk-in tub and should be considered before you buy.
Quick Fills and Drains: You probably noticed that we mentioned quick fills and dual-drains on a few of our picks and here is why. With a walk in tub, you have to sit in the tub both while it's filling and while it's draining which can be inconvenient. Quick fills and dual-drains cut down the amount of time spent sitting in the tub when you're not actually bathing.
In-Line Water Heaters: In-line water heaters are pretty self-explanatory. They keep the water warm while it is being moved around by the jets so you can have a nice long soak without the water getting cold.
Anti-Scald Valve: These valves help to regulate water temperatures to avoid sudden changes in temperature that can cause discomfort.
Heated Seats: Heated seats help to keep you extra warm while the bath is filling up.
There are even more features available like built-in towel racks and neck rests, so be sure to double-check all the feature options before you buy.
How to Choose The Best Walk In Tub For You
Now that you know the available types and features, it's time to talk about how to find the best walk-in tub for you or your loved one.
Budget
The first thing to determine is your budget. These types of baths can cost anything from $1,500 to $10,000, depending on the manufacturer and style, so start by determining how much you want to spend. Do not think that you have to buy the most expensive model to get a good one. Many of the picks on our list fall well below the max price point and they are all great models. Deciding on your budget beforehand simply helps you to be more confident when it comes time to make your final decision.
Size and Layout
When considering the size you want, remember to take into consideration both the space you have in your home as well as the space you need inside the tub. Most of these tubs are about as wide as a standard tub, some a bit narrower. Although this is plenty of space for some, others may need more room to move around.
When it comes to layout options, there are many to choose from and it is important to do a little research to find out which design features will best fit your needs. A few layout options you should consider include:
Inward or Outward Opening Door
Seat Height and Width
Fixture Type and Layout
Safety Handle Locations
Each of these elements can impact the functionality of your tub as well as how comfortable you will be using it. If you are unsure, the best thing to do is visit a seller who has a few tubs on display so that you can get a feel for each layout.
Features
As we have already mentioned, there are a lot of feature options out there so it is important to determine which ones you will use. As you can guess, the more features a tub has, the more expensive it will be, so really consider what you will use and what you won't. Although aromatherapy sounds nice, is that really something you will make use of? What about a built-in towel rack or swivel table? There is no need to spend extra for things you won't use. On the other hand, if you are looking for a truly luxurious bath experience, then choose a fully loaded model, sit back, and enjoy the moment! It is all up to you.
Bottom Line
Walk-in baths can be a life-saver for those with limited mobility. Safety features like non-slip floors, safety handles, and low thresholds can give seniors and disabled individuals the ability to bathe independently without fear of falling. Bath time should be relaxing and comfortable and with these awesome walk-in tubs, that relaxation is available to everyone. With features like hydrotherapy jets and in-line heaters, you can enjoy a long soak and a massage at the same time.
Choosing the best walk-in tub for you or your loved one can seem complicated, but the decision can be simplified through a few easy steps. It's hard to go wrong with any of our top walk-in tub options, but we recommend Anzzi Whirlpool Walk-In Tub for its safety features and quality materials. Compare all of your options before making a final decision, though, to make sure that you're choosing the right model for your circumstances.
Top 5 Best Walk-In Tubs of 2021