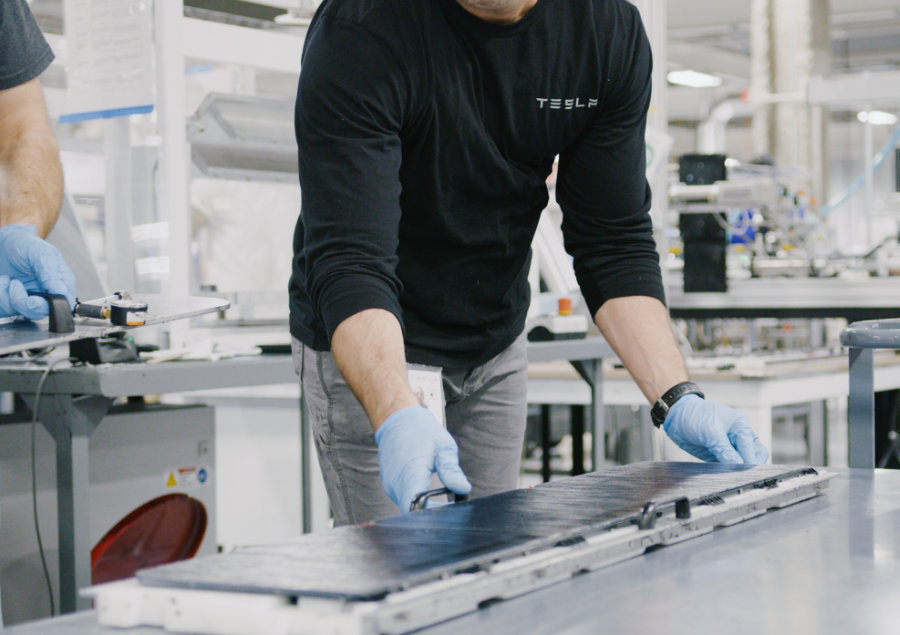 Elon Musk announced on Twitter that Tesla is planning to rapidly ramp up production of its Solar Roof to 1,000 per week. Tesla is known for setting high goals and working relentlessly until they're met, but that's still a tall order, especially when the company has so many other priorities, including high-capacity production of the Model 3. And with all the setbacks at Tesla's Buffalo Gigafactory, where it manufactures the solar shingles, Musk might be aiming a bit too high this time.
Tesla ramping up solar shingles production in 2019
In a Twitter response last week, Musk wrote that Tesla is quickly increasing production of its Solar Roof and hopes to produce around 1,000 per week by the end of 2019. This update comes after a year or so of relative silence from Tesla on the solar shingles. Ever since Musk unveiled the Solar Roof in 2016, the solar industry has collectively held its breath for the inevitable mass production and deployment, but but well-known production kinks have kept almost all the solar shingles from leaving the factory.
Spooling up production line rapidly. Hoping to manufacture ~1000 solar roofs/week by end of this year.

— Elon Musk (@elonmusk) July 30, 2019
Of course, Musk has gotten into trouble for his Twitter escapades before and he certainly doesn't represent Tesla officially. In fact, on the same day as the tweet above, Tesla filed its quarterly report with the Securities and Exchange Commission. The report briefly summed up its expenditure plans for the rest of the year, which included financing the Shanghai Gigafactory and Model 3, but noticeably lacked any mention of the solar shingles or Buffalo Gigafactory:
"Capital expenditures in 2019 are projected to be approximately $1.5 to 2.0 billion, to continue to develop our main projects as planned including further capacity expansion and automation for our current Model 3 production, Gigafactory Shanghai, Model Y and Tesla Semi, as well as to further expand our Supercharger and vehicle service and repair networks."
Musk himself has admitted before that he often underestimates the time it takes to get new products to market, as we've seen for the Model 3, and has certainly been the case for the solar shingles. But in a section of the quarterly report that lays out challenges and opportunities, Tesla indeed confirms its hope to ramp up production of the Solar Roof by the end of 2019, though it doesn't give any specifics:
"Overall, we expect our significant operations at Gigafactory 2 and the surrounding Buffalo area to continue, including with our ramp and manufacture of Solar Roof, which we are planning to scale over the remainder of 2019 and into 2020."
Solar Roof plagued by production difficulties
Tesla introduced the solar roof in October 2016, after acquiring solar installation company SolarCity for $2.6 billion that same year. Tesla planned to ramp up Solar Roof production throughout 2017 and begin installations in early 2018.
Tesla actually began producing the solar shingles in August 2017 at its Gigafactory 2 in Buffalo, New York, where the company also manufactured conventional solar panels in partnership with Panasonic, a company with decades of experience manufacturing solar cells.
Since that time though, production issues have kept the company from ramping up production of the Solar Roof. By May 2018, Tesla reported it had installed just 12 roofs, all in California. As Bloomberg reported, production lagged due to issues with sandwiching the shingle and solar cell layers together without capturing any bubbles, which negatively affect production. Tesla purportedly scrapped up to 70% of production at times, bringing the faulty solar shingles directly to a recycling facility.
In Q2 that same year, Tesla reported that it had fixed the lamination issue and 90% of all the shingles produced were working properly, though they've continued to refine the product since then. Musk recently announced Tesla was on the third version of the solar shingles. Finally ready to begin ramping up production, Tesla hired 80 employees per shift in early 2019, operating 24/7 around the clock.
By April 2019, as reported by GTM, Tesla had installed just 31 solar roofs in California, despite having a backlog of 11,000 customer orders. Two months later, Musk announced at Tesla's annual shareholder meeting that it's now installing solar roofs in eight states. That's a big jump from just California, but Tesla still hasn't reported the number of solar roofs it has installed.
It seems Tesla has figured out all the kinks in the production of the solar shingles and it's ready to start knocking out its long waitlist, but with so many projects going simultaneously, a niche product like the Solar Roof probably still won't have the car company's full attention.
Tesla's focus is on vehicles
Back at the launch of the Model Y in April, Musk admitted that in 2018 Tesla had had to shift its entire focus towards Model 3 production, as it bet its business on mass production and it continually missed self-imposed production targets again and again. As it finally worked out the kinks in the Model 3 roll out, Musk said Tesla was once again going to shift its focus to the Solar Roof, saying that 2019 was "definitely going to be the year of the solar roof and Powerwall."
Tesla does seem to be figuring out how to manufacture the Model 3s more efficiency. In June Tesla finally met its goal of 5,000 Model 3s per week, with Musk saying he felt like Tesla was now "a real car company". That's a major accomplishment for the company and is certainly evidence of long hours and extreme dedication.
Tesla could apply that same work ethic to the Solar Roof and meet that 1,000/week target, but the company still has a corral of cars it's promised to bring to market: the Model Y, the Semi, and the new Roadster. Tesla has been testing out novel ways to increase their solar sales, moving sales channels online and introducing block pricing for its installations. Sales are a major expense for any solar company, but few solar companies have attempted to completely cut boots-on-the-ground sales tactics
Tesla is first and foremost a car company, not a solar company. Musk is known for pushing head-first against odds and working long hours to meet intense goals. However, Tesla is still a car company. With so many balls to juggle and with Musk known to make promises a bit prematurely, it doesn't seem likely the company could meet this hefty Solar Roof target.
Our advice? If you're itching to get your house running off clean solar energy, don't hold out for the Solar Roof. It could be quite a while before we begin to see Solar Roofs on our neighborhood roofs, especially considering the long waitlist. Instead of waiting, it's probably better to install conventional solar panels and get running off the sun now.
Image Source: Tesla Press Kit