The U.S. wind power industry didn't put a whole lot of new generating capacity into operation in 2013, but it laid the groundwork, beginning construction on a whopping 10,900 megawatts in the fourth quarter.
That figure comes from the American Wind Energy Association in its quarterly market report, portions of which [PDF] were made public on Thursday. Together with projects set in motion earlier in the year, some 12,000 MW of generating capacity was under construction as of the end of the year.
The AWEA used the news to promote a retroactive extension of the production tax credit for wind, which expired at the end of 2013.
"Our current growth demonstrates how powerful the tax credit is at incentivizing investment in wind energy," AWEA CEO Tom Kiernan said in a statement. "Now it's up to Congress to ensure that growth continues by extending this highly successful policy."
The increasingly favorable economics of wind power are a factor in wind's uptick, but the timing and intensity of the rush of new construction activity is indeed being driven by the 2.3-cents/kilowatt-hour production tax credit. Under the law, projects had to be under development before the end of the year in order to qualify for the credit, which pays dividends for the first ten years of a wind farm's operation.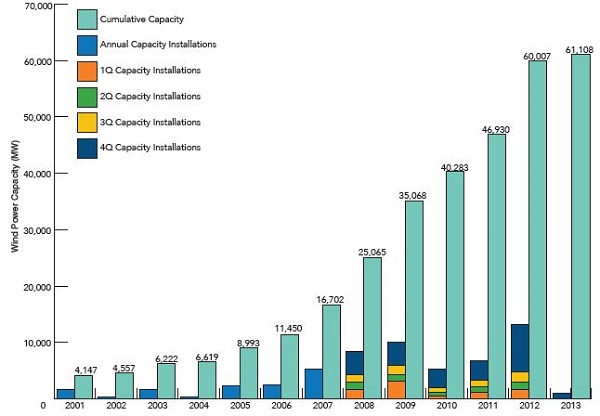 It's similar to what happened in 2012, with a little twist. That year, developers rushed to get projects into service before the end of the year, as the then-expiring law then required. That drove new installed capacity in 2012 to a record 13,131 MW, but left virtually no activity ongoing for 2013. Which explains why, despite the fact that the PTC was eventually extended at the beginning of 2013, just 1,084 MW of new capacity went into service in 2013.
The year's modest gain put total U.S. installed capacity at 61,108 MW, which the AWEA said is enough to power more than 15.3 million homes. The association said that the projects now under construction would push that figure up by 3.5 million households.
The center of the new activity is in a familiar place, Texas, already the wind capacity leader at more than 12,000 MW. The AWEA said about 7,000 MW was under construction in the Lone Star state. Another usual suspect was found in the No. 2 spot: Iowa, with 1,050 MW.