In Fort Madison, Iowa, happy days are here again. For a while, at least.
The largest onshore wind turbine order in the world: That's what Siemens is calling the deal to build the 53-meter-long blades – in Fort Madison – for 448 2.3-megawatt wind turbines that MidAmerican Energy will use at five new Iowa wind power plants.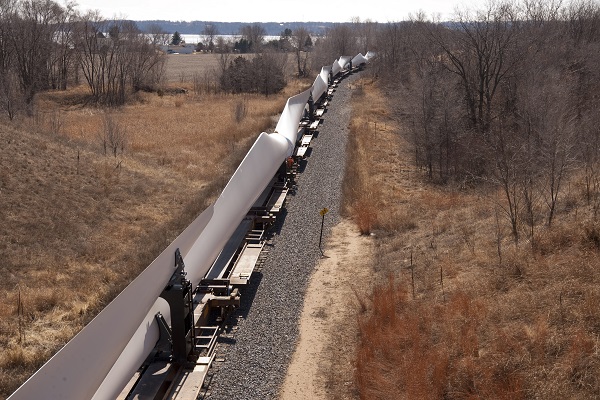 It's a huge score for the Fort Madison plant, whose history provides a good window into the impact of the production tax credit for wind, a topic once more in the news as it nears the end of a one-year extension granted at the beginning of this year.
The plant was opened seven years ago at the site of a shuttered tractor-trailer manufacturing enterprise that had employed 250 people, according to MidAmerican. With $100 million invested by Siemens, employment ramped up after its opening and in early 2012, it had some 627 workers.
But then came the fear last year that the PTC for wind wouldn't be renewed, so in September 2012, Siemens trimmed the Fort Madison workforce by 407, leaving a staff of 220, according to media reports at the time. Now, the plant employs "approximately 500 people," MidAmerican said.
The PTC will once more expire at the end of this year, and while that is generating some lobbying on the topic (like the big event held in Fort Madison today to "celebrate" the MidAmerican order), there is a bit less of a sense of urgency in this year's fight, compared to what went on last year. That's because the latest extension made facilities under construction before Jan. 1, 2014, eligible for the 10-year, 2.3 cents per kilowatt-hour credit, whereas the version of the law that expired at the end of 2012 required turbines to be operating by the deadline.
As a result, the industry says the pipeline of projects is refilling and things should stay active through 2014. Given all that, American Wind Energy Association CEO Tom Kiernan has more or less conceded that another extension could wait until well into 2014. In any case, there's little sign that it will happen in the near future.
By the way, as we reported last month, the nacelles for the Iowa wind projects will also be made in America, with the work going to the Siemens plant in Hutchinson, Kan., which itself had seen its 298-person workforce nearly halved in the fall of 2012.