You can't see it in newly installed capacity, but the wind industry says it's headed for a strong finish to 2013, a year that began deep in the doldrums after protracted uncertainty about the fate of the production tax credit late last year.
New installed capacity is the traditional measuring stick for wind's expansion, and there was barely any in the first half of this year – a mere 1.6 megawatts added to the approximately 60,000 MW that the industry carried into 2013. Even in this latest quarter, new capacity ticked up a mere 69 MW.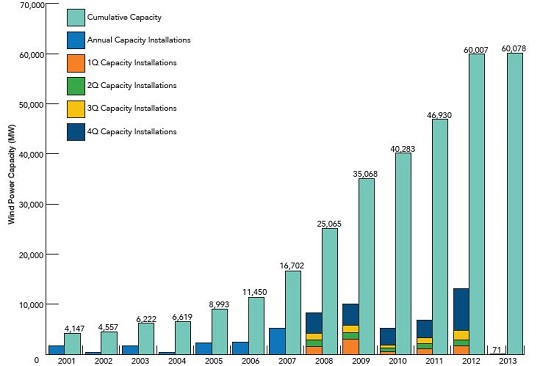 But in its just-released third-quarter 2013 report, the American Wind Energy Association pointed to projects totaling 1,100 megawatts that broke ground over the course of the summer, bringing "construction activity" to 2,327 megawatts as of Sept. 30. Texas (539 MW), Michigan (362 MW), Nebraska (275 MW), Washington (267 MW), Kansas (254 MW), California (226 MW) and North Dakota (205 MW) were the leaders.
AWEA also pointed out that 42 power-purchase agreements adding up to 6,000 MW have been signed or announced this year. We've certainly seen several cases where utilities – like Xcel and Public Service Company of Oklahoma – cited the increasingly attractive and stable long-term pricing for wind power as a reason to seek out more of it.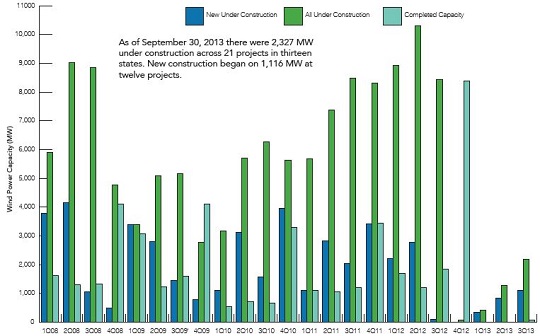 AWEA said a result of all of this activity is a comeback in hiring – as at the LM Wind Power plants in North Dakota and Arkansas – which had fallen last year amid the PTC fight.
The production tax credit, a 10-year subsidy worth 2.3 per kilowatt-hour of energy generated, was extended at the very beginning of this year, literally hours after law had expired. By waiting so long to act on the extension, which was supported overwhelmingly by Democrats and by most Republicans in wind states, Congress created two effects: There was a furious rush to get projects online before then end of 2012, turning it into a record breaking year for new wind capacity in the U.S. But that left the pipeline bare for this year.
That pipeline is beginning to fill again but guess what? That's right: The PTC, extended for just a year, is ticking down toward  expiration.
The situation isn't quite as dire as it was late in 2012, however, because the extension made facilities that are under construction before Jan. 1, 2014, eligible for the tax break, whereas the version of the law that expired at the end of 2012 had required turbines to be operating by the deadline.
Still, AWEA used the third-quarter report to push for an extension.
"American wind businesses are back to work and the pipeline is filling up," AWEA CEO Tom Kiernan said in a statement. "Our companies are developing new projects, signing contracts with utilities, and ordering turbines and components. As a result, wind manufacturing companies have upped their hiring. We want to continue that momentum, but need predictable policies for the industry to avoid future slowdowns like the one experienced at the beginning of 2013. It's remarkable how much this industry has been able to accomplish despite the lack of policy certainty over the years."