Net zero isn't new, but it remains very ambitious. And at this scale? Unheard of.
We're talking about the new Electrical and Computer Engineering building at the University of Illinois. This is a 230,000-square-foot project on the Urbana-Champaign, Ill., campus, and if it fulfills its ambitions, the ECE will apparently become the biggest net-zero energy use building in the world.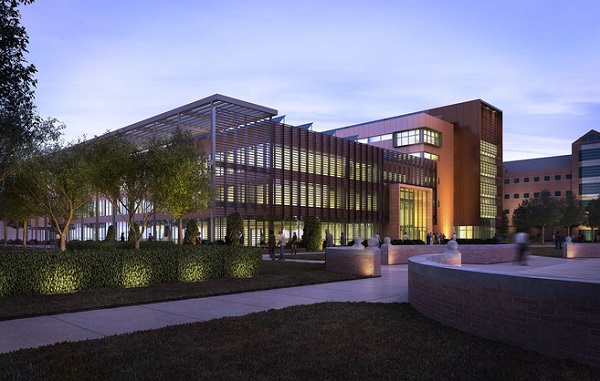 The current largest certified net-zero building is the 49,000-square-foot David and Lucile Packard Foundation building in Los Altos, Calif., which its achieved its leadership status just this past fall.
Though the Packard Foundation received Net Zero Energy Building Certification through the International Living Future Institute, the building hasn't yet turned up in the Department of Energy's Zero Energy Buildings Database, which lists a mere ten buildings, the largest of which is the Oberlin College Lewis Center in Ohio, at 13,600 square feet.
"To achieve this in a building nearly 20 times that size reflects the university's sincere commitment to sustainable design while capturing the spirit of a department that's always pushing the limits of technological innovation," ECE professor Phil Krein said in a statement.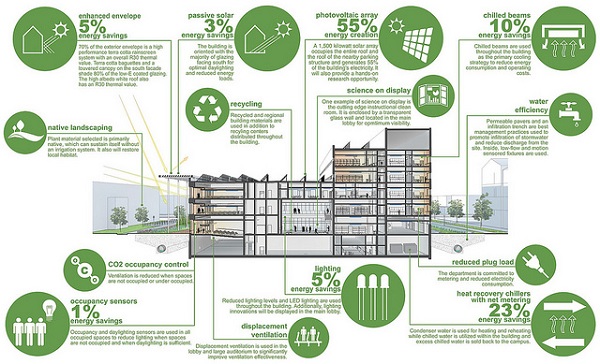 So how will the ECE achieve its net-zero goal? Passive strategies are a key starting point, the university said, and will add up to 8 percent energy savings over a baseline building. For instance, on the south side of the building, a solar canopy and terracotta baguettes – a sunshade device with a square profile – will provide shade in the summer while letting the sun in during the winter.
The building's "active" strategies center on chilled beams and heat recovery chillers, the university said. Chilled beams are pretty much what they sound like – "a high-efficiency system that utilizes chilled water cool spaces." These beams go in ceiling, and create a convection in the room, with cool air falling, and warm air then rising to be cooled. Energy savings from the system are pegged at 10 percent, according to the university. Even bigger savings – 23 percent – will come from heat recovery chillers, which capture heat (read: energy) that would otherwise be dissipated, or wasted.
Of course, for a building to be net zero it has to produce energy, and for that the ECE will turn to solar power, with a whopping 1.5 megawatts of capacity covering "the entire roof and the roof of the nearby parking structure," the university said.