More companies and organizations are finally putting their money where their mouth is when it comes to sustainability. Most recently, the David and Lucile Packard Foundation, which provides non-profit grants for conservation and science, announced that its new headquarters had achieved Net Zero Energy Building Certification through the International Living Future Institute (ILFI).
This is no small feat as the building, located at 343 Second Street in Los Altos, Calif., clocks in at about 49,000 square feet. It took careful planning and lots of determination on the part of the Foundation to achieve the net zero status. As of this week, however, it has achieved the goal of operating its headquarters building at net zero energy by generating more than enough electricity to meet its needs during the first full year of occupancy.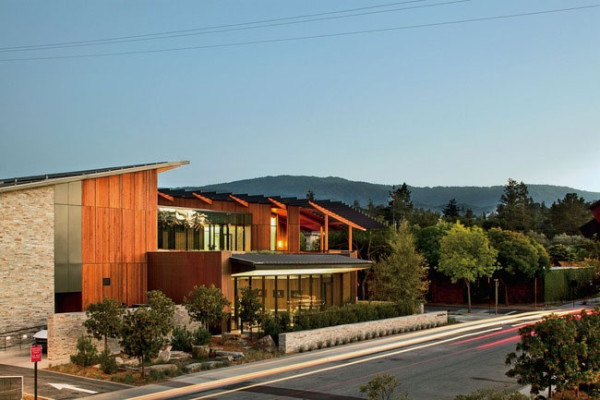 While the Packard Foundation's main goal is to support the development of science and technology, people are at the center of its mission. Nowhere is that better demonstrated than in how they chose to build their new headquarters.
"The Packard Foundation believes that the future of the planet's health greatly depends on how we live and work today," said Susan Packard Orr, board chair of the Foundation. "My parents, David and Lucile Packard, cared deeply about science and technology as a means to effect positive change in the lives of real people, everywhere.  I am sure they would see their values reflected in this important achievement that's been realized through the Foundation's new headquarters."
Sustainable strategies that allowed the building to achieve Net Zero status (as well as LEED Platinum certification) include:
Electricity production via  915 rooftop solar panels
Effective use of daylight to supplement artificial lighting
Efficient heating and cooling using innovative chilled beam technology
Storing up to 20,000 gallons of rainwater for irrigation and toilet flushing
Use of living green roof and rooftop gutters to assist with rainwater collection
Recycling 95% of materials from pre-existing buildings
Crafting all interior doors from locally salvaged eucalyptus trees
100% outside air for ventilation
Desktop alerts that indicate when doors and windows can be opened for natural ventilation
"The Net Zero Energy Building Certification of the Packard Foundation building is significant to ILFI because it shows that it is possible for large buildings to live within their energy means," said Amanda Sturgeon, Vice President of the Living Building Challenge for ILFI. "The Packard Foundation has shown that organizations do not need to trade off comfort to achieve net zero energy. They have shown it is possible to build and operate buildings that meet these dual goals."
Want to know more about how they did it? An executive summary and case study are available for download from the Packard Foundation website.