Hyundai, in its bid to be the first auto manufacturer to deliver production ready fuel cell vehicles to the mass market, hit a major milestone this past week in Europe. It announced a small number of its ix35 Fuel Cell units were on their way to the city of Copenhagen, Denmark to be used there in a municipal fleet.
15 hydrogen powered ix35s will be made use of in Copenhagen to help it meet its goal of being a carbon neutral municipality, according to Hyundai. The first of these was handed over by the company's European subsidiary as part of a ceremony marking the opening of Denmark's first hydrogen refueling station.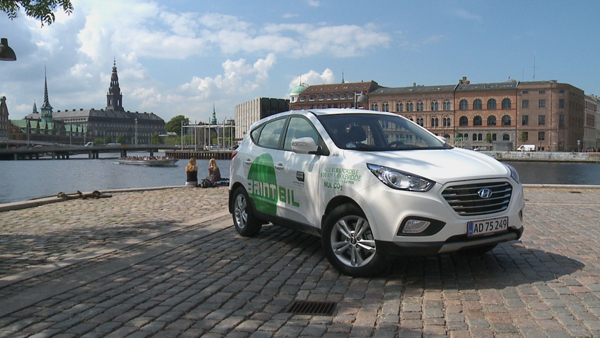 As we previously reported, Hyundai noted the ix35 Fuel Cell is the result of 14 years and several hundred million euros of research by hundreds of engineers at its fuel cell R&D center in Mabuk, Korea. The automaker is in a race with Toyota and GM, among others, to be the first to get mass produced fuel cell vehicles to market sometime in the 2015 to 2016 range. Leading up to this point, it plans to build 1.000 ix35s for what's likely test deployments.
So what exactly is under the hood of the ix35? The fuel cell tech, which Hyundai describes as proprietary, converts the hydrogen into electricity, which turns the vehicle's motor. The only emission generated by the vehicle is water, and it reportedly boasts good drivability and performance which is pegged at 0 to 100 km/h in 12.5 seconds (0 to 60 MPH), a top speed of 160 km/h (100 MPH) and a range of 594 kilometers (369 miles) with a single charge. Refueling is said to take just a few minutes, which in some cases can mean just three.
What helps with the vehicle's marketability is what's described as development and application of a new radiator grille, bumper, fog lamps, instrument cluster and 7-inch GPS exclusively for it. Perhaps even bigger than this though is the modularization of fuel cell systems for the core part of the ix35 – fuel cell stack, driving device and inverter –  which enabled the engine to be downsized to match the size of a gas engine while "improving productivity and making maintenance more convenient."
"Hyundai Motor is committed to hydrogen as the fuel of the future for Europe," said Byung Kwon Rhim, President of Hyundai Motor Europe, in a statement. "Delivering assembly-line produced ix35 Fuel Cell is evidence that we have a realistic solution to the region's sustainable mobility needs."