Has Hyundai won the race to get the first hydrogen fuel cell powered vehicle into assembly line production? They seem to think so, especially if you consider the fact they are currently targeting fleet use versus consumer driving. The iX35, which has been Hyundai's contribution to the fuel cell auto race, is a SUV who's first production model will be showcased at the upcoming Geneva Motor Show.
Hyundai has been battling with its rivals Toyota and GM, among others, to be the first to get mass produced fuel cell vehicles to market sometime in the 2015 to 2016 range. Their particular journey has been a long one, with word last October they were gearing up for the recent debut. Prior to that, they started out by first showcasing the Santa Fe FCEV many, many moons ago. It was followed a few years ago by the Tucson ix35 FCEV. This vehicle was used in a test fleet of 50 in Korea as well as, GM-VOLT reports, other tests around the world.
The automaker noted also the ix35 Fuel Cell is the result of 14 years and several hundred million euros of research by hundreds of engineers at its fuel cell R&D center in Mabuk, Korea.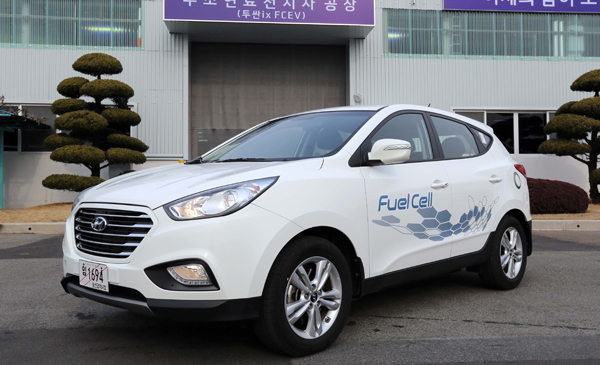 The company's plans call for 1000 of the ix35s to be built by 2015 for lease to to public and private fleets, primarily in Europe, where the European Union has established a hydrogen road map and initiated construction of hydrogen fueling stations. Where are we meanwhile with such build out? Check California for your answer.
After 2015, with lowered vehicle production costs and further developed hydrogen infrastructure, it is believed they will begin manufacturing hydrogen fuel cell vehicles for consumer retail sales.
So what exactly is under the hood of the ix35? The fuel cell tech, which Hyundai describes as proprietary, converts the hydrogen into electricity, which turns the vehicle's motor. The only emission generated by the vehicle is water, and it reportedly boasts good drivability and performance which is pegged at 0 to 100 km/h in 12.5 seconds (0 to 60 MPH), a top speed of 160 km/h (100 MPH) and a range of 594 kilometers (369 miles) with a single charge. Refueling is said to take just a few minutes, which in some cases can mean just three.
What helps with the vehicle's marketability is what's described as development and application of a new radiator grille, bumper, fog lamps, instrument cluster and 7-inch GPS exclusively for it. Perhaps even bigger than this though is the modularization of fuel cell systems for the core part of the ix35 – fuel cell stack, driving device and inverter –  which enabled the engine to be downsized to match the size of a gas engine while "improving productivity and making maintenance more convenient."