NRG Energy did a ribbon-cutting at the Alpine solar power plant in California on Friday, officially opening the largest operating PV plant (for now) in a state with more PV than any other.
But as NRG noted in its release, the plant, in the Lancaster area of northern Los Angeles County, actually began full commercial operations in early February – and that prompted us to wonder how it's been doing at producing energy. Pretty darn well, it turns out.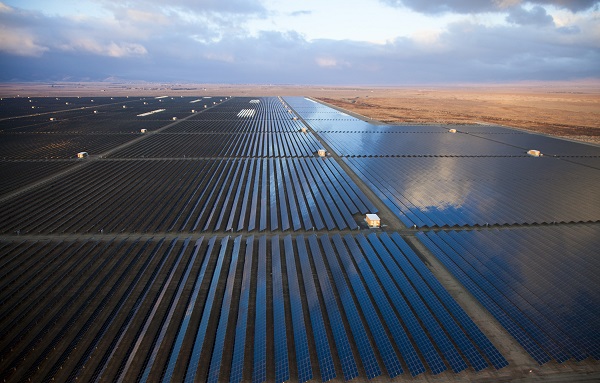 Alpine Solar Generating Facility was built and is operated and maintained by First Solar. NRG Energy calls it a 66-megawatt plant. What that means is that when the acres and acres of cadmium-telluride thin-film panels are bathed in sunshine, producing at full capacity, the plant can produce 66 megawatts of electricity.
And indeed, a look at the plant's sales data – the energy goes to Pacific Gas & Electric under a 20-year power purchase agreement – shows that Alpine has frequently been producing at maximum power for several hours a day. Thursday, March 21, was pretty typical, with energy production right at the red line from 11 a.m. to 3 p.m.
11 am – Noon: 66.26298 megawatt-hours
Noon – 1 p.m: 66.28734 MWh
1 p.m – 2 p.m: 66.29028 MWh
2 p.m – 3 p.m: 66.28188 MWh
While NRG said the plant went into full operation in February, it was originally scheduled to be completed in the third quarter of 2012, and the data shows NRG selling plenty of power from the plant to PG&E in January this year. But measuring from when it looks like it officially went into full service, on Feb. 3, through to the end of March, it sold 26,951 MWh of electricity to PG&E. That means it operated at an impressive 29.9 percent capacity factor, right up there with many wind power projects.
The data also shows the prices PG&E paid for the power. Prices were higher in February, but in March, during the noon to 8 p.m. period – when demand is higher – PG&E paid $128.75 per megawatt-hour. From 7 a.m. to noon, when demand is lower, the price was $106.875/MWh. Overall, since Feb. 3, the average price of the power was $125/MWh. Broadly speaking, this is around twice the price of natural gas-fired generation, but of course solar is clean and natural gas isn't.