What will become the world's largest solar photovoltaic development is now in "major construction" mode in California's Antelope Valley, about 60 miles north of Los Angeles.
The solar manufacturer and developer SunPower and the utility company MidAmerican announced this new status late last week, coinciding with a big community event at the 3,230-acre site, where preliminary work began in January.
The development consists of Antelope Valley Solar Project 1, a 309-MW plant that will straddle the Kern-Los Angeles county line; and AVSP 2, a 270-MW plant that will be entirely in Kern County.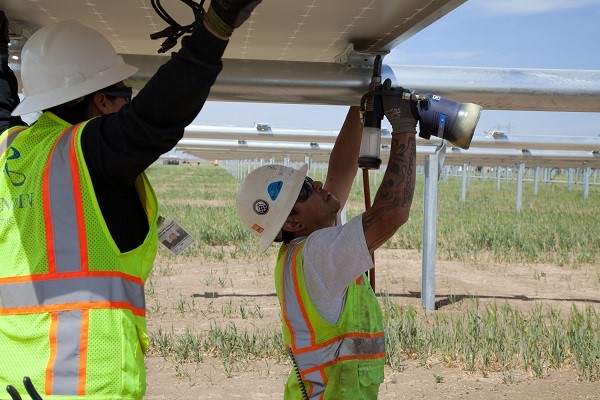 When completed by the end of 2015, if all goes according to plan, the Antelope Valley Solar Projects will add up to 579 MW, dwarfing any other PV outpost in the world.
Right now, the Agua Caliente project in Arizona – a First Solar development owned by NRG and MidAmerican – is at the top of the heap, at 250 megawatts. Other U.S. projects under way are aiming to match or beat Agua Caliente, but even the biggest, the 550-MW Topaz project in San Luis Obispo County, won't best the Antelope Valley Solar Projects.
"The start of construction on the Antelope Valley Solar Projects underscores that solar is a reliable, cost-competitive energy source," Howard Wenger, SunPower president, regions, said in a statement. "SunPower is proud to partner with MidAmerican Solar and Southern California Edison on this historic project, which is bringing critically needed jobs and economic opportunity to Californiatoday and will generate abundant clean, renewable power to the state over the long term."
MidAmerican purchased Antelope Valley Solar from SunPower in January for between $2 billion and $2.5 billion, according to federal filings. The deal included a three-year contract for SunPower to build the projects, and to operate and maintain them under a multiyear agreement with MidAmerican.
MidAmerican, controlled by Warren Buffett's Berkshire Hathaway conglomerate, has been gobbling up a lot of renewable energy in the past year or so. In October it bought two Southern California wind farm projects, part of the sprawling Alta Wind Energy Center, that total 300 MW in generating capacity. In February 2012, it completed the purchase of the under-construction 550-MW Topaz Solar Farm project from First Solar. In December 2011, it bought a 49 percent stake in the aforementioned Agua Caliente Solar Project. The company has also developed several wind farms and purchased others.