Next time you visit Hong Kong, don't be surprised if you can't hear that taxi cab you flagged down as it approaches you. Especially if it's red. Chinese automaker BYD ("Build Your Dreams") this month announced the launch of the city's first all-electric vehicle fleet of taxi cabs. The launch ceremony was held at the Hong Kong Science Park. Representatives from BYD, partner Sime Darby, the Hong Kong government, and local utility companies were on hand to welcome the e6 "taxi" crossovers.
States Mr. Wong Chung Keung, president and chairman of the Hong Kong Taxi and Public Light Bus Association, "The support of the taxi industry is essential to the mass-adoption of Evs. We fully support BYD and Sime Darby's introduction of pure electric taxis in Hong Kong. Our association will embrace this trial project with enthusiasm. We believe our upcoming co-operation with BYD for the promotion of electric taxis in Hong Kong will successfully upgrade the taxi industry and our efforts will not go in vain. We aim for a more pollution free environment and our target is full replacement of our present vehicles with electric ones in the near future."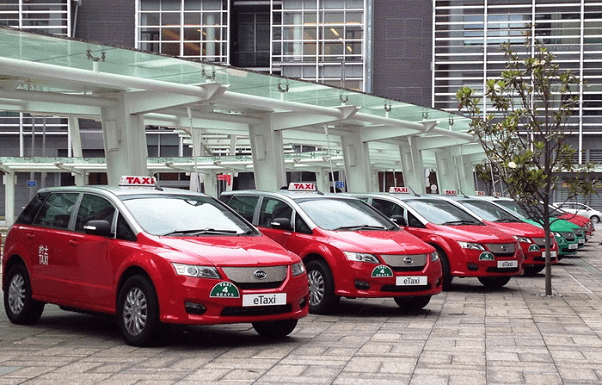 BYD will provide 45 of its e6 crossovers for the first batch of taxis. The e6, as we've covered numerous times here at EarthTechling, is a five-passenger crossover looking roughly like a smaller version of the decidingly non-electric Ford Edge. According to the automaker, the EV taxi cab has a range of up to 186 miles between charges. That figure far exceeds virtually any pure-electric like the Nissan Leaf or smart fortwo electric here in the states, which tend to have a real-world range of 70 to 80 miles between charges.
Only Tesla and its Model S comes close in range to the e6 but that sedan has a price tag starting around $70,000 (before rebates and tax credits). BYD says it only takes two hours to recharge the taxi's iron-phosphate batteries. However, it plans to install 47 charging units throughout Hong Kong so that the taxi cabs only have to charge once for a hour during its shift. Eventually, more such units will be installed in subsequent waves.
BYD also announced that both the e6 "taxi" and e6 Premier sedan are now on sale in Hong Kong. The Chinese automaker has been busy worldwide. Here in the U.S., it established its headquarters for the North American market in Los Angeles, Ca. Also in the same state, the city of Lancaster and BYD announced the construction of two manufacturing facilities for an electric bus program. Up north, the Canadian city of Windsor inked a deal with BYD to also build a fleet of EV buses.