Rechargeable batteries cut down on waste, help the environment and save you money in the long run.  They're easy to use, and they're much more earth-friendly than single-use alkaline batteries. Whether you need just a few AAA batteries for your flashlight, a 9v for your guitar, or a giant 12v for your camper – there's a rechargeable option for you.
Our top pick for best AA rechargeable battery, the Panasonic eneloop, uses nickel-metal-hydride technology to store huge amounts of energy (at least, for the size) and boasts an incredibly long cycle life – it can be recharged over 2,000 times!
When choosing our picks for the best rechargeable batteries, we zeroed in on 'The Four Cs':
Cost: How does it compare to similar batteries?
Capacity: How much energy can the battery hold?
Cycle Life: How many times can the battery be recharged before it starts to wear out?
Customer Reviews: Are buyers satisfied?
While other batteries might have a longer capacity or lower cost than our picks, in each category we've tried to find the battery that offer the best mix of the above four factors. Below, we discuss each of our picks a bit more in depth. If there are any other great batteries we felt needed a mention, we've included them in each review section below. Here's our top 5 picks for the best rechargeable batteries in 2021.
Top 5 Best Rechargeable Batteries in 2021
---
Rechargeable Battery Reviews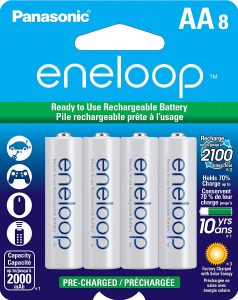 Best AA Rechargeable Batteries
Quick Look: Best-in-class cycle life and high capacity makes these the perfect AA batteries, all at a reasonable cost
Check Price at Amazon
You can't get better than Panasonic's eneloop rechargeable AA batteries. These little batteries pack a serious punch, with great reviews and a well-known brand to back them up. Each NiMH battery stores 2000mAh of electricity – about standard for rechargeable AAs – but the real draw is the cycle life. Eneloop AAs can be recharged an incredible 2,100 times. That's twice as much as other rechargeable AA batteries on the market, all for just a slight cost increase.
Panasonic sells both AA and AAA versions of the eneloop as well as standard chargers, quick chargers, and USB chargers. You can buy each piece individually or you can purchase them in kits with varying battery sizes and quantities. You can also buy D and C size adapters so you can use your AA batteries in devices that need these larger batteries, without spending extra cash on more batteries.
Customers rave about these batteries and generally appreciate their extreme longevity, though many point out they do take 6 to 8 hours to fully charge using a standard charger. Some buyers also reported receiving knock-off versions on Amazon, but those anecdotes are pretty rare, so they shouldn't concern you.
The eneloop batteries are perfect for low-intensity uses like TV remotes, wireless mouses, and flashlights. If you're looking for the absolute highest capacity around, take a look at Panasonic's eneloop pro, which is the high-capacity version. Instead of 2000mAh of capacity, the pro versions boast 2550mAh – about 25% more energy from the same size battery.
The pro versions are perfect for energy-intensive activities or when outlets aren't readily available, like DSLR cameras, headlamps for the outdoors, remote-controlled vehicles, and the like. However, the eneloop pro batteries are also nearly twice as expensive and suffer from a pretty dismal cycle life – just 500 cycles compared to the regular eneloop's 2,100 cycles. While their high capacity is excellent, we think the high price is only justified if you really need that extra bit of juice.
If you're fond of the bunny, the Energizer rechargeable AA battery is about the same cost as the Panasonic eneloop. While it also boasts 2000mAh of capacity, the Energizer batteries can only be recharged 1000 times – less than half of the eneloop – so there's no benefit there.
Overall, the Panasonic eneloop batteries are exactly what you're looking for in a rechargeable AA. They're cost-effective thanks to their incredibly long cycle life and still enjoy a competitive price. They enjoy thousands of overwhelmingly positive reviews and they're backed by a major electronics brand.
Learn More & Buy Now at Amazon
---

Best AAA Rechargeable Batteries
Quick Look: A best-in-class battery capacity at a very reasonable price.
Check Price at Amazon
You probably haven't heard of EBL, but they make some great rechargeable batteries and their customer reviews are on par with many of the more well-known battery brands.
EBL's ProCyco rechargeable AAA batteries are NiMH and feature 1100mAh of energy storage – more than many other AAAs out there – and can be recharged up to 1,200 times, which falls about middle-of-the-pack for rechargeable batteries. Considering their fantastic energy capacity and decent cycle life, these batteries are a great deal, at about half the cost of the Panasonic eneloops but with very similar customer reviews.
These AAAs are perfect for general use applications like remotes, headlamps, flashlights, and similar small gadgets.
While they make a handful of other small electronics, EBL clearly focuses on small batteries and this narrow focus shows in the product quality. Customers report the EBL ProCyco batteries keep their charge well and last quite a while. Many also report that EBL's customer service is quick to respond and offers great warranty support if any of the batteries suffer from defects. With so many unknown companies on Amazon, knowing EBL provides good customer service allays any fears we'd have about quality control or getting ripped off.
If you want the absolute best, check out Panasonic's eneloop batteries, which are our top pick for rechargeable AA batteries. They store less energy than the EBLs – just 800 mAh – but their cycle life is an incredibly long 2,100 cycles – almost 2x longer than any other AAA. However, they're also much more expensive than most other batteries and the long cycle life just isn't enough for us to recommend them over the EBLs.
If you're looking for the cheapest options, check out Rayovac's Rechargeable AAA batteries. They enjoy great customer reviews, but at 600 mAh they can only store about half the energy as the EBL batteries above, though the cycle life is actually a few hundred rounds higher.
Overall, you can't beat EBL's specs. Sure, the Panasonic eneloops and Rayovac batteries last longer, but EBL's batteries outperform them all in energy capacity. On top of that, they're also very well-priced.
Learn More & Buy Now at Amazon
---

Best 9V Rechargeable Battery
Quick Look: A rechargeable Li-ion 9V battery with great reviews and excellent cycle life.
Check Price at Amazon
Unlike AA and AAA batteries that rely on nickel-metal-hydride technology, 9-volt batteries have generally moved on to lithium-ion – and that's a good thing. Lithium-ion can store much more energy than NiMH and they charge more quickly as well. It's a plus-plus situation.
Bonai's 9V Li-ion Batteries are our top pick for rechargeable 9 volts. Each battery stores 600mAh of energy –the same as most non-rechargeable 9v batteries – and can be recharged 1,200 times.
Buyers claim these Bonai batteries are better performing than other rechargeable 9v batteries out there and last much longer. The only real issue is their size, as their dimensions are just a tad larger than typical non-rechargeable alkaline 9v batteries.
For most of us this isn't an issue, but if you're trying to squeeze a rechargeable 9v battery into a tight-space, like an acoustic-electric guitar or a compact smoke detector, try the Energizer NiMH rechargeable 9v. While the battery capacity is just 175mAh – a fraction of most Li-ion models' 600mAh – its dimensions are also much smaller, so it'll fit in smaller battery compartments.
Going back to the Bonai batteries, there's nothing crazy here, they're just good quality, rechargeable batteries. Use them in your smoke alarms, acoustic-electric guitar, remote control cars, or anywhere else you need a 9v battery. Bonai makes a handful of chargers and other rechargeable batteries to go along with them.
If the Bonai batteries aren't quite what you want, EBL's 4-pack of 9-volt batteries is very similar. For the same price, you get four 600mAh Li-ion batteries with a 1200 life cycle. But while the EBLs have a greater number of reviews, there are more customer complaints around longevity and battery life than with the BONAIs, so they don't make our top pick.
Bonai makes all manner of chargers and batteries including AAs and AAAs, as well as a few different sizes of rechargeable battery backups for smartphones. Overall, these are well-reviewed, quality-built 9v Li-ion batteries.
Learn More & Buy Now at Amazon
---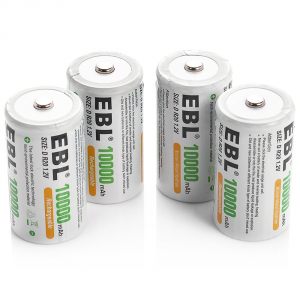 Best D Rechargeable Battery
Quick Look: A high-capacity, rechargeable D battery with great reviews.
Check Price at Amazon
EBL makes our list again, this time with the EBL High Capacity D Size Battery. These NiMH D batteries pack in 10,000mAh of energy storage and can recharge 1,200 times before they start to wear down. Customers report that the batteries work well, stay charged for a good amount of time, and are reasonably priced.
We had a very hard time choosing EBL as our top pick, mostly because Bonai's batteries are almost as good as the EBLs. Bonai's D batteries are also NiMH with a 10,000mAh capacity and 1200 cycle life. However, they suffer from a few more negative reviews, mostly around quality control. While the complaints were rare, it was enough to push EBL's batteries into our top spot.
If you want to purchase a battery from a more well-known company, Energizer's Rechargeable D Batteries can also fit the bill, though their specs don't really inspire imagination. These NiMH batteries are about half the price of EBL's D batteries but suffer from a capacity of just 2500mAh – a quarter of the others. They enjoy about the same amount of good reviews, but we recommend paying a couple of extra bucks for the EBLs. For just 2x the money, you can get 4x the power. That seems like a better deal to us.
Lastly, if you're looking to impress your friends, check out HITREND's USB rechargeable D battery. We guarantee you've never seen any battery like this. Just flip the cap off the top and you'll find a hidden USB plug. Just plug it into a USB outlet and your rechargeable Li-ion battery will be ready to go in 3 to 5 hours. It's quite convenient, as you don't need a charger like all the other batteries on our list, and the Li-ion battery lasts a very-high 2000 cycles. However, the battery is only 4,500mAh, less than half of the EBL batteries, and twice as expensive.
Learn More & Buy Now at Amazon
---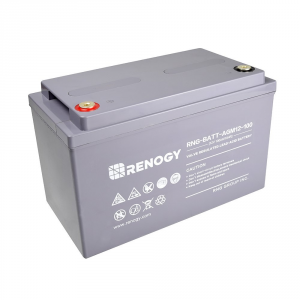 Best 12V Rechargeable Battery
Quick Look: A durable deep-cycle AGM battery that's perfect for solar panels in RVs or a small cabin.
Check Price at Amazon
The best 12v battery is a bit of a vague category, as there are simply too many different styles and sizes of 12v batteries to choose from. Cars, RVs, laptops, motorcycles, and solar installations can all use different sizes and types of 12v batteries.
Here though, we're going to focus on large capacity 12v batteries for a camper, RV, or small cabin with solar panels – a fitting system to discuss here on solar-friendly Earthtechling.
If you've looked into equipment for small solar installations before, you've probably run across Renogy – the leader in this space. They make everything from solar panels down to inverters and batteries. And the Renogy 100Ah Deep Cycle AGM is our topic pick for the best 12v battery.
This battery can store 100Ah of energy. To compare to the smaller batteries on our list, that's 100,000mAh – or about 4,500% larger than the AA batteries above. In a more familiar format, that's 1,200 watt-hours of energy – enough to keep a standard 9-watt LED on for about 5 ½ days straight. If you're looking for a smaller (or larger) 12v battery, Renogy also makes 7Ah, 9Ah, and 200Ah versions of this 12v battery as well.
Renogy says the battery can be discharged 600 times, but this is greatly affected by how deeply you regularly discharge it. If you're always fully draining the battery, it's going to die much more quickly. To get 600 cycles, you'll need to limit yourself to about 60% of the battery capacity. In other words, you can only use about 60Ah of the battery's 100Ah capacity. Yes, that's not great, but it's just the way batteries work.
Buyers generally pair the Renogy battery with solar panels in RVs or campers and report that the product is well-made and durable and that the customer service is top-notch.
AGM – or Absorbed Glass Mat – is a type of enclosed flooded lead-acid battery. That might not make sense to you, but you're already familiar with flooded lead-acid batteries, as we use them in our cars every day. But while car batteries typically include vents to release any dangerous gases, AGM batteries are completely sealed, allowing you to bring the batteries inside (though still in an enclosed area for safety) and even turn them on their side without any leaking.
If you're looking for a lithium-ion 12v battery, take a look at Battle Born's LiFePO4 Deep Cycle Battery. It's the same capacity as the Renogy above – 100Ah – and it's also completely sealed so it's safe to use inside. However, lithium-ion batteries have tons of benefits over AGM. Battle Born's battery is about half the weight of the Renogy (29 pounds vs 66 pounds). It also has much smaller dimensions, so it's easier to move and cram into smaller spaces. Lithium-ion batteries also charge faster and are more durable than lead-acid batteries.
The biggest draw to lithium is the extremely long cycle life. Battle Born's batteries last an incredible 3000 to 5000 cycles, compared to Renogy's 600 cycles. While the sticker price is about 4x as high as the Renogy (which is the reason it's not our #1 pick), Battle Born's long cycle life actually means that it is cost-effective in the long-run.
In the end, either battery will take care of your energy needs. If you can afford it, Li-ion is certainly the future of batteries. Until prices come down, the AGM Renogy battery will work great.
Learn More & Buy Now at Amazon
---
Everything You Need to Know About Rechargeable Batteries
Here are a few key tips to help you find the perfect rechargeable batteries for your needs, and how to keep them in tip-top shape so they're ready to go when you need them.
Battery Types
You'll see a few different battery types in our list of top picks above, including nickel-metal hydride (NiMH), Li-ion, and AGM lead-acid. All these technologies are rechargeable and each one's unique characteristics lend themselves to different situations.
Low-voltage rechargeable batteries, like AA, AAA, and D batteries, typically use NiMH inside. This technology is cheap to produce and can withstand hundreds, and sometimes even thousands, of charges and discharges. All of our picks in these sizes are NiMH batteries.
You might also hear about nickel-cadmium (NiCd) batteries in your searches. These batteries can handle higher amperage than NiMH and therefore can charge more quickly, but NiMH batteries last longer. These days, most manufacturers have moved on to NiMH for general use batteries. You won't find any NiCd batteries on our list.
Technology changes as voltage increases, typically favoring lithium-ion technology, as it can generally hold more electricity (called energy density) than similarly-sized NiMH. They last through more discharge-charge cycles, are more compact, and charge more quickly. The Bonai, our top pick for the best 9v battery, is powered by Li-ion. There are also NiMH 9v batteries, like the Energizer batteries we mentioned, but they only have about a quarter of the energy density of lithium.
Large batteries for campers and RVs can also come in lithium-ion, which enjoy the same benefits as smaller lithium batteries – namely long cycle lives, great energy density, and fast charge times. On top of that, larger lithium batteries are safe to use indoors, as they're completely sealed. Unfortunately, they can be quite expensive.
Instead of lithium, many RV drivers opt for lead-acid batteries, which are time-tested and require much less out-of-pocket cost. Absorbed glass mat (AGM) and gel lead-acid batteries offer a good balance between cost and features. They don't store as much energy or last as long as lithium batteries, but they're much cheaper and still enjoy some of the same perks since they're completely sealed. Our top pick for 12v batteries, the Renogy 100Ah battery, is a sealed AGM lead-acid battery.
Chargers
As you know, you'll need the appropriate charger no matter what size or type of battery you buy. Small batteries – from AAA to D sizes – typically use a small charger that plugs directly into a wall outlet and allows you to charge multiple batteries at once. These are inexpensive and easy to use.
The better chargers allow you to charge batteries individually, while cheaper models require you to charge multiple batteries at the same time, so be sure to watch out for this while searching for chargers.
If you want to go even greener, consider buying a solar-powered battery charger. C.Crane's 11-in1 Solar Battery Charger can recharge AAA, AA, C, and D batteries with clean, solar energy!
You can charge larger 12v batteries in multiple ways, depending on your application. If the battery is for an RV or camper, you'll probably charge it via a solar panel, your car's alternator, or a battery charger plugged into your garage.
Capacity and Cycle Life
A battery's capacity is simply a measure of how much electricity it can store at any one time. The higher the capacity, the longer your device will stay on. Battery capacity is measured in amp-hours (Ah) and can range from just 500 milliamp-hours (mAh) for small AAA batteries all the way up to 100Ah (equal to 100,000mAh) or more for large 12v batteries designed for off-grid cabins or RVs.
Manufacturers sometimes advertise batteries as 'high capacity', which is exactly what it sounds like. The Bonai High-Capacity D Batteries – our top pick in that size – boasts a capacity of 10,000mAh, four times as much as Energizer's standard D batteries.
Speaking generally, AAA batteries are typically around 800mAh; AAs around 2000mAh; and D batteries and 9-volt batteries fall around 5,000 to 10,000mAh.
While capacity measures how much electricity the battery can store, cycle life measures how many times the battery can be charged and discharged before it starts to degrade. Small rechargeable batteries generally can handle about 1000 cycles, while high-quality options like Panasonic eneloop batteries can handle 2,000 cycles or more.
Larger 12v batteries can handle hundreds to thousands of cycles, depending on the technology and quality. The Renogy's 12v AGM lead-acid battery above lasts about 600 cycles, while the similarly-sized lithium-ion Battle Born battery lasts up to 5,000 cycles – though you're paying a premium for that longevity.
How To Get The Most Out of Your Rechargeable Batteries
We've already talked a lot about cycle life and how each battery has a specific charge limit, but what can you do to ensure that you get the most out of each of those charges? Here are a few tips that can help you get the most energy for your money.
Avoid Overcharging
One of the most important things to remember about rechargeable batteries is that you do not want to overcharge them. Although it may be tempting to simply plug in your charger and forget about it for a couple of days, that is not a good policy. You should only leave your batteries charging until they are full and then remove them from the charger.
Using fast or high-powered chargers can also damage your rechargeables. A slow charger may take longer, but it will extend battery life. Solar chargers are your best option. Not only are they better for the environment and your wallet, but they also charge slowly, meaning that your batteries will last longer.
Charge Often
Old school rechargeables used to require complete depletion before recharging, but modern rechargeable batteries should not be depleted. A common rule is that you should only run them down to about 20% before recharging. Completely draining these batteries will shorten their lifespan.
Avoid Heat
Heat kills batteries. You should never leave your rechargeables in a hot car or lying in the sun. Using your rechargeables in devices that heat up should also be avoided. Always store your batteries in a cool, dry place. Some manufacturers suggest storing batteries in the fridge when not in use. Just remember to never put them in the freezer! Extra cold temps could damage the life of the battery.
What We Learned About Rechargeable Batteries
The right battery for you is determined by your needs. Of course, you'll need the right size – you can't squeeze a D battery into a AA slot – but certain factors like greater capacity or low cost could impact which style you choose.
For example, our top pick for AA batteries, the Panasonic eneloop, creates a great balance between cost, capacity, and cycle life. However, if you're a mountaineer that needs to know her headlamp is going to work all night, maybe opt for the eneloop pro, which is more expensive, but lasts 25% longer on a single charge. Here are our top picks one last time:
Best Rechargeable Batteries
Rechargeable batteries are cost-effective and produce less waste than standard single-use alkaline batteries. And all of the options above should provide years of easy, earth-friendly service.