Many homes use solar energy to generate electricity, and others are also situated to maximize solar gain during the coldest months. But few of them do both of these things and also attempt to alter the spectrum of the light that enters the home.
Such is the case with a house in Vicenza, Italy, called TVZEB, designed by the firm Traverso-Vighy, with the help of the University of Padua's Department of Technical Physics. The experimental home is a net-zero energy structure that blends as much as possible into the surrounding environment and can even be disassembled easily at the end of its useful life for convenient recycling.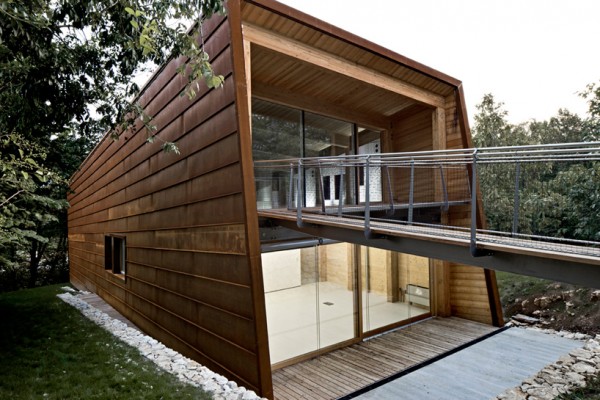 The TVZEB (an acronym for Traverso-Vighy Zero-Energy Building) was built to meet new EU standards requiring that all new public buildings from be net-zero energy buildings by 2020. Along with the energy efficiency, the structure includes elements that help enhance the visual well-being and comfort of the inhabitants, starting with the quality of the light it lets in.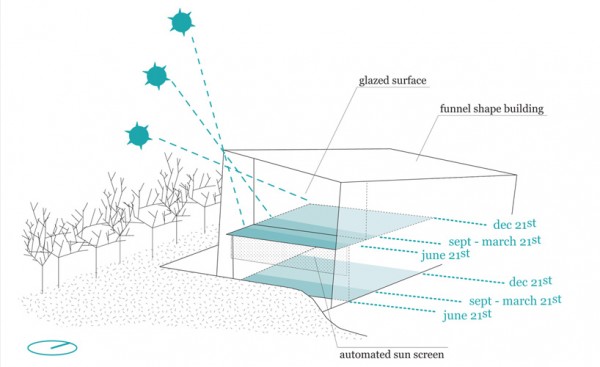 Acting as a "daylight funnel," the simple rectangular house — a cor-ten steel frame enveloped in weather-resistant larch wood — is glazed on both ends to provide great views of nature. The south end of the house is also sited on the property in such a way that sunlight will flood that home during the coldest months of the winter solstice and that shade will help cool the house during the hot summers, when the sun is highest in the sky.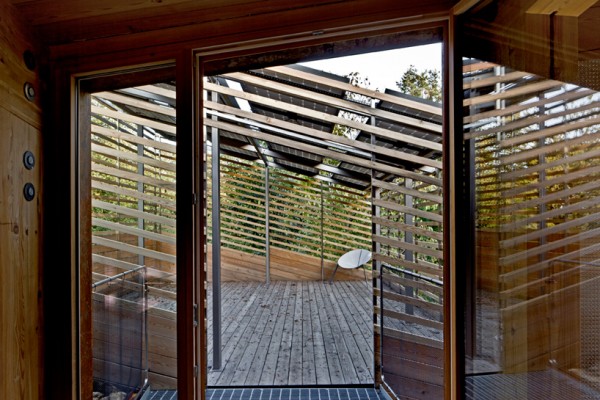 For added insulation the house also has a double layer of 90mm polyester fiber in its walls, made from about 40,000 recycled plastic bottles. In addition to these passive systems, TVZEB also has 16 photovoltaic panels built on an auxiliary structure, which can produce the 5.6 kWh of energy the house needs to function for a full year. Temperature is further controlled by a geothermal heat pump and a wood-burning stove powered by prunings from the surrounding landscaping.

To provide "a heightened experience of the seasonal and circadian changes in light," Traverso-Vighy also recessed small, super-efficient LED bars at strategic points in the floor of the main living room, equipped with three types of lamps: natural white, cool white and amber bulbs. As the sunlight changes with the seasons, depending on its angle in the sky, the LED lamps automatically change their combined brightness, bouncing wavelengths of light off the walls that complement the natural daylight.
"The interaction between light and materials, the changes in light and darkness, and the variants in light temperature and color are aimed to create a 'people-friendly' environment," said the home's designers. "The climate of the Veneto region is characterized by hot and humid summers and misty winters, therefore indoor lighting is designed to provide warm, mutable artificial light on foggy winter days and fresh, cool artificial light when the days are hot outdoors."