Just glancing at the headline, it looked like a super-positive development. "Dominion Virginia Power to buy electricity from small solar power generators," said the Richmond Times-Dispatch.
But some solar advocates are skeptical. In fact, an energy watcher whose blog headlines are featured on the website of the Virginia chapter of the Sierra Club – which was among the group objecting to elements of the Dominion Solar Purchase Program before state regulators – says the program "gets nothing right." The case is a reminder of how complex renewable energy development can be in the absence of a national policy to promote it.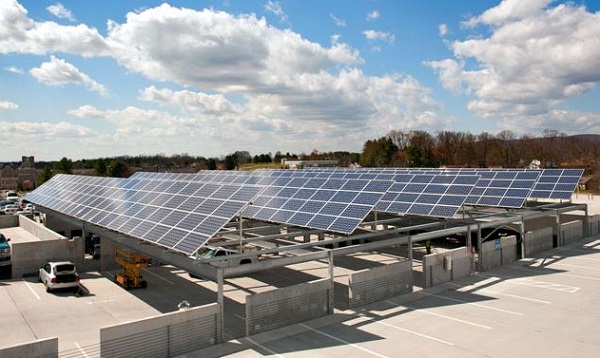 The program's basics are that Dominion will pay 15 cents per kilowatt-hour for distributed solar power produced by its customers, with the program open to residential systems up to 20 kilowatts in size (a typical home system might be 4 or 5 kW) and commercial systems up to 50 kW. A total of 3 megawatts of capacity will be allowed into the program.
But according to the Power for the People VA blog by Ivy Main, Dominion is making out like a bandit with Solar Power Purchase. As Main explains:
Under the program, customers who have solar panels would sell all their solar power to Dominion for 15 cents per kilowatt-hour (kWh), and buy regular fossil-fuel electricity (known as "brown power") from Dominion at the normal retail rate of about 11 cents. Cost to Dominion: 4 cents/kWh.

Dominion would then resell the solar power to the participants in its Green Power Program [in which participants voluntarily pay 1.3 cents per kWh extra for clean energy], not for the 4 cents it costs the company, but for 11 cents. Dominion would keep 7 cents/kWh.

Dominion tells us that the 7 cents would go to its rate base, not its own bottom line. But it's clear who loses. The do-gooders who pay extra on their utility bills for the Green Power Program would pay 11 cents for something Dominion bought for 4 cents. They are being played for chumps.

Last year the Green Power Program bought Virginia solar power directly for 4 cents/kWh through the purchase of renewable energy certificates. So why should the program pay 11 cents for something it can get for 4?
Ultimately, the argument is that the company ought to be placing a higher value on distributed solar power generation than 4 cents/kWh, considering all the benefits it delivers, and that it's questionable how much new solar the program will inspire beyond those already doing a net metering program.
State regulators largely dismissed objections to how the program will operate [PDF], but did note that it is a five-year demonstration program and that their decision "does not bar future consideration of different proposals – including positions set forth by participants and public witnesses in this proceeding – that have not been adopted at this time as part of DVP's distributed generational Solar Purchase program."