Last October, Lux Research analyst Edward Cahill wrote: "As hype for [high concentration photovoltaics] dwindles, companies are starting to look into low concentrating PV (LCPV) as an intermediate technology between expensive, highly efficiency HCPV and cheap, less efficient flat panel PV."
Just a few months later, low concentration photovoltaics has a big new project to hang its hat on, the world's largest LCPV project in the world, in fact: A 4.1-megawatt ground-mounted array with tracking at the U.S. Army's White Sands Missile Range in New Mexico.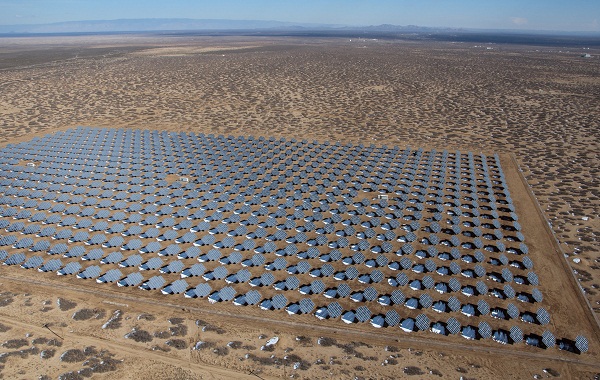 The installation was dedicated on Wednesday in a ceremony that brought out Army brass, including the Obama administration's point-person on the Army's green efforts, Assistant Secretary Katherine Hammack.
But while it was a big deal for the Army, it might have been an even bigger deal for LCPV as it competes with other forms of photovoltaics in a marketplace looking for the cheapest way to produce a kilowatt-hour of electricity.
Some background: Both LCPV and HCPV try to trim the cost of modules by using fewer solar cells and then concentrating their power. LCPV ratchets up their power-producing capacity with reflectors that multiply the sun's concentration by maybe 10 times through the use of things like specially treated glass, reflector films or parabolic mirrors. HCPV systems, by contrast, concentrate the sun's irradiation by much larger factors – 500 or 1,000 times – to achieve efficiencies like the 33.9 percent from Semprius. The cells need to be designed to dissipate the high levels of heat generated under such intense concentration.
At White Sands, the Army went with LCPV solar modules made by Solaria, which says its patterned glass allows it to us half to a third of the silicon in its cells compared to traditional crystalline silicon PV. The system adds single-axis tracking. It's expected to generate 10-million kilowatt-hours of electricity annually, the Army said, which by our calculations works out to a 27.8 percent capacity factor, robust for solar.
The system costs $16.8 million and was built through use of an energy savings performance contract, which avoids any upfront costs by the Army. Siemens headed up the development and the Army will buy the electricity produced by the system from Siemens at the same rate the local utility now charges – a rate that figures to increase, giving the Army price stability and renewable energy credits it needs to meet Defense Department goals.
"This is an exciting project for the U.S. Army," said Garrison Commander Colonel Leo Pullar. "A sunny location like New Mexico provides an ideal site for solar power. This project illustrates the U.S. Army's commitment to going green, our focus on operating on net zero energy, and doing what we can to help protect the environment."
While the Army went with LCPV and many analysts are skeptical of HCPV's prospects, it's far from dead. In the past few months we've seen Soitec open a HCPV plant in San Diego with federal support, and Semprius open a manufacturing facility in North Carolina.