Semprius, a company that incubated with the National Renewable Energy Laboratory, is nearly ready to step out into real world, announcing that its first manufacturing plant, in North Carolina, will officially open on Sept. 26.
Talk about going against the flow.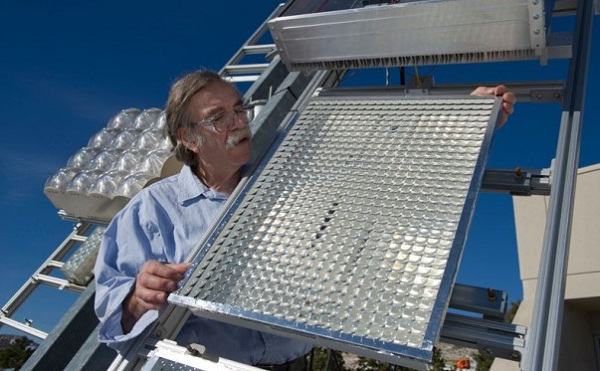 This is a time of retrenchment in the solar manufacturing sector, the result of years of exuberant capacity additions and slowing installation growth. But Semprius, with its concentrating photovoltaic (CPV) technology that yields sky-high efficiency of 33.9 percent, figures it has something special that will allow it to flourish while competitors fade.
How did it get to this point?
The Department of Energy-backed NREL incubator program helped Semprius develop its concept with $3 million – and guidance from experts – in what's now known as the SunShot Incubator, but private capital has hardly forsworn the company. Siemens put in the biggest chunk, $20 million in June 2011.
The state of North Carolina and Vance County chipped in $8 million in incentives to lure the company to the Tar Heel State.
Whether that all qualifies as government "picking winners" could be a matter of opinion; the federal contribution was a pittance, at least in dollar terms and compared with what Semprius raised privately. And the local incentives are de regueur in the U.S. these days, in blue states and red ones.
In any case, it will be fascinating to see how the company fares. Since it won the Siemens investment and said it would build a plant with 5 MW capacity, expandable to 35 MW, its task has become only more challenge as vanilla PV has become even cheaper.
In that environment, CPV manufacturer Amonix in July shuttered its Las Vegas plant and just last week GreenVolts said it was suspending operations, having lost the investment of major backer ABB. ABB told Gigaom's Katie Fehrenbacher the "decision reflects the uncertainty in the PV market, and the lack of transparency on when it will stabilize."
Of course, none of those folks had the efficiency that Semprius can boat.
According to an NREL write-up of the company, Semprius' triple-junction cells, the size of the dot made by a ballpoint pen, are made of gallium arsenide. Low-cost lenses concentrate the sun light onto the tiny cells 1,100 times.
"Their tiny size means they occupy only one-one thousandth of the entire solar module area, reducing the module cost," NREL said. "In addition, the use of a large number of small cells helps to distribute unwanted heat over the cell's structure, so there's no need for expensive thermal management hardware such as heat fins."
Semprius is aiming its modules for commercial and utility-scale developments, particularly in very sunny areas where CPV in general is favored. For utility-scale applications, the company says its tracking, concentrating arrays will do a better job meeting peak power demand, which tends to come a few hours after fixed-tilt standard PV is at its peak.