The world of green transportation technologies as relates to the optimism and excitement of college students building these ideals of the open road continues to impress. Even as Virginia Tech students were getting ready to race their custom built electric motorcycle at Laguna Seca, counterparts at the University of Michigan were busy winning another solar powered vehicle competition.
I say another because the University of Michigan Solar Car Team pulled off in late July its fourth consecutive national championship at the American Solar Car Challenge (ASCC), which just also happens to be their seventh overall for this event. The ASCC is described as an eight-day, biennial 1,650-mile competition for solar-powered vehicles from 18 schools that this time around started July 14 in Rochester, New York, and ended July 21 in St. Paul, Minnesota.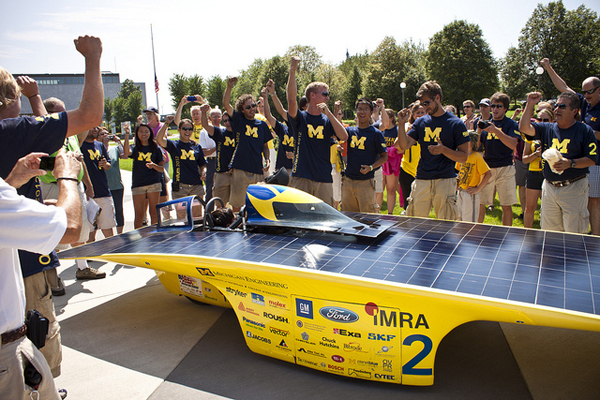 The Michigan team, besides continuing to dominate with the number of wins they achieved, also broke the national record they had previously set, winning by 10 hours and 18 minutes over its nearest competitor, according to the university.
The 2012 solar racer for Michigan, dubbed Quantum, is described as the lightest ever vehicle developed by this college. It is noted as being almost one-third more aerodynamic, and with its high quality solar panel cells it uses what is said to be the same amount of energy that it takes to power a hair-dryer. Energy harvested from the solar panels was stored in lithium-ion batteries.
A single seater design, Quantum cost more than a 1 million to build, according to the team behind it. Impressively its in-hub, brushless electric DC motor was able to propel the solar car to 105 MPH on a closed test course.
Michigan, like other racers, had to deal with heavy rains on a couple of the race days. They were said to be able to take advantage of the bad weather on the second day though, greatly increasing their time lead as other teams were forced to drive more slowly to conserve energy. They weren't as fortunate the second time with rain though, having to pull over a few times to make some adjustments.
"We've tested the car extensively in the rain, and each of our drivers has practiced in the rain, so that really gave us an advantage," said U-M mechanical engineering student and 2012 lead strategist A.J. Trublowksi in a statement. "While our overall strategy stayed mostly the same, we definitely had to make some adjustments to adverse weather conditions."
Plans are already in the works for the team's next solar vehicle.