The TTXGP eGrandPrix competition is a huge deal among electric motorcycle racers, offering up one of the most well established platforms to showcase how these clean emission vehicles can tear up the roadway. The most recent race in this competition happened this past weekend at Laguna Seca, and what is perhaps the most interesting result out of the pack is the placement amongst well established electric motorcycle specialists of a college team out of Virginia Tech.
An undergraduate engineering team with a self-described focus of "building a fully electric racing motorcycle to compete in the TTXGP eGrandPrix" did just that, and their rider delivered the goods with this fruit of their labors by coming in seventh overall as well as winning the award for the fastest finisher on a TTX75 motorcycle. This class of electric motorcycle racer is said to be set aside for bikes with an under 7.5 kilowatt-hours battery pack.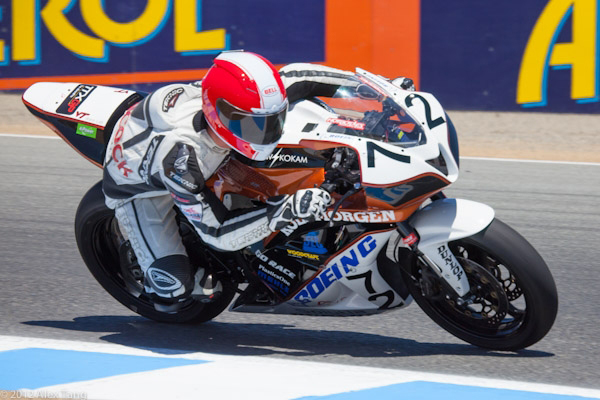 Virginia Tech BOLT, or Battery Operated Land Transportation, fielded its motorcycle amongst the likes of well known electric cycle companies such as Brammo, Lightning and Zero Motorcycles. The man on the BOLT, one Robert Hancock, was described as being "both new to riding an electric bike and a first timer at Mazda Raceway Laguna Seca," which makes how well things ended up even that much more interesting.
The BOLT, as far as electric motorcycles go, has some pretty impressive specs. A 2009 Honda CBR 600RR that is completely electric powered, it was custom built by Virginia Tech students over the course of several years. Its custom made AC permanent magnet electric motor generates the horsepower equivalent of 80 hp, and in recent field tests was recorded hitting speeds over 98 MPH.
Having placed well at Laguna Seca, the team will now likely proceed onwards towards a world champion race at Daytona International Speedway this fall. Here the BOLT will be pitted against bikes from professional race teams from North America, Europe and Australia, the three regions that make up the worldwide TTGP series.
And, looking beyond to the 2013 season, a new bike is already said to be in the planning stages. It will also be a newer model Honda CBR 600RR, with plans to classify it as a full GP class bike. In other words, they expect to build an electric motorcycle that will go directly head to head with the bigger bikes in the series.