More and more, we've seen schools not only making green part of their curriculum, but their infrastructure as well. And we're not just talking about the veritable rash of LEED certified college buildings we've seen of late — we're talking about bringing renewable energy straight to elementary school. All over the country, it seems, wind turbines and solar panels are helping to power schools (spurred by feed-tariff programs in some regions that eliminate upfront costs for schools) while helping teachers  to expand the science curriculum in a hands-on way.
Still, schools combining renewable energy and green building practices to achieve net zero status remain relatively few. Which places George V. Leyva Middle School of San Jose, Calif. — which now joins Lady Bird Johnson Middle School of Irving, Texas, in gaining net zero status —  in some elite company.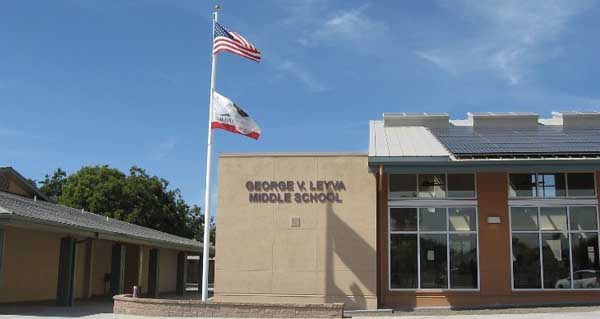 Like Lady Bird Johnson Middle School, Leyva Middle School's new Administration Building makes use of solar power to produce as much energy as it consumes. Working with local architects and Vista Solar, this school building not only met the State of California's tough Title 24 energy efficiency requirements, it surpassed them by 41 percent. With the building's energy consumption pared back to the bare minimum through a combination of green building design and a smart building energy management system (BEMS), the new Administration Building's 36kW solar installation takes care of the rest. The new building has claimed the honor of being California's first net-zero energy public school structure.
According to Vista Solar, the school building's new solar system will offset around 80,000 pounds of C02 emissions every year while  generating at least $9,900 in savings for the school on an annual basis. That's good news for the school and local taxpayers alike, as electricity doesn't come cheap in the state of California, and is only expected to become more expensive over the course of the next decade. (A recent report [PDF] projects that rates will rise by 5 to 7 percent annually in the state through 2020.)
The upshot? The savings generated over the lifetime of the system will translate to over $480,000 in funding for the school. Funds that may come in handy in preserving the school's extracurricular programs — which include athletics such as basketball, volleyball, soccer, and track,  as well as art, drama, band, choir — in the face of California's ongoing rounds of budget cuts.
And, of course, there's that whole matter of setting an example of environmental stewardship for the students and local community. "It's great to know that because of systems like this [Leyva], renewable energy will be the norm for this generation of kids growing up" said Jaymes Callinan, Vice President of Vista Solar, in a statement.
To make that example that much clearer, a flat screen monitor has been installed in the lobby of the Administration Building. This monitor displays information from the building's energy management system (designed by Schneider Electric) as well as real time data showing the roof-mounted solar power system in action. This allows school personnel — as well as visiting parents and students — to check out the building's energy consumption and generation, down to the individual breakers in the electrical panels, making the net zero building a study of green building in action.