A personal swimming pool isn't exactly the most environmentally conscious use for thousands of gallons of water. But I'll be the first to admit that when the summer weather approaches 100 degrees, there's nothing finer than plunging into a sparkling backyard pool (especially if the pool is headed by a solar pool heater).
Unfortunately, it takes a lot of time and effort to keep a pool sparkling clean. Many families choose to delegate the task to an expensive professional who comes around once or twice a week, or they opt for automatic solutions like rolling suction cleaners. But even these electric alternatives leave something to be desired. Even though a swimming pool is far from natural, it's Mother Nature that may have the answer.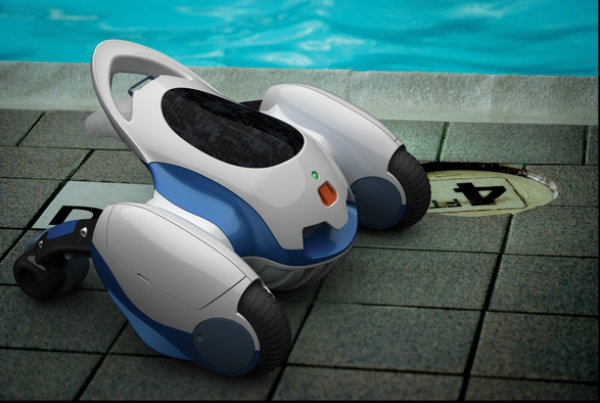 The BUFO Consumer Pool Cleaner is the brainchild of industrial designer Shaofei Xu. With an abundance of both sun and backyard pools, it's not hard to see why California-based Xu chose this particular project as his first foray into biomimicry.
"In my ideation I included many concepts that contribute to human operations," writes Xu on Behance. "I looked into how hydrodynamic animals are lifted out of the water, how animals absorb solar energy. One inspiration came from the Sunfish. Sunfish have a flat body because once they surface they flip onto their side to maximize sub absorption."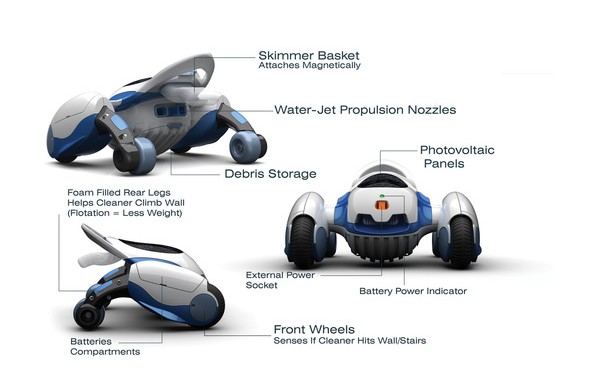 The resulting design is a combination skimmer and vacuum that's powered by the sun. The skimmer, which holds the solar panels, attaches to the body of the cleaner with magnets and detaches once BUFO is placed in the water. Connected by a cable, it floats along grabbing surface debris and charging the batteries, while the cleaner rolls along the pool floor, sucking up scum.
Because it eliminates the need for a long electrical cord, BUFO minimizes the risk of electric shock presented by some corded pool cleaners.