A century and a half before becoming one of the hottest foodie trends of the past decade, they were called chuck wagons. The chuck wagon begot the canteen. The canteen begot the roach coach. They roach coach gave birth to the taco truck. The taco truck has evolved into the the food truck, serving hungry patrons "street food" which now includes everything from kimchi tacos to handmade salted caramel ice cream to gourmet lamb burgers. Now, the food truck is taking yet another step in its glorious evolution. It's going electric.
The Dutch company Tuk Tuk Factory has recently unveiled their brand new all-electric food cart, the e-Tuk Vendo, and appropriately, the Vendo's first customer plans to use it to provide fresh fruit shakes and fruit cups.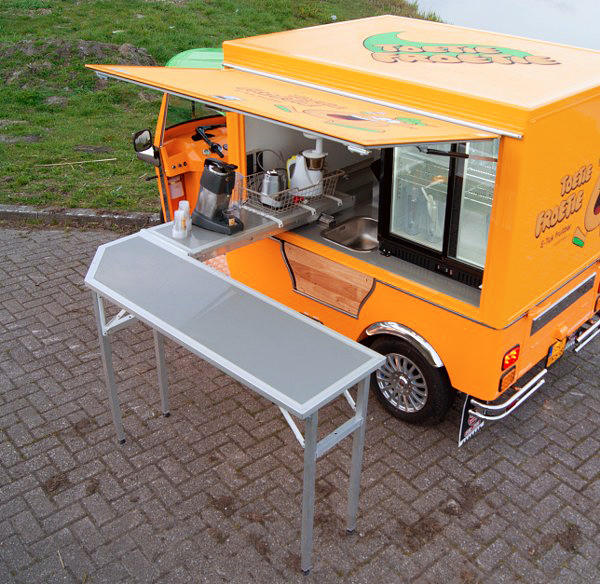 The e-Tuk Vendo is an all-electric fully contained street food miracle. Since it's fully electric, that means that the loud, stinky generator plugged into the back of a food truck is now a thing of the past. The Vendo's right side offers about 106 cubic feet of selling space, while the rear section offers space for storage. Folding up the side panel creates a canopy, and a working table can be extended from the vehicle.
The Vendo is powered by an oversized lead acid battery that offers a range of about 37 miles and is is large enough to keep the refrigerator cool while driving. One the Vendo arrives at its destination the proprietor plugs the truck in, providing power to lights, water pumps and other kitchen accessories while also charging the truck. Vendo also sells a roof-mounted solar panel which assists the battery.
Under the hood, the Vendo features a 72 volt AC motor that's good for a top speed of about 32 mph. That's not fast enough for highway use, but just fine for driving across town to sell organic empanadas in front of the dog park.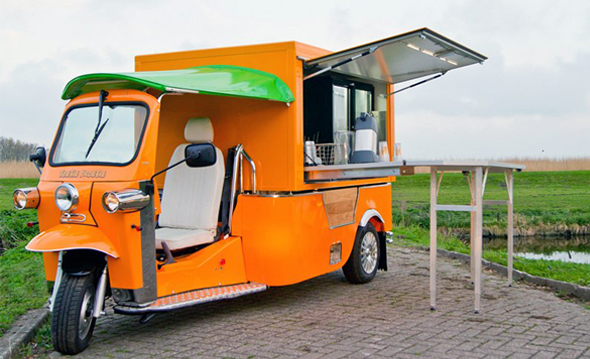 The Vendo weighs in at about 2,000 pounds and can carry a load of about 661 pounds. A full battery charge can take up to 10 hours.
The truck is available now all over Europe. Prices for the Vendo start at about $31,500, however Tuk Tuk Factory is ramping up production slowly so if you want one expect to wait three to four months for yours to show up.