Scotland isn't pussyfooting around on clean energy, aiming to meet 100 percent of its electricity needs with the green stuff by 2020. And as we recently reported, the country is making impressive progress toward that goal. But part of the sales pitch for this policy is that it will create good-paying clean energy jobs. How's that going? Thanks to Samsung, better now than it was a week ago.
Scotland said the Heavy Industries division of the giant Korean company had agreed to base its first European wind project—the development of a 7-megawatt (MW) offshore wind turbine—in Methil, a coastal town in Fife, just across the Firth of Forth from Edinburgh. Scotland's gung-ho green first minister, Alex Salmond, heralded the news, declaring the £100 million ($158 million) project would lead to more than 500 jobs while giving a big boost to the country's effort to lure a collection of wind power supply-chain companies to the new Fife Energy Park.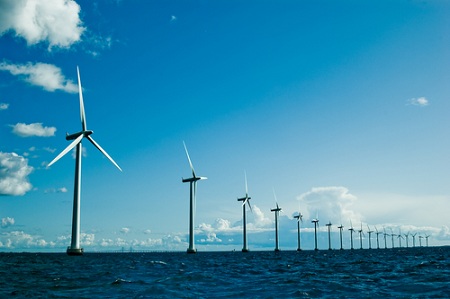 David Brown Gear Systems has already committed to the site, and the Samsung announcement included word that it had hooked up on a "multimillion pound deal" with the Scottish company to supply gearbox systems for the next-gen offshore wind turbine. Now Salmond and a whole collection of players pushing renewables—including Scottish Enterprise, an agency that has poured £17 million ($27 million) into the Fife site—are aiming to keep the ball rolling.
"Scottish Enterprise, Fife Council and Scottish Development International are committed to work with Samsung Heavy Industries and David Brown to secure further investment in the form of a new wind turbine facility and associated gearbox plant at the Fife Energy Park at Methil—a significant move in that it could see much needed high-value employment in this area of Scotland," Salmond said in a statement.
Most of the new European offshore installations these days are using 5-MW turbines, but the battle to get bigger is definitely on. The 7-MW turbine that Samsung is hatching matches a turbine that Vestas is at work on. The Danish company plans to install that turbine in the waters off Frederikshavn, Denmark, in 2013, as part of a DONG Energy wind farm.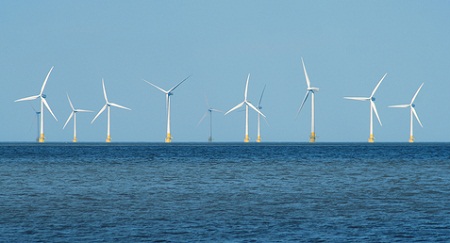 It sounds like Samsung might not be quite as far along with its ginormous wind power generator. The Scottish government announcement said the Samsung project "was subject to successful test and demonstration of its technology." Success there would "result in nacelle, gear box assembly and blade manufacturing facilities in Scotland," the government said.
The Samsung-Scotland announcement came just days after RenewableUK, the trade association representing the United Kingdom's renewable energy industries, put out word that U.K. had cracked the 6 gigawatt (GW) mark in wind capacity. Plus, more than 19 GW of capacity is currently under construction, consented, or in the planning stages. Last year, the Crown Estate awarded five new offshore wind leases in Scottish waters, including the massive 450-megawatt (MW) Neart na Gaoithe project. This year, a new round of solicitations has been issued for up to 800 MW of offshore wind development off the coast of Northern Ireland.