Kahuolfummi stands about four inches tall, has one fat leg and one skinny leg, and a single button eye on its white body like a tiny cyclops ghost. No, it's not a cartoon character from the latest Miyazaki film; I'm actually describing the battery half of a new portable solar cell and chargeable battery duo from Changers (.com). Its partner device "Maroshi" may not be as adorable, but it's lighter than most solar panels we've used, has suction cup feet, and is flexible so it's hard to crush. The panel is also printed with a manifesto on the back ("This is your life, do what you love and do it often…" etc.) like an oversized refrigerator magnet.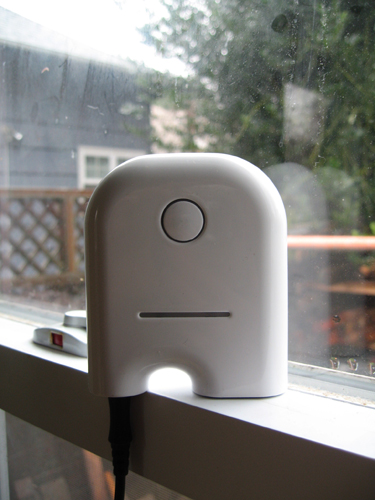 This points us to the most novel aspect of this new solar gizmo: conscientious social participation. Changers has created software and a social networking website that its solar charger and battery customers can use to track and share their solar-energy-making stats online. Credits and awards are earned, friends are made, and competitive urges between fellow sun harvesters play out in an earth-positive way. Then, if enough community gets going, it might even help this sunlight-instead-of-oil thing catch on a little better. Could Changers' tiny twist on the old solar cell and external battery thing be a world-shaker? Let's examine further…
De-boxing
Changers are no hypocrites–they use eco-friendly cardboard packaging all the way (well, okay, there was *one* ziplock cable accessories bag, but y'know–pretty good). "Make a decision, produce your own energy and change the world" the box implores, and the "Changers.com" logo in the corner lets you know that you'll want to pay a visit to their web site soon after opening. A poster-shaped foldout instruction manual fans the flames of your abiding social conscience: "Now is the best moment…to make a change" it says in giant blue block letters, and after you finish excavating all the equipment from these boxes you'll either be annoyed or riding high on the vapors of the company's pervasive environmental ethos.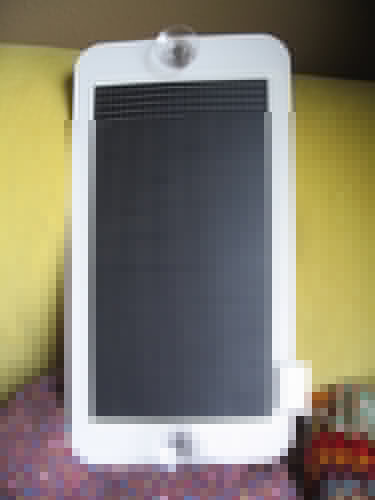 I tried my best to obey Changers and "be the change I want to see" while giddily slapping the solar cell up and plugging in the little two legged battery. I strode unswervingly to my south window and stuck the solar panel to the glass. "Let the revolution begin," I sighed.
Features/General Impressions
With the Changers system you charge the battery using sunlight and your solar cell as often as possible, then use the battery to recharge and power your phones and other portables as often as possible, and then periodically you log on to the Changers social network to upload your battery's electricity-making stats and to compare yourself with other solar energy mavens. The more portable battery juice you squeeze out of the solar charger, the more likely you'll be to earn credits on Changers' web site. This gets you online social glory and, if all goes according to the company's plan, it'll also get you free or discounted goods or services at some point in the future.
The battery unit–little friend Kahuolfummi–has Lithium-ion cells with 16Wh capacity, puts out 5v DC, and weighs about 1/3 lb. A strip of green LED lights shows how much sun charge it's getting when plugged in (faster blinking is better) and how much charge it has left (between 0 and 4 LEDs, from empty to full). The solar cell is flexible like a car's mudflap is and about the size of one, too (but it can break, Changers cautions, so I don't recommending using it as such).
As mentioned above, the solar cell has a bunch of advice printed on the back which we soon discovered is collectively called the "Holstee manifesto." You'll have plenty of time to read its exhortations while the solar panel hangs in your sun-facing windows throughout the day.
Set Up
You can get the Changers solar cell/battery/social network system going in four easy steps: attach the suction cups to the solar cell panel, slap the panel on a window, create an account on Changers.com, and download software that will get stats from your battery pack when you plug it in via USB.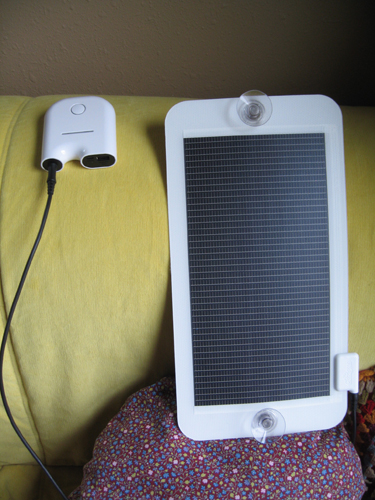 From there you start sharing with your online friends how much CO2 you've saved. The adventure begins!
Performance
The Changers battery pack is easy to use and holds true to its claim that it can fully recharge two iPods or iPhones. It proved to be a touch slow while doing this–for example it took three hours to charge an iPod that normally charges up in two hours at the wall socket. But it was a solid performance and the Changers battery indicator showed I had plenty of power left after multiple charges. So far, so good.
The sensitivity and output of the solar panel was less dazzling. The battery blinked cheerfully and charged steadily when the sun broke through the notorious local cloud cover, but when more seasonable overcast rainy-ness set in, the Maroshi solar panel could not get the Kuohlfummi battery to blink even a bit. It seems like this panel will be most useful in sunny locations, and cloudy climate dwellers will have to be content with using it just 1/2 of the year.
The social networking aspect of the Changers system is still in development, but I was able to upload my info (I already got an award for my good looking profile pic!) and the stats of my first solar charging efforts. Though according to the web site I've only generated about 8 watt-hours and saved 4 grams of CO2 so far, I was able to follow the stats of a person on the other side of the world who has used the Changers solar charger and battery to generate 453 wH of his own energy over the last couple of months. I was also able to see which cities are ahead in the game (Changers users in Berlin are killing the competition!), and I could view who has been most active in using their charger lately. It's all pretty fun, and the beta version of the site holds promise.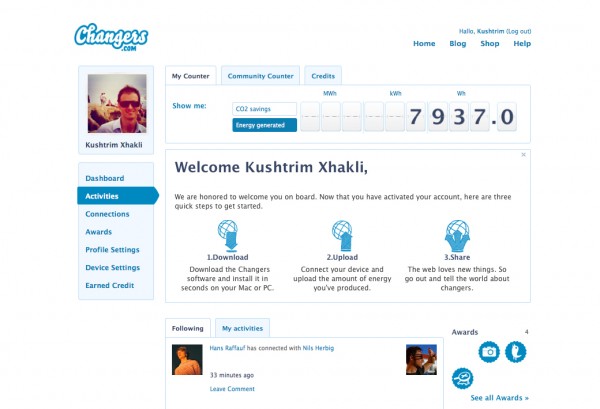 But after spending a little time on the site you might start wondering if all this time spent in front of the monitor stroking keys and eco-egos is maybe taking a bite out of the energy savings that such a solar setup is supposed to provide in the first place. You gotta figure that running your laptop to brag about your energy savings to online friends is kind of counterproductive to overall conservation. But perhaps just getting people to think and talk about making their own energy is more important than total watts saved at this stage in the game.
In that respect, the Changers solar charging system promises to do its job quite well.
Conclusion
It remains to be seen whether Changers' social networking/solar charger combo deal will get more people walking (and talking) energy conservation, or just turn off those who are looking for a truly top notch portable charger without all the social hoopla. The solar panel is effective in full sun, and the battery holds enough charge for most portable users, but if you're travelling or living in cloudy places, you'll need something more efficient.
The idea to give users social and trade-able credit for their energy savings is an intriguing and laudable one, and the gear Changers offers here is good looking and bedecked with inspiring messages. But only time will tell whether this attempt at creating an energy conscious online community will really catch on in the consumer world.
Buy
A starter kit for Changers prices at around $149.