Big-box stores may contribute to the evils of urban sprawl, but – with all that rooftop real estate — they also also offer a prime location for urban-centered solar panel arrays to soak up the rays and offset those super-sized utility bills. Wal-Mart has snagged the spotlight for such renewable energy systems rooftop in recent years, but global furnishings mega-retailer Ikea has so far out-paced Wally World big time in gearing up with solar.
As of one year ago, Ikea had new solar arrays operational at stores in Brooklyn, New York; Pittsburgh, Pennsylvania; and Tempe, Arizona.  In the spring of 2011, the retailer brought solar online at stores in Paramus, New Jersey and Stoughton, Massachusetts — and now, in Bloomington, Minnesota; Bolingbrook and Shaumberg, Illinois; Canton, Michigan; and another store in Pittsburgh, Pennsylvania.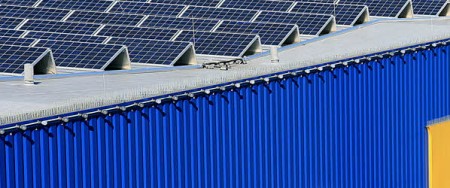 To wit: Wal-Mart has so far concentrated its solar efforts in areas where they're likely to help the chain curry favor with local greenies (i.e., California), while Ikea currently has a solar program in place at 75 percent of its 44 U.S. retail buildings. With these new installations, that percentage jumps to 85.
The new stores will add a total of 4.8 more megawatts of rooftop solar power generation to Ikea's rooftops, and, once they're completed, the company will have 31.6 megawatts of solar in the U.S.
Any big-box store, it seems, can dabble with pulling in a little electricity from the sun (and gaining some positive press in the process), but so far — as Clean Energy Authority notes — Ikea seems to have emerged the leader in the movement to green Big Box Land, demonstrating a real commitment to solar across the country (regardless of how trendy solar may currently be in, say, Chicagoland).
Nor are these token solar photovoltaic systems. At the Bloomington store, 4,834 panels will generate 1,300,700 kilowatt hours per year, enough to power 112 homes on an annual basis. That array is one of the bigger of the five new arrays, true, but the smallest system here — in Pittsburgh — still weighs in at 852,200 kilowatt hours per year, and also helps to power the smallest store of the five (86,800 square feet).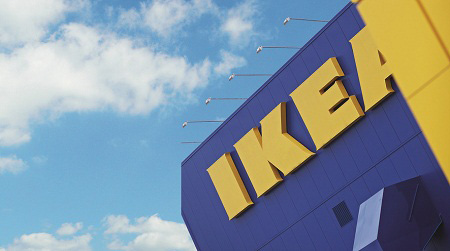 Ikea's other green efforts include the installation of a geothermal heating and cooling system at its store in Centennial, Colorado (just outside of Denver), its phase-out on energy-hogging incandescent bulbs, its integration of EV charging stations at select stores, its purchase of a Scottish wind power plant, and supply chain efforts that have helped its suppliers slash the amount of water and pesticides they use.
The retailer, on the flip side, has drawn fire in the past for a labeling policy that does not allow FSC labeling of sustainably harvested wood products, making it hard for buyers to identify green choices — as well as for its relatively small percentage of wood sourced from such certified forestries — but the company now states that it "only accepts wood from high conservation value forest or intact natural forest if they are verified as responsibly managed." Ikea's long-term goal is to source all wood for products from forests certified as responsibly managed.