Smart likes to brag about how their new for-us concept, an electric mini pickup, might just be able to  fit in the bed of some modern-day mega trucks. That's a rather risky selling point at the North American International Auto Show in Detroit, where pickups have buoyed the auto industry through good times, bad times and worse times.
But regardless of how one feels about the iconic American truck, it's hard not to be a bit charmed by the new smart concept. And besides, who doesn't love a pickup, even if it is only about 11 feet long.
While the new smart concept is tiny, it's still a hulk — about three feet longer, standing two inches taller and with a wheel base two inches wider — compared to the company's most popular model, the for-two. But regardless of size, smart attempted to pack a ton of clever, utilitarian features into this little truck, hoping to replicate the go anywhere, do anything utility of it's bigger cousins. The pickup's bed, for instance, doubles as a docking station for a pair of smart electric bikes.
Don't worry about straining yourself to grab any cargo from that bed, as it's electrically operated and will slide out to you. The for-us claims 11.6 feet of cargo space as well as lot's of storage cubby holes, including behind the tail lights. In addition, if extra storage is needed, the passenger seat clips out allowing drivers to haul longer items. The truck rides on beefy Michelin off-road tires mounted on three-spoke wheels which have fold-out wing nuts allowing flat-tire repair without the use of a crowbar.
Under the hood, the new smart concept is powered by a 17.6 kWh lithium-ion battery connected to a 55 kW magneto-electric motor that generates about 75 horsepower and 96 ft-lb of torque. That's enough to propel the truck at speeds of up to 80 mph and give it an impressive zero-to-60 time in the five to six second range. When completely empty it takes a maximum of eight hours to fully charge the battery at a household socket or charging station on the electricity systems of most countries.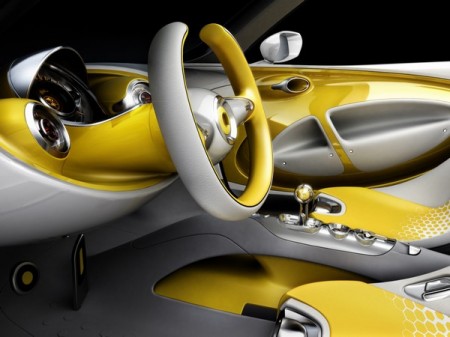 Inside, the smart (which is owned by Daimler) features "hammock-like" removable seats in a cockpit the pearl white interior is accented by brushed aluminum and "metalized" leather. The control and display elements are oriented to the driver, who sites behind a two-spoke steering wheel which is open at the top.
In place of a conventional rear-view mirror the smart for-us features a smartphone accommodated in a holder on top of the instrument panel support. The driver can see what is happening on the road behind with the help of an integrated video camera that communicates with the phone.