The Solar Electric Light Fund (SELF) is a Washington, D.C.-based nonprofit working to control climate change and eliminate what they call "energy poverty" in the developing world. One of its solutions is to bring solar power to remote rural villages in these regions. The organization recently announced a successful installation of 29 kilowatts of off-grid photovoltaic (PV) systems used to provide electricity to the Thomonde Hospital in Haiti.
Before SELF approached it with the solar power option, the hospital used a diesel generator that had a limited run-time, was expensive to operate and was often rendered inoperable due to fuel source disruptions. The hospital, operated by the international medical organization Partners In Health, agreed to a system that uses 126 PV modules and 48 Trojan batteries to power the hospital's lighting, lab equipment, refrigeration, computers and satellite communications system 24 hours a day, and to help improve the quality of medical services provided to the community.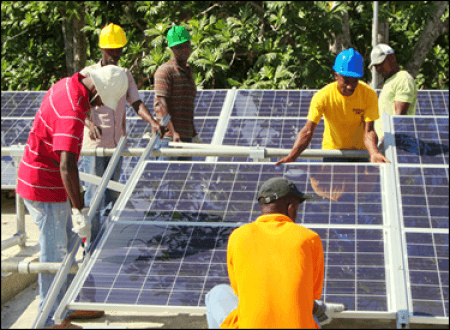 The Thomonde Hospital in Haiti, located in a town of the same name, is home to more than 35,000 people who live without access to reliable electricity. Thomonde residents are primarily small farmers who earn a living by growing and selling sugar cane, tobacco, bananas and coffee. As the poorest country in the Western Hemisphere, Haiti is in great need quality health care, something that is very hard to achieve without a reliable source of electricity 24 hours a day. It's why SELF has done so much work there: Last year we reported on its effort, with SolarWorld, to install solar power at five remote clinics.
"Doctors operating or women in labor can't have the lights going out when a generator breaks down or runs out of fuel," SELF's Rick LaRue said in a statement.  "It's critical that we deliver top-notch energy storage, particularly to ensure that emergency and other procedures at nighttime can occur."
The electricity generated by the solar system can provide nearly all of the energy the hospital needs, but the generator is being retained to provide backup or emergency power when needed. To maximize the long-term power and performance of the system, SELF trained hospital staff to meet any immediate onsite servicing needs, and uses an Internet-based software monitoring system to remotely track the PV array's voltage and output, the inverter output, and the charge levels of the batteries.
"Solar power can provide all of the electricity needed by facilities like this, but only if all of the system's components can effectively perform at very high levels over many years," said Bob Freling, SELF executive director. "We coupled the Trojan batteries with solar modules made by SolarWorld, and a charge controller and inverters from OutBack Power Technologies, all of which were in-kind contributions towards the project. Our goal is to implement the best systems possible to provide the greatest benefits to the communities they operate in."