The average cost of installing a rooftop photovoltaic (PV) system on a typical U.S. home is currently about $6.50 per watt ($32,500 for a 5-kilowatt system). Most of the investment flowing into the solar industry these days is targeted toward innovations that can lower that cost. The U.S. Department of Energy (DOE) Sunshot Initiative, for example, recently doled out $145 million in funding for projects that will make PV cost-competitive. A team of scientists and engineers from GE Global Research, the technology development arm of General Electric (GE), was awarded $5.9 million in the latest round of DOE grants, and says its projects can cut the cost of rooftop PV down to $3 per watt.
The first project is a $2.9 million program that will build on GE's innovations in microinverter design, module integration and packaging to develop an alternating current (AC) PV module for residential applications. This product would streamline the installation process by eliminating the need to install and wire a centralized solar inverter. The second program is a $3 million project to develop prewired "foldable" strings of PV modules for simplified installation onto commercial rooftops.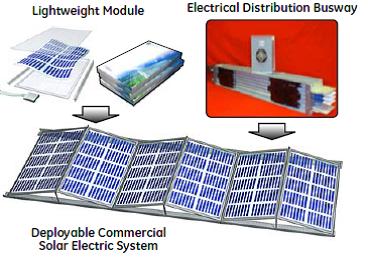 According to Charlie Korman, manager of Solar Energy Programs at GE Global Research, getting solar installations down to around $3 per watt would make rooftop solar an attractive investment for millions of Americans. At that price, the value of the energy generated by a residential PV system would more than offset the monthly payment on a typical home equity loan, he said.
"At less than half the price, solar systems will be practical for millions of homeowners in the United States," Korman said in a statement. "To achieve such a radical cost reduction, new technologies are needed to simplify and standardize how solar installations are made. The process has to be as routine as putting a new roof on your home."