Update 5/27/2019 – The EcoWatt Energy XRP-Lite is no longer available to purchase however you can still find similar products for sale online.
According to energy solutions company EcoWatt Energy, an issue with smart meters that is making for some disgruntled homeowners is the fact that they enable utilities to meter and charge for a home's  "stored energy". Apparently, old analog meters aren't capable of accounting for this factor, but now that digital smart meters are able to monitor at a granular level how much energy is being used and when, some homes outfitted with the new meters are apparently seeing some pretty significant rises in their utility bills. While we are finding the scientific principles behind the "stored energy" energy a little difficult to wrap our heads around, what we understand quite clearly is the guarantee that EcoWatt is putting behind its latest product, the XRP-Lite.
Designed for residential and small commercial use, the XRP-Lite is a device that is placed inline with a home's electrical system, near the the main disconnect. EcoWatt's guarantee states that users will see at least a 15% reduction in their energy bill within the first year of use. If not, the XPS-Lite can be returned for a full refund, with the exception of any shipping or installation costs that are involved, of course.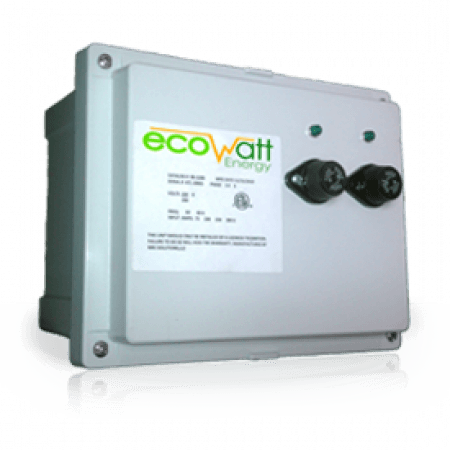 How does it work? Well, the manufacturer states that the device "helps to reclaim and recycle previously lost energy as well as increase the lifespan of electric motors through stress and heat reduction." EcoWatt also states, rather presumptuously we think, that we "may not totally understand the science behind such energy-saving devices, but a couple of other benefits they offer are balancing the electrical panel, optimizing the power to all inductive loads, and actually stops the loss of kilowatts from surges and spikes in your system."
While we may not be rocket scientists (journalists, actually) we do understand some basic technical and electrical principles and found EcoWatt's written description of how the device works to be a little vague. So, we made a call to them and spoke to one of their representatives. We asked the rep for some basic information on how the device actually functions and were told that they weren't interested in disclosing any details about what is happening inside the box; proprietary technology and all that, you know? After some prodding, however, we were able to learn that the device does involve the use of capacitors and other circuitry. Therefore, its safe to assume that the device somehow works to smooth out the delivery of power, and reserve electricity for later use. That's as far as we'll be going with the assumptions, though.
While the core of the XRP-Lite's functionality is a little cloudy, one thing that stands clear is the company's willingness to stand behind their product. A 15% reduction in a utility bill is nothing to sneeze at. The XRP-Lite carries a suggested retail price of $699.00 and includes a Current Cost Envi energy monitoring device-a unit we've reviewed in the past and liked very much. With a strong guarantee behind it, the XRP-Lite might just be worth giving a shot.
Curious about other green gadgets? Check out our story archive.