The best smart thermostat will save you money by taking you out of the equation and controlling your home's heating and cooling directly. However, with sensors, algorithms, and geofencing – when your thermostat tracks your smartphone – smart thermostats come with a wide variety of features and they're not all created equal.
We've chosen the top 4 best smart thermostats based on price, features, and usability for 2021 so that you can easily find the best smart thermostat for your home.
Top 4 Best Smart Thermostats for 2021
Learn more about each of our top picks by reading our smart thermostat reviews below. Buy the best smart thermostat for your home or office today.
Smart Thermostat Reviews
With so many options and different features, it can be hard to figure out exactly which product is the right fit for you. Let's dig into each of the models above to help you figure out the best smart thermostat for your home. And keep reading afterwards for some a few tips on installing smart thermostats.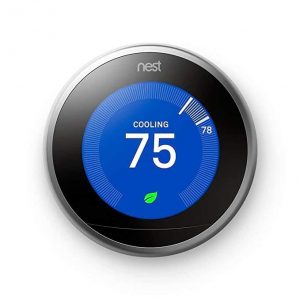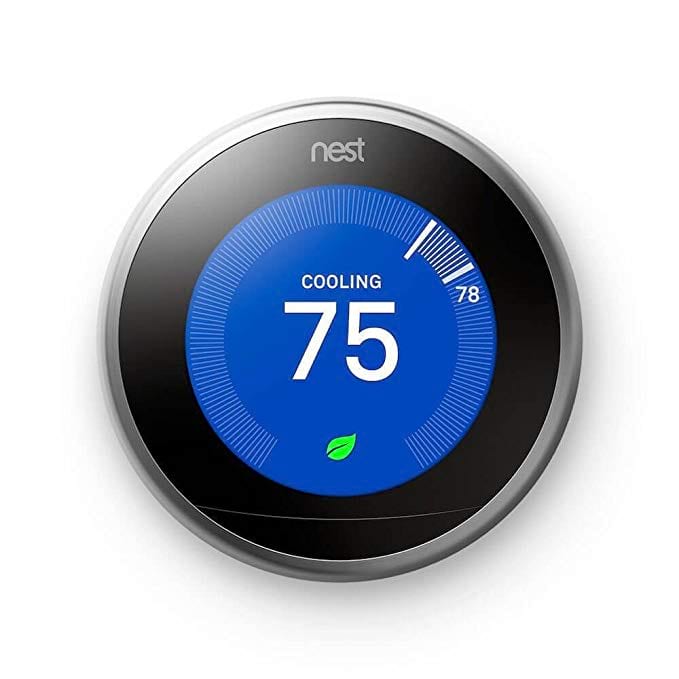 Best Smart Thermostat Overall

Quick Look: Our #1 top pick, the Nest Learning Thermostat learns your habits to help you save energy. It is very easy to use and requires no programming.
Check Price at Amazon
The 3rd generation of Nest's ever-popular Learning Thermostat takes everything that was good about previous generations and turns it up a notch.
First up, the Nest Learning Thermostat is easy to use and requires no programming. The Auto-Schedule feature learns from your actions and programs itself to save you energy. On top of that, you can also change the temperature in your home remotely via your phone, tablet, or laptop.
All smart thermostats are designed to help you avoid wasting energy when you're not home. Nest uses built-in sensors for temperature, humidity, near-field activity (ie motion), and ambient light, as well as algorithms and your phone's location to adjust your home's temperature when you're not around.
Nest claims that simply by installing its Smart Thermostat, you can cut 10% to12% off your heating bills and 15% off your cooling bills – a claim that's been validated several times by different utility studies (more on that later).
After a few days of manual adjustments, the thermostat learns what temperatures you like and anticipates when you'd want the temperature higher or lower. Of course, you can make adjustments after the fact as well if the mood strikes you.
Like all the thermostats on our list, the Nest thermostat also has a geofencing option, where it tracks your cell phone and raises or lowers temperatures when you're a certain distance from home.
Nest says most homeowners can install the thermostat in 30 minutes or less and they have 24/7 support to help you out. The Learning Thermostat supports 1, 2, and 3 stage heating and 1 and 2 stage cooling, as well as heat pumps (with auxiliary and emergency heat), humidifiers and dehumidifiers, and fans.
The 3rd generation is thinner than previous models and includes a bigger display that lights up when you enter the room, showing you the temperature or time. It also comes in black, white, stainless steel, or copper finishes.
The Learning Thermostat works with the Amazon Alexa and Google Assistant, as well as the other Nest products, like Nest Secure and Nest Protect. However, Nest doesn't work with Apple, so keep that in mind if you're an Apple Fiend.
Overall though, Nest makes the most popular smart thermostats on the market and it'll do everything you expect a smart thermostat to do, as long as you don't mind shelling out the cash.
Learn More & Buy Now at Amazon
---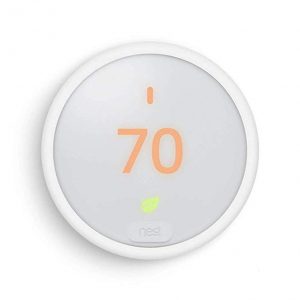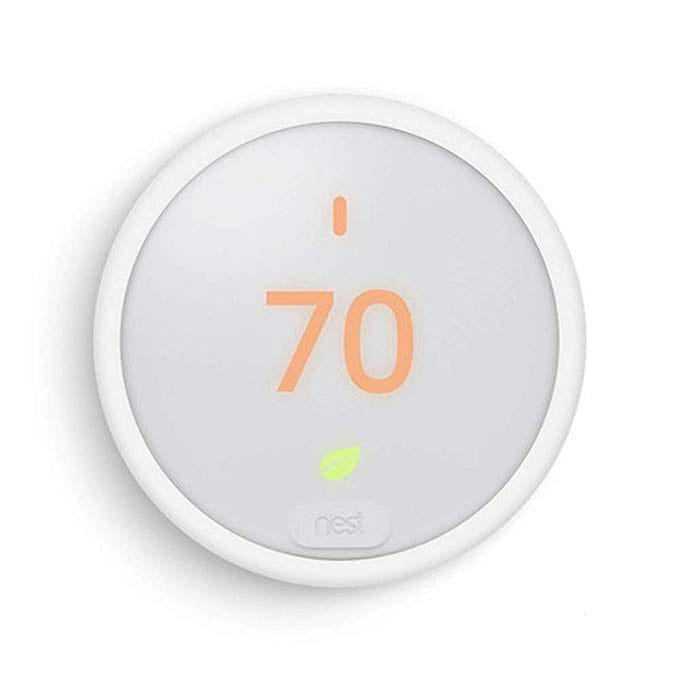 Quick Look: The Nest Thermostat E is the budget-friendly version of their popular Learning Thermostat. It offers less features but comes at a lower price.

Check Price at Amazon
Nest's Thermostat E is the budget-friendly version of their popular Learning Thermostat, but make no mistake, this model still packs in the most important features of its bigger sister.
First off, the Thermostat E comes with all the same built-in algorithms and sensors that learn your behavior and adjust your home's temperature to suit your habits. When you leave the house, it'll drop the temperature down. When you wake up, it'll raise the temperature slightly so you're nice and cozy.
With the same technology under the façade, the Thermostat E can knock just as much off your energy bills as the Learning Thermostat, all for about 30% less cost. And it has the same remote capabilities as well, so you can raise or lower temperature via your phone, tablet, or laptop.
So why is the Thermostat E so much cheaper? First off, while the look is sleek and minimalist, the housing is plastic, unlike the Learning Thermostat's sleek metal and glass front.
On top of that, the screen is lower resolution and doesn't include Farsight, the Learning Thermostat's feature in which the screen turns on when you enter the room. Instead, the screen has a soft, dreamy appearance with just a simple temperature display.
The Thermostat E also doesn't work with Amazon Alexa or Google Assistant, so if you want to use your virtual assistant, spring for the Learning model.
The Thermostat E also doesn't support as many HVAC features as the Learning Thermostat (it only has six wire terminals on the back, as opposed to the Learning Thermostat's 10), so if you have a complicated HVAC system in your home, you'll probably need to spring for the higher cost model.
Still, if all you're looking to do is save energy and install a great looking thermostat, the Thermostat E has you covered – all at a good price.
Learn More & Buy Now at Amazon
---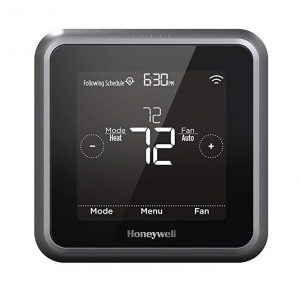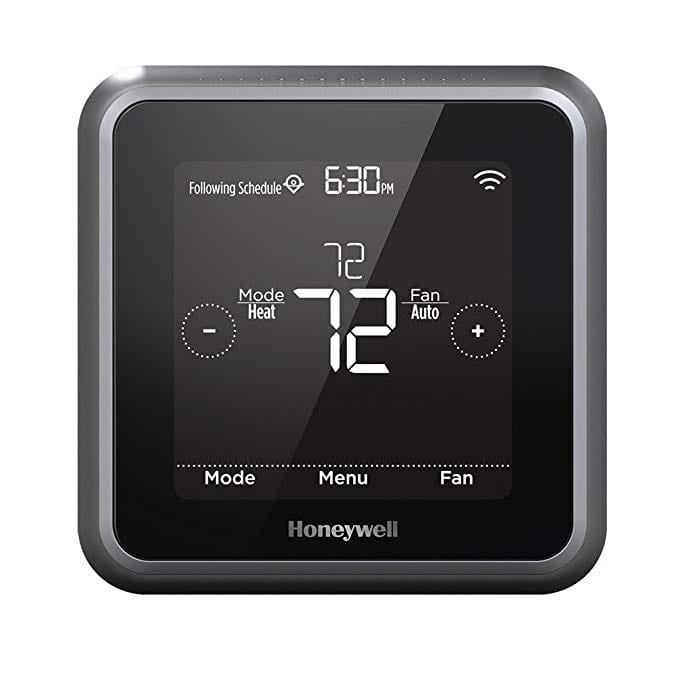 Quick Look: The Honeywell Lyric T5 comes at an excellent price and includes geofencing. It is compatible with Amazon Alexa and Apple Homekit but does not have additional sensors or learning capabilities.

Check Price at Amazon
If you've ever bought a cheap thermostat at Home Depot, you probably know Honeywell. They're the queen of the 'non-smart' thermostat market, but with the Honeywell Lyric T5 they're trying to make in-roads into this quickly growing market.
At first glance, Honeywell's smart thermostat really makes us wonder what constitutes a 'smart' thermostat. Nest uses algorithms to learn your behavior. Ecobee uses multiple sensors to know when certain rooms are occupied. Honeywell…. allows you to program your thermostat. Yeah, not so groundbreaking.
However, it's the Lyric's other abilities that elevate it to 'smart' status. Yes, you can set it manually for a seven day schedule, but it also connects to Wi-Fi for remote controlling via app and includes geofencing to trace your smartphone's location and adjust temperatures while you're away, just like the Ecobee and Nest thermostats.
The Lyric T5 also learns how long it takes to get the temperature just right and will automatically turn on the heating or cooling before you're even there, something Honeywell calls 'adaptive recovery'.
Like the other thermostats on our list, users can remotely set temperatures via the app. Unlike the Nest products, the Lyric T5 is compatible with both Amazon Alexa and the Apple HomeKit.
The thermostat's screen takes a more traditional approach than the Nest, basically looking like any old thermostat with block-like numbers and a simple monochromatic style, though the touchscreen is a nice feature.
The new version (appropriately named 'New') also includes a power adapter that provides a low-voltage power source for homes that lack a C-wire, which was a necessity for the old version.
While the Honeywell Lyric T5 is probably the dumbest of the 'smart' thermostats, it's remote app, geofencing, and excellent price point – it's about half the price of the Nest Learning Thermostat! – make the Lyric T5 an effective, and sleek, energy saving device.
Learn More & Buy Now at Amazon
---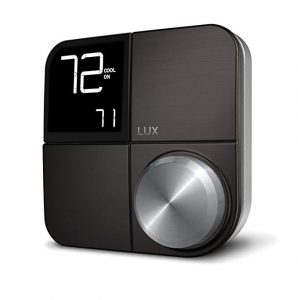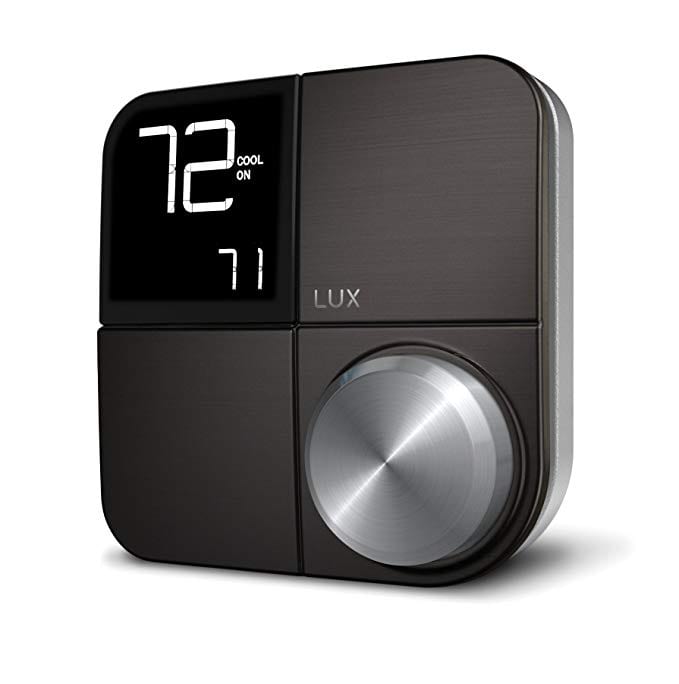 Quick Look:  The Lux Kono is another affordable option with geofencing. It is compatible with most voice assistants but does not offer any touchscreen, sensors, or learning features.

Check Price at Amazon
Like the Honeywell thermostat above, the Lux Kono is one of the 'dumber' smart thermostats available. It doesn't have any sensors like the Ecobee or any learning abilities like the Nest, but does include Wi-Fi capabilities, geofencing, and remote control via the app. It's also half the price of the Ecobee and Nest offerings.
In functionality, it's very similar to the Honeywell Lyric above. The Kono is basically a 7-day programmable thermostat with some nice 'smart' features. Geofencing tracks your smartphone to raise or lower temperatures when you're not around.
It's compatible with Amazon Alexa, Google Assistant, and Apple HomeKit. It also includes an app for your phone or tablet so you can control temperature remotely.
The thermostat keeps cost down by forgoing the touchscreen in favor of a control wheel, as well as basic monochromatic back-lit display and plastic housing. One slick feature of the Kono is the variety of snap-on covers that lets you choose your color (though you must buy them all separately).
The Lux Kono is a great option if you live in an older house or have a very simple HVAC system. It includes three power options: battery only (2 AAs, which are included), micro USB (cord not included) or C-wire. If you don't have a c-wire in your home that provides a constant 24V power source to your thermostat, you're still able to use the smart features of the Lux Kono on the batteries alone, though Alexa won't work.
Overall, the Lux Kono is a sleek offering that can save you the same amount on your energy bills as the more expensive offerings, giving you a faster return on investment.
Learn More & Buy Now at Amazon
---
Why install a smart thermostat?
Installing a smart thermostat helps save you money with almost no effort on your part. Can't go wrong with that, right? Let's take a look at a few of the benefits:
Convenience
The real beauty in smart thermostats is the hands-off approach. You don't need to lift a finger to adjust the temperature. With sensors, algorithms, and geofencing, your thermostat does all the work for you, keeping you cozy while saving you money at the same time.
All smart thermostats have Wi-Fi capability (that's what makes them 'smart'), so if you do want to manually adjust your temperature or settings, you don't even need to be home. Just pull out your phone and open the app.
On top of that, the thermostats above work with Amazon Alexa and Google Assistant, and some work with Apple HomeKit as well. This allows you to adjust your thermostat settings via voice control – a nice feature if you really don't like using your hands.
Proven energy savings
Smart thermostats are all about energy savings. In fact, utilities across the country offer homeowners rebates for installing smart thermostats. Why is that? Because smart thermostats are proven to lower energy bills, and there's quite a bit of research to back this up.
In a study of 167 households with Nest thermostats, Washington utility Bonneville Power Administration, for example, found that average savings was 855 kWh per year, or about 17% of heating and cooling bills – right about what Nest claims.
At the average US electricity price of $0.13 per kWh, that's about $111 per year in savings. At this rate, you'd recoup your initial investment in a couple years at most. After that, it's money kept in your pocket!
"Cool" Factor
Let's face it, half the fun of a smart thermostat is the 'cool' factor – the fact that it's a fun new gadget to play with. You might not actually use the voice commands feature, but isn't just fun knowing you could if you wanted to? Or that an algorithm is making your life more comfortable and cheaper?
Whether or not the cool factor is truly a reason to pay those big bucks for a single appliance is up to you, but it's probably more of a reason than most of us want to admit.
Do I need a smart thermostat to save energy?
Here's a secret: If your goal is simply to cut back on your energy bills, you don't really need a smart thermostat. A $20 programmable thermostat can save just as much energy as a $200 smart thermostat. But there's a catch: you need the self-control to set it and forget. And let's be honest: how many of us really have that much self-control?
Lowering your energy use isn't a mysterious quasi-science. Thermostats – both smart and 'dumb' models – save money by simply adjusting the temperature while you're away to decrease energy use.
The EPA says you can cut your heating and cooling bills by 10% each year just by increasing your temperature (or lowering, depending on the season) 7° to 10°F for 8 hours a day. You could simply set this manually each day with a cheap $10 thermostat, but it sure would be a hassle.
As we said, programmable thermostats can do this as well. Just set it once and forget it. The temperature adjusts while you're asleep or at work, then re-adjusts when you get home. You don't even notice you're saving money.
The issue with programmable thermostats though, is human's fickle nature. We want to constantly mess with the temperatures, trying to find that 'perfect' level of coziness. And when we constantly change those settings, we're stepping away from the energy-saving ideal and wasting money.
Smart thermostats are so effective because they take humans out of the equation. Sensors and algorithms decide your temperature for you, taking into account both your comfort preferences as well as energy savings.
So if your main objective is energy savings, and you have the will power (or poor memory) to set your thermostat and leave it be, just buy a programmable thermostat. You'll spend about 1/10th of the cost and see the same results. If you're looking for the convenience of remotely controlling your AC and heat, you'll need to opt for the more expensive, Wi-Fi enabled smart models.
Can I install it myself?
Absolutely! Most smart thermostat manufacturers say homeowners can install their products in about 30 minutes, and include detailed instructions to help you out.
The biggest issue you're likely to face is whether or not you have a c-wire, or common wire, which provides constant power to the thermostat. Wi-Fi enabled smart thermostats need a lot of energy to keep everything working. Today's Wi-fi enabled smart thermostats typically use a c-wire for that power. However, older or very simple HVAC systems oftentimes don't have that wire. Don't despair though, you've still got options.
Most companies have created workarounds, some better than others. Nest says its thermostats require no c-wire to function. The thermostat can pull power from the heater or AC. That works fine when the heat or AC's on, but if you're not using your heat or AC, the thermostat will occasionally turn on your heater for a moment to keep itself powered. Unfortunately, some heaters don't like this, and many customers have complained it might be causing premature wear on their heaters.
If you don't have a c-wire, you've got three options:
Install a c-wire: This is the most future-proof option, as c-wires are certainly the way the industry is heading. Install the new wires to your furnace and you'll be good to go for any smart thermostat you'd like to use. Unfortunately, it can be a pain to run new wires from your furnace to your thermostat.
Install a smart thermostat that doesn't need a c-wire: As we saw above, Nest is hit-or-miss with the c-wire requirements. The Lux Kono can run off AA batteries, but it has limited functionality (no Amazon Alexa). The Honeywell Lyric T5 includes an adapter for situations without a common wire.
Install an Add-A-Wire: Easier than running all new wiring, Venstar's Add-A-Wire is cheap and takes about an hour to install at your furnace. It allows a 4-wire system to run as a 5-wire system with a c-wire. You'll need at least four wires for this to be an option, so if you've got less it's a no-go.
It's easy to figure out what wiring you have. Just check the wires behind your thermostat or at your furnace, count them up, and see if you have a c-wire. If you feel over your head, just call up an HVAC company and they'll sort you out – it'll be more expensive, but save you time and headaches.
As you can see, smart thermostats are cost-effective, easy to install, and keep you comfortable with minimal effort. Here are our top picks to help you decide which is the best smart thermostat for you.
Compare The Best Smart Thermostats for 2021
Featured Image Courtesy Nest Press Room & Product Images via Amazon