Tesla has let their solar business dwindle for years, but Elon Musk says that's all about to change. At its Thursday launch of the new Model Y crossover SUV, Elon Musk claimed that 2019 "is definitely going to be the year of the solar roof and Powerwall."
That's a big change from the last few years, but Musk said that now that production of the Model 3 is running more smoothly, it's time to refocus on solar and storage.
Tesla Solar Roof and Tesla Powerwall have been on the back burner
When Tesla purchased SolarCity in 2016, SolarCity was the biggest solar installer in the country, owning about 30% of the entire residential solar market. That's 3x more than Sunrun, the 2nd biggest residential installer, which only accounted for 10% of the market at that time.
But since the SolarCity buyout, Tesla's residential solar installations have dwindled from 201 MW in Q4 2016, to 87 MW in Q4 2017, and finally to a scant 73 MW in Q4 2018.
Originally the company insisted the pullback was due to a reprioritization from SolarCity's historical focus on outright growth to profitability. At the time, they planned to cut advertising dollars and shift from leasing to selling solar systems, a move in line with movement of the solar industry as a whole.
As Tesla's footprint in the solar industry shrunk, Sunrun came out on top, though not necessarily thanks to their own growth, but because of the shrinking market from Tesla's pullout.
While Sunrun also pulled back on growth in favor of profitability, the installer now holds the biggest market share of any one company in the residential market. While it was far behind SolarCity back in 2016, sometime around late 2017 to early 2018, Sunrun finally overtook its rival in the total number of new residential installations.
You can see the effects of SolarCity/Tesla's refocus in the graph below, taken from NREL's 2018 Solar Cost Benchmark. Note that, after SolarCity's installed capacity peaked in Q4 2015, their quarterly installations began to fall drastically. At the same time, SolarCity's refocus caused the entire residential solar industry to shrink, though at a much smaller pace thanks to the boom in local installers, brought about by homeowners increasingly wanting to pay for their installation in cash – something small, local companies are just as good at as Sunrun or Tesla.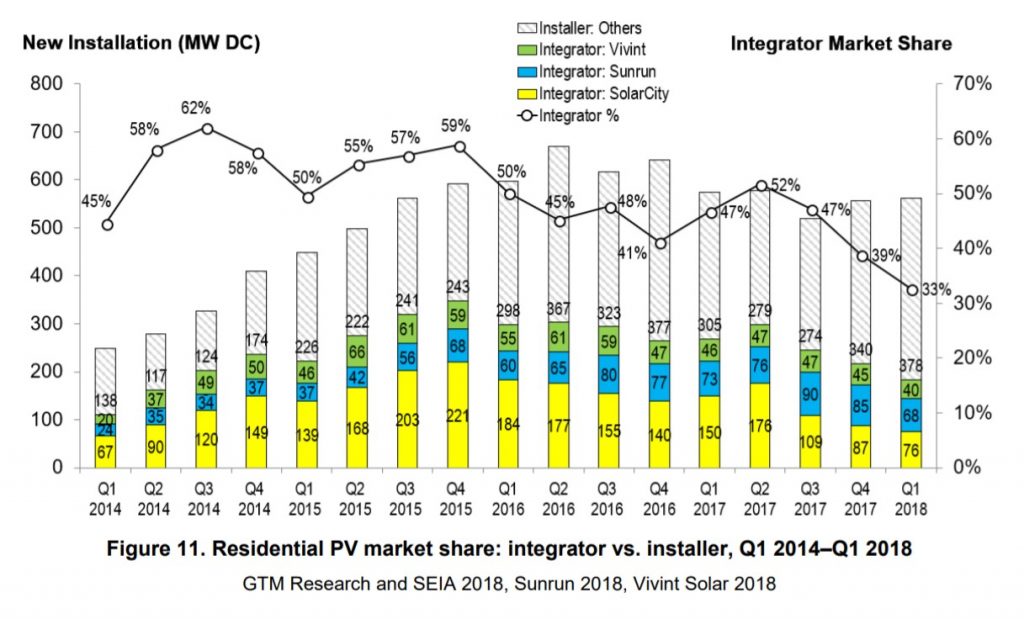 Tesla refocuses to solar and batteries
As Tesla shifted focus away from batteries in 2017, they worked hard to ramp up Model 3 production. In mid-2017, Musk boasted their factories would churn out 20,000 vehicles by the end of the year, but in the last quarter of 2017, they only produced about 2,000 Model 3s. In 2018, the company continued to ramp up Model 3 production, and it seems to have paid off.  By the end of 2018, they were up to 1,000 units a day.
And now that Tesla claims to have all its Model 3 ducks sorted, Musk says they can shift focus to other things.
Here is what Elon Musk said at the Model Y's release:
"Because of extreme challenges with the Model 3 production, we had to basically allocate all resources to Model 3 production, because otherwise, we were going to die. Now that Model 3 production is going pretty well, we're finally going to allocate engineering attention to the solar roof as well as the solar retrofit… and the Powerwall."
Shifting focus likely means increasing solar and battery installations.
Apparently, Tesla simply didn't have the bandwidth to produce battery cells for both the Powerwall and all the Model 3s it needed to produce, so they chose the vehicle. Again, here's Musk at the Thursday release:
"Part of the reason we couldn't make the Powerwall, we couldn't make enough cells, so we had to allocate cells to the car or to the Powerwall, well we've got to make the cars. But 2019, we're now going to ramp it up."
Tesla moves forward on 1GWh Powerpack project in Southern California
Musk also mentioned the Tesla Powerpack, its energy storage solution for utilities and what he described as "our industrial strength battery storage system."
Tesla's Powerpack has been a huge hit around the world and the company is responsible for the single largest lithium-ion battery storage project in the world, a 129 MWh system in South Australia that is paired to a windfarm.
Musk also mentioned a 1 GWh Powerpack project in California, presumably the gigantic storage project it started working on with PG&E in mid-2018, that would truly dwarf that record-breaking system in Australia. However, with PG&E's recent bankruptcy issues, it's anyone's guess if this project will end up moving forward.
Conclusion
If Tesla truly starts to put force behind its solar and battery offerings, there could be major changes brewing on the solar landscape.
Tesla's solar and storage options are top notch products, though until now hampered by cost and constrained supply. Its Panasonic-based solar panels are top of the line and its solar tiles are unique in a very homogeneous solar panel market.  The Powerwall is one of the most cost-effective, simple residential energy storage options out there.
If Tesla truly decides to put full weight into the Solar Roof and Powerwall in 2019, it will be a quick wakeup call for the solar panel industry.
Image Source: Courtesy Tesla Press Kit