Solar lamp posts give your space a romantic, vintage feel without the costly expense of real, old-fashioned lamp posts.
You might think that all solar lamp posts are more or less the same, but this isn't true. While many look similar, there are a lot of subtle differences in style, durability, and performance. We evaluated dozens of solar post lights on these criteria and more and ended up with our top five.
We liked the Greluna 67-Inch Solar Post Light the best because it was stylish, durable, and surprisingly affordable, but there were four others we also felt stood out from the pack.
We also evaluated the best solar path lights if you are looking for an option smaller than lamp posts.
Keep reading to check out our reviews of all of our top four solar lamp posts and to learn about how to choose the right model for you.
Top 4 Best Solar Lamp Posts for 2021
---
Reviews of the Best Solar Lamp Posts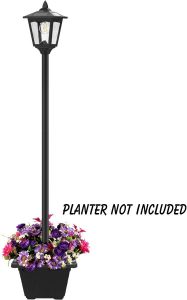 Best Solar Lamp Post Overall
Quick Look: 67 inch tall. IP-45 waterproof with discreetly placed solar panels. Multiple light settings for the perfect ambiance.
Check Price at Amazon
The Greluna 67-Inch Solar Post Light was the clear winner because it's affordable and durable, and it has that simple, classic lamp post look. The picture above depicts the light with a planter, but this is not included with your purchase. It is pretty easy to place the light into a planter if you prefer this look instead. You can also use it on its own if you like the sleeker, more traditional look.
Users report that the Greluna Solar Post Light is easy to assemble and quite sturdy despite its light weight. It is IP-45 waterproof, so you don't have to worry about a little rain getting into the light and ruining it. If you do need to move the light to get it out of a particularly bad storm or to move it to a different location, this is easy to do.
The solar panels are discreetly built into the top of the solar lamp post so they don't interfere with its design. It has two settings — Low and High. The light can last between six and eight hours on the Low setting, assuming it is fully charged, or four to five hours on the High setting. This kind of flexibility lets you decide what kind of ambiance you want to set and how long you want your lights to run for. You can change between levels at any time by flipping the switch on the light itself.
Learn More & Buy Now at Amazon
---

Best Solar Lamp Post with Planter
Quick Look: 75.9 inches tall with an attractive planter base. Durable and maintenance-free with a 1-year warranty.

Check Price at Amazon
The Kemeco 6-LED Cast Aluminum Solar Lamp with Planter is a nice alternative to our top pick for those who are looking for something a little more high-end. The cast aluminum design has a sophisticated, yet vintage look and it ensures the light's durability. It also has a built-in planter so you can dress the light up by adding flowers to its base. The extra weight at the base is a plus in windy conditions because it'll help keep the lamp from falling over.
The high quality of this lamp doesn't come cheap, though. It's by far the most expensive solar lamp post on our list, so it isn't a good fit for those on a budget and it might even be a stretch for those who plan to purchase more than one solar lamp post. But it is backed by a one-year warranty, so if you do buy it, you can feel confident that you won't have to pay for new lights for at least a year.
Despite the high cost, most users report that it's a great value for the money and provides a lot of light. It offers 150 lumens at full brightness and has four solar panels built into the top of the light to help it catch the sun no matter which way it's coming from. The lights are programmed to automatically turn on at dusk and turn off again at dawn so you don't have to remember to switch them on or off when you want to use them.
Learn More & Buy Now at Amazon
---

Best Tall Solar Lamp Post
Quick Look: Impressive 80 inches tall. Cast-aluminum design that is rust resistant with a one-year warranty.

Check Price at Amazon
The Sterno Home Outdoor Solar LED Street Light stands an impressive 80 inches tall, making it easily the tallest solar lamp post on our list. That makes it a good choice for those who are hoping to cover a large area with fewer lights and those with a lot of low-growing vegetation, like large shrubs or small trees, that might overshadow some smaller solar lamp posts.
The lamp comes in pieces, but users say it's easy to put together and the cast-aluminum design is sturdy and rust-resistant. This is an important feature, especially if you're going to invest this much in a solar lamp post. With the Sterno Home light, you can feel confident that it will last you for many years to come. If you do have a problem shortly after you buy the light, you won't have to pay for it because it's backed by a one-year warranty.
The light isn't as bright as some of our other top picks. It only offers 50 lumens, so you might want something a little more powerful if you want to seriously illuminate your space. But if you're only trying to add a little ambiance or provide enough light for someone to see where your front sidewalk is, the Sterno Home light should do the job just fine.
Learn More & Buy Now at Amazon
---

Best Triple-Head Solar Lamp Post
Quick Look: Triple Solar Heads for extra light and a great look. 72 inches tall lamp post stand made of durable plastic.

Check Price at Amazon
The Solar Smart Creations Solar-Powered 72-Inch Triple-Head Solar Lamp Post has not one, but three solar lights built in, so it's a great fit for those who want to really illuminate an area without making it feel too crowded with a bunch of solar lamp posts. At 72 inches, the lights are also a little taller than average, so their glow can cover a large area at once.
It's easy to put together, according to users, and it provides a good amount of light, as long as the light gets enough sun during the day to charge fully. The solar panels are built into the tops of each light so that each one can charge independently and they all can receive adequate sunlight no matter where the sun is at the time. The lights have built-in sensors that automatically activate the lights at dusk and shut them off again at dawn to conserve power.
The Solar Smart Creations solar lamp post is pretty affordable, but unfortunately, it's not as durable as some of our other top picks. The post is made of a durable plastic, but some users say that it's a little too lightweight and can blow over if you don't secure it to the ground somehow. This is worth doing if you live in an area prone to high winds, or you can bring the lamp inside before a storm.
Learn More & Buy Now at Amazon
---
What You Need to Know About Solar Lamp Posts
Here are a few things you should know before you purchase any solar lamp posts.
You have to consider your space.
The biggest problem with all types of solar lights is that they need a lot of sun in order to charge and provide an adequate amount of light. Solar lamp posts try to make this easy by placing solar panels all around the tops of the light so that it can charge from any angle, but you also have to be strategic in where you place the solar lamp post.
If you put it under a large tree or in the shadow of your home, it might not perform up to expectations because it isn't getting enough sun. Consider where you plan to place the lights and watch that spot to see how much sun it gets during the day. If it's largely shaded, you might want to consider moving the light or purchasing a traditional electric light instead with energy-efficient LED bulbs.
You'll probably need more than one.
Unless you just want to illuminate a small patio, you'll probably need more than one solar lamp post to cover your space and this can get expensive considering that most solar lamp posts start at around $75 and some can easily cost over $150.
Think about how much you can afford to spend and calculate roughly how many solar post lights you'd need to be able to cover your entire space. If you cannot afford solar post lights, you might be better off going with some other type of solar path light that can be purchased in packs at a more reasonable price.
Staking it down might be a good idea anyway.
Most solar lamp posts are meant to be able to stand up on their own, but it's not a bad idea to secure it to the ground in some way, just to be sure it doesn't blow over in a storm. If this happens, the light could smash and the manufacturer might not cover this, even if the light has a warranty.
There are a few different ways you can do this. One of the easiest ways is to place the base in a planter of some type and weight that down with dirt and rocks to give the light a little extra stability. You might also be able to screw it to a board or some other type of weight that you can bury or disguise among your landscaping.
How We Chose the Best Solar Lamp Posts
We chose our top five solar lamp posts based on their weatherproofing, brightness, design and cost.
Weatherproofing
Solar lamp posts are built for the outdoors, so it's important that they can stand up to whatever the elements throw at them. This is particularly true for those who live in harsh climates, prone to extreme temperatures or heavy storms. Given the large size of most solar lamp posts, you probably won't want to haul them in and out when bad weather occurs, so you need to know that they can tolerate the conditions in your area. The best solar lamp posts are resistant to sand, dust, and water. They can also withstand temperature swings without breaking or losing power.
Brightness
You purchase a solar lamp post for decoration, but also for the light that it provides. Models vary in brightness and in how long the lights will last on a single charge. You want your light to be able to last most of the night, though its performance will somewhat depend on how much sunlight it gets. The best solar post lights will have multiple solar panels to increase their odds of taking in adequate sunlight and providing the illumination you need.
Design
Solar lamp posts have the same basic design, but as with any type of lamp, each model has distinct features to help set it apart. Some come with a planter attached so you can add flowers. Others have bars you can hang flower baskets from. Then, there are others with lights that appear to flicker like a flame instead of using a traditional light bulb. It all comes down to what you like best in this category, and we tried to include several different styles so there would be something for everyone.
Cost
Solar lamp posts are not cheap. Even an affordable model will probably cost you at least $75 for one. Only you know how much you can afford to spend on a solar lamp post. We tried to include models at several price points in our top picks. Some models have a warranty, which can save you a lot of money if your light stops working shortly after you bought it. This shouldn't be a major concern with our top picks, though, as they all have strong reputations for durability and longevity.
Bottom Line
Solar lamp posts add a touch of class to your space without driving up your electric bill.
There are several different models out there, but we recommend the Greluna 67-Inch Solar Post Light as a good all-around pick.
But check out all of our top five solar lamp posts before you make your decision. That way, you can feel confident that you're making the right choice.
Top 5 Best Solar Lamp Posts for 2021