You could spruce up your traditional bird bath with an electric fountain pump, but why not take advantage of a readily available, free power source and invest in a solar bird bath instead? These bird baths convert solar energy into power to create beautiful water effects, and there are plenty of options for you to choose from so it's easy to find a solution that suits your style. We liked the Furniture Creations Wishing Well Solar Fountain the best because of its unique design and separate solar panel which helps it better catch the sunlight. But if that's not your taste or if you're interested in converting an existing bird bath into a solar-powered fountain, one of our other picks might suit you better. Let's begin.
Top 5 Best Solar Bird Baths for 2021
---
Solar Bird Bath Reviews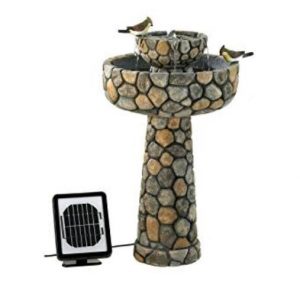 The Furniture Creations Wishing Well Solar Fountain stood out not only for its charming, fairytale-inspired design, but also because it was one of the only true solar bird baths to receive largely positive reviews from consumers. This attractive faux-stone fountain is made of resin, stone powder and sand and it includes a separate solar panel.
A common complaint about solar bird baths with built-in solar panels is that they only work when the sun is directly overhead. The Furniture Creations fountain's separate solar panel design enables you to move the solar panel around throughout the day to help it better capture the sunlight so it stays operating efficiently all day long. Users are pleased with the bird bath's performance overall, with most saying it works as intended and holds up well over time.
Several customers have stated that the bird bath is fairly lightweight, which is good news if you'd like to move it around, but not good news in high winds. If you're concerned about the stability of the bird bath, consider securing it to the ground or adding weights to the bottom to help hold it in place. The price tag may be another drawback for those on a budget. If you don't have a lot of money to spend on a solar bird bath, a traditional bird bath with a solar fountain pump may suit you better.
Learn More & Buy Now at Amazon
---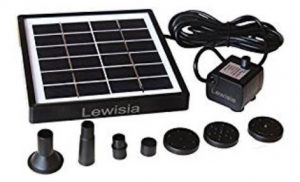 The Lewisia Solar Bird Bath Fountain Pump is a great choice for homes with small ponds or existing bird baths that they'd like to use. It has a small pump and spray nozzle that you place into the water and it's powered by the included solar panel, which you connect to the pump via a 10-foot cord. This long cord length gives you the flexibility to place your fountain in shady areas without having to worry about diminished performance because the solar panel can still be in full sun.
Its neutral design helps it blend in with any decor and it includes three nozzles, so you can choose the spray pattern you like the best. Customers report that the fountain is powerful, despite its small size, and that it continues to hold up well season after season. While some assembly is required, few users reported any issues with this or with cleaning out the pump occasionally.
As with almost any product, there have been a few reports of defective models, but this is rare. The solar bird bath pump is backed by a one-year warranty, so if you do run into any issues with it during this time, Lewisia will replace it for you at no additional cost.
Learn More & Buy Now at Amazon
---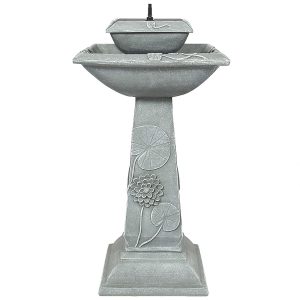 The Best Choice Products Two-Tier Solar Bird Bath Fountain with LED Lights has a more classical, elegant look than the Furniture Creations bird bath, and it's also one of the few solar bird baths to include built-in LED lights. This makes it a great centerpiece for a garden and it looks especially nice as the light begins to dim because the LEDs illuminate the water flow.
This solar bird bath includes a built-in solar panel on the top, so it's a nice alternative to our top pick for those who don't want a separate solar panel sitting next to their bird bath. The solar panel is built into the top tier of the fountain and is barely noticeable if you're not looking for it. Though you cannot adjust the position of the solar panels at all, most consumers haven't found this to be an issue and report that on sunny days, it's able to operate well into the evening at peak efficiency.
A few users have raised questions about the fountain pump's durability, but this doesn't appear to be a widespread issue. Also, while the Best Choice Products solar bird bath is more affordable than the Furniture Creations model described above, it's probably still not going to meet most people's definition of a budget pick.
Learn More & Buy Now at Amazon
---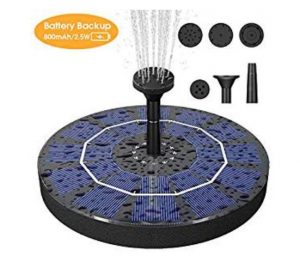 Those who want a solar bird bath pump but don't like the units with separate solar panels should consider the Biling Solar Bird Bath Pump. It measures 7 inches in diameter and has the solar panels built right into the unit so it blends in with the rest of the fountain. The pump itself floats, so it's also a suitable choice for small ponds.
At 2.5 watts, this is a more powerful solar bird bath pump than most, and it also includes a battery backup to help keep it functioning even on cloudy days and in less-than-ideal light conditions. It also includes a unique idling protection feature, which automatically shuts off the pump when it idles or is blocked for 15 seconds. This helps prevent the pump from being ruined, though if something does happen to yours, it's backed by a one-year warranty.
While most reviews of the Biling Solar Bird Bath Pump are largely positive, there have been a few complaints about the pump breaking down right out of the box or after a couple of days. In the unlikely event this happens to you, you can opt for a replacement or return the solar bird bath pump for free within three months of your initial purchase for a full refund.
Learn More & Buy Now at Amazon
---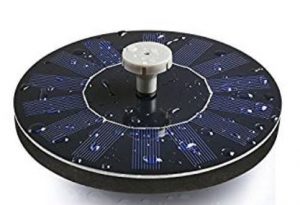 The Tranmix Solar Bird Bath Fountain Pump is similar in design to the Biling pump, but what sets it apart are its eight selectable sprayers, which give you complete control over how the fountain looks. Couple that with its compact design that fits into virtually any pond or existing bird bath and you've got a recipe for complete customization.
Users are pleasantly surprised with how well this solar bird bath pump works, especially given its affordable price tag. They report that it's simple to put together and operate and has a surprisingly powerful pump capable of shooting water over a foot into the air. It works well in all light conditions and still performs like new even after extended use.
A few users have said that it doesn't perform as well when it's not receiving full sun, but this is pretty typical of all solar bird baths. Many have also said that the suction cups that are supposed to hold the solar bird bath pump in place do not work as advertised, so you may want to find another way to secure your Tranmix Solar Bird Bath Fountain Pump if you don't want it floating around within your bird bath.
Learn More & Buy Now at Amazon
---
How We Chose the Best Solar Bird Baths
We selected our top five solar bird baths based on their design, size, effectiveness and ease of use. Here's a closer look at how we weighed each of these factors.
Design
While we did find a few true solar bird baths to recommend, solar bird bath pumps are far more popular with most consumers because they enable you to turn any small pond or your existing bird bath into a fountain. We included both types of products in this review and there are pros and cons to each.
Traditional bird baths are the better choice for those who don't have an existing bird bath already or are in the market for a new one. There's a greater variety in design so it's easier to find one that suits your space, but these models can be significantly more expensive than purchasing a pump. Pumps enable you to make use of your existing bird baths, but they all appear pretty similar and many have the solar panels built right in, which can prohibit the fountain from working effectively when it's not receiving full sun.
Size
When choosing a traditional solar bird bath, you have to be mindful of the entire unit and how much room it will take up in your space. Weight may also be a consideration if you think you might need to move the bird bath around later in order to help it better catch the sunlight. The manufacturer should list size specifications so you can get a sense of how big the bird bath will be before you buy.
When you're choosing a solar bird bath pump, you must make sure that it's compact enough to fit inside of your bird bath. Pumps with detachable solar panels are much smaller, but not everyone likes having a separate solar panel lying next to their pond or bird bath, so this is something each person has to weigh individually.
Ease of Use
Solar bird baths and solar bird bath pumps should come with installation instructions. The best ones begin working within seconds of being placed out in sunlight and don't require a lot of maintenance. All solar bird baths will need to be cleaned occasionally as dirt and other debris may occasionally clog it. Your manual should include instructions on how to do this as well. It's often as simple as rinsing it out with a hose, but this depends on the product.
What You Need to Know About Solar Bird Baths
Here are a few things you should know before you invest in a solar bird bath or a solar bird bath pump.
They need occasional maintenance.
Just like any type of water pump, solar bird bath pumps, including the pumps that come built into some bird baths, need occasional maintenance. Dirt, leaves, or other impurities in the water can clog the pump and prevent it from working properly. Left uncorrected, this can cause your solar bird bath pump's motor to work too hard and consequently, burn out too quickly.
Your instruction manual should contain details on how to clean it properly and how often this is necessary. If you notice that your solar bird bath isn't performing like it used to, that's a pretty good sign that it should be cleaned. Typically, you just need to clean out its filter with a hose, but you may need to use bleach or something stronger if it's especially dirty.
They need to be placed in an area that gets a lot of sun.
With traditional bird bath fountains, you have the freedom to place them anywhere that's in reach of an extension cord or outlet, but with solar bird baths, your options are in some ways more open and in others more limited. You can place your solar bird bath anywhere in your yard, but for optimal results, it must be in an area that gets a lot of sun.
If your yard is shaded, consider going with a model that has a separate solar panel attached to the bird bath by a cord. This doesn't look as attractive to some, but it gives you the freedom to place your bird bath a distance away from your solar panel if that's what works best for your yard.
Consider the weather conditions the solar bird bath will be exposed to.
You'll most likely be leaving your solar bird bath outside for most of the year, so you must make sure that it's capable of withstanding the elements that your area exposes it to. If you experience a lot of stormy or windy weather, you want to choose a solar bird bath made of a heavy, durable material. If yours isn't, you may need to take additional steps to secure it so it doesn't blow over or consider bringing it inside in severe weather.
Temperature extremes can also affect your solar bird bath's performance. If you live somewhere that sees snow in the winter, bring your solar bird bath (or at least the pump) inside during the winter to prevent damage from extreme cold. Extreme heat can also diminish the solar panel's effectiveness, but this shouldn't be a problem for most users. If you notice that your solar bird bath doesn't appear to be working correctly even in full sun, consult your owner's manual or try placing it a little more in the shade to keep it cooler.
The Bottom Line
Solar-powered bird baths can add a touch of elegance to your garden while making the area more inviting to your local birds. We recommend the Furniture Creations Wishing Well Solar Fountain to anyone in the market for a traditional solar bird bath or the Lewisia Solar Bird Bath Fountain Pump if you're interested in converting an existing bird bath into a fountain. Check out all five of the above options before you make your decision to ensure you end up with the model that's perfect for your backyard.
Compare the Best Solar Powered Bird Baths for 2021