Batteries lose their charge over time, especially vehicle batteries. If you have a car or motorcycle that you only use seasonally, then you have probably experienced that horrible feeling of turning the key and getting nothing but a hollow click. Thankfully, there is a simple solution to your battery draining problems and that is a solar battery tender.
A battery tender, or maintainer, is designed to maintain your vehicle's battery at the optimum charge so that your car is ready to go whenever you are. With a solar-powered battery tender, you can maintain your charged batteries in an eco-friendly way that will also save you money in energy costs. As you begin to look for battery tenders you'll find that there are many to choose from, but not to worry, we've done the research for you. Check out our picks for the top five best solar battery tenders, then keep reading for some helpful info that will assist you in choosing the best solar battery tender for you.
Top 5 Best Solar Battery Tenders of 2021
---
Reviews of the Best Solar Battery Tenders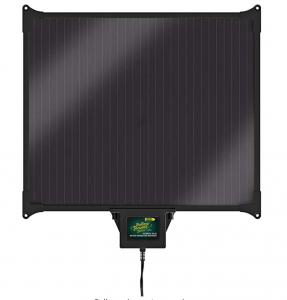 Quick Look: 5W, 270mAmps with microcontroller. 14" x 16" waterproof and spark-proof solar panel. Comes with hardwire and alligator clip charging cables.
Check Price at Amazon
Deltran Battery Tender is well-known for their quality battery chargers and maintainers and rightfully so. They provide quality products that offer convenience and versatility. Now you can have those benefits plus the added benefit of using solar power.
The Deltran Battery Tender Battery Maintainer comes with a 14" x 16" spark and waterproof solar panel that is built to last. The crystal clear solar glass allows more sunlight to penetrate the panel while also protecting the solar cells from inclement weather. This maintainer is designed to function in temperatures from -20° to 120℉, making it perfect for even the most extreme environments.
You can choose between hardwiring this maintainer to your battery or using the more traditional alligator clips for charging. Since it comes with a built-in 3-step microcontroller, you can rest assured that your battery will always have just the right amount of charge without ever overcharging.
Learn More and Buy Now at Amazon
---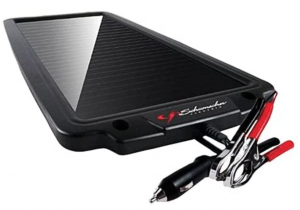 Quick Look: 2.4W, 20" x 11" solar panel. Water and weather resistant. Works in sunny and cloudy weather. Partially made from recycled materials.
Check Price at Amazon
If you don't have a huge budget, but you still want to try a solar battery maintainer, then check out the Schumacher SP-200 Solar Battery Maintainer. This ultra budget-friendly unit comes with a 20" x 11" solar panel that uses amorphous solar technology, meaning that cloudy days won't stop you from getting a charge.
This water-resistant model is perfect for use with boats and other personal watercraft, like jet skis. It is designed to keep any of your 12V lead-acid batteries charged and ready to go as soon as the boating season starts. It comes with two charging options, the classic alligator clamps or an adaptor that plugs into a standard cigarette lighter for reverse charging.
Creating solar-powered products is just one of the ways that Schumacher is trying to better the planet. They use many recycled materials in their manufacturing including recycled and reclaimed metals, plastics, batteries, and component parts. So not only can they help you decrease your eco-footprint, but they are doing their best to decrease theirs as well.
Learn More and Buy Now at Amazon
---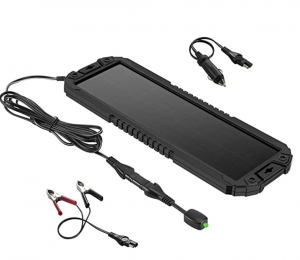 Quick Look: 5W, 5.05" x 13.9" microcrystalline solar panel. Comes with two charging cables and a 1-year warranty.
Check Price at Amazon
If you're constantly on the go, but not sure that your vehicle's battery is up to the challenge, then you may want to look into this ultra-portable battery maintainer from Sunway. Measuring only 5.05" x 13.9", the Sunway 5W Solar Battery Maintainer is the perfect size to carry with you on all your adventures whether those adventures involve a car, motorcycle, ATV, or jetski.
Do not let its diminutive size fool you, this battery maintainer still has the power and durability you need. It has tempered solar glass to both protect the solar cells and improve the light-to-electricity conversion. The high-efficiency monocrystalline solar panel is also surrounded by an ABS plastic housing, further increasing the durability.
This maintainer comes with a few handy accessories as well, such as suction cup mounts and multiple charging cables. It also has a LED charging indicator light so that you can know when your battery is being charged. All of this is also covered by a 1-year warranty, making this maintainer a sure bet.
Learn More and Buy Now at Amazon
---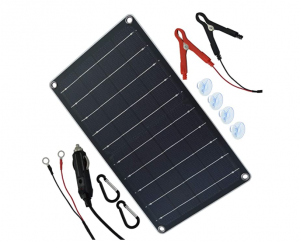 Quick Look: 10W, 14.5" x 7.8" solar panel. Built-in circuit board and LED indicator light. Comes with multiple mounting options and charging cables.
Check Price at Amazon
If you're nervous about attaching anything to your car battery, you're not alone. Anytime you're dealing with electricity things can get a little nerve-racking, but with the ultra user-friendly TP-Solar Battery Maintainer, you can set your fears aside.
This model comes with an adaptor that plugs right into your cigarette lighter, so you never have to touch the battery. This kit also comes with an alligator clamp cable and a hardwire cable, so you can charge your battery using whichever method is best for you. It also comes with suction cups and carabiner clips for multiple mounting options.
The 14.5 x 7.8" solar panel is heat and water-resistant and has a convenient indicator light to let you know when it is charging. It also comes with a built-in circuit breaker to prevent the battery from discharging back into the solar panel at night when the maintainer is not charging.
Learn More and Buy Now at Amazon
---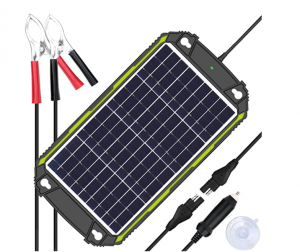 Quick Look: 10W, 16.53" x 9.45". Water and spark-proof. Built-in overcharge and discharge protection. Comes with multiple charging cables and mounting options. Comes with extended warranty and lifetime tech support.
Check Price at Amazon
When it comes to durability and versatility, the Sun Energise Waterproof Battery Maintainer ticks all the boxes. Built with a sturdy ABS plastic housing and tempered solar glass, this unit is designed to last for years of daily use. It is water and spark-proof and designed to withstand even the hottest summer day.
This model comes with all the safety features you could need, such as built-in protection from overcharging, discharging, and reverse polarity. The easy to see LED indicator light lets you know whether the battery is charging or full and will even indicate if the battery is not charging correctly.
This unit comes with three charging cable options including a cigarette lighter adaptor, alligator clamps, and a hardwiring cable. It also comes with multiple mounting options such as suction cups to attach to the inside of the windshield or on the dash.
Learn More and Buy Now at Amazon
---
How We Chose The Best Solar Battery Tenders
One of the biggest benefits of choosing a solar battery tender is portability. You can charge your vehicle's battery anywhere you want as long as there is sunlight. With that in mind, we looked for battery tenders that were durable, versatile, and easy to use so that no matter which one you chose, you could truly enjoy all the benefits of going solar.
Quality Materials
Sometimes you may want to mount your solar panel inside your car's windshield where it would be out of the weather, but there may also be times when you want to mount it outside in the open. That is why we looked for solar battery tenders that were designed for both situations. We looked for features like heat-resistance, high-quality solar glass, and weatherproofing. We chose models that could be left out on the dash in a hot car or left out in the weather year-around without fear of damage or loss o function.
Versatility
As we mentioned, not everyone is going to use their battery tender the same way, so we looked for models that provided charging versatility. Features like multiple adapters and mounting options make these solar battery tenders perfect for any battery charging situation.
Ease of Use
This is one of those great situations where the eco-friendly option is also the most convenient. Solar battery tenders are much easier to use than their AC counterparts because you do not have to worry about trying to park near an electrical outlet, using dangerous extension cords, or having to carry a heavy battery back and forth between your vehicle and the outlet. Simply park your vehicle outside or near a door or window, set up your solar battery tender, and let the sun do the rest.
We know that when it comes to dealing with electricity, things can get a little tricky. Thankfully, all of the units on our list are very user-friendly. Most of them are plug-and-play, so even someone with very little experience with solar power or battery charging will be able to use them with ease.
What You Need To Know About Solar Battery Tenders
Before we discuss how to choose the best solar battery tender for you, let's take a quick look at a few things you should know about them.
Battery Chargers Vs. Maintainers
Just in case you're still not clear about what a battery tender is, it's similar to a trickle battery charger only better.
Regular battery chargers are a great thing to have if your car battery dies completely and you need to bring it back to life quickly. The trouble with traditional chargers is that they are designed to do only one thing and that is to quickly pump power into a dead battery. Although the more modern models should shut off when the battery is full, many of the older models do not automatically shut off. If the charger is continually pushing power into the battery it can lead to overcharging, which is very dangerous.
For that reason, trickle chargers were invented. Trickle chargers are designed to slowly charge a battery in an attempt to maintain the battery's charge, but not overdo it. Unfortunately, traditional trickle chargers can still overcharge.
Battery maintainers charge the battery at a slightly slower rate like a trickle charger but will shut off when the charge is complete, meaning you can leave it attached to the battery all the time. If the battery sits too long and the charge goes back down, the maintainer will automatically begin charging again. This makes battery maintainers perfect for rarely used seasonal vehicles.
Why Go Solar?
Solar power has gained a lot of popularity over the last decade as solar panel technology has improved and more companies are beginning to produce a wide variety of helpful solar-powered products. When it comes to battery tenders, solar power is a great choice because you can charge your vehicle batteries even in the most remote locations and the energy is free.
Many people use their battery maintainers to keep car batteries alive through seasons of non-use, but there are many other uses as well. You can use your battery tender to maintain the battery on your lawnmower, boat, motorcycle, or any other device that uses a 12V battery. And, with the convenience of solar power, you do not have to be near an electrical outlet. Best of all, solar power is a clean renewable energy source that is free to use, so why not take advantage of it?
How to Choose The Best Solar Battery Tender For You
Finding the best solar battery tender for you is as simple as determining the amount of power you want and the style that best fits your needs.
Power
The first step is to choose the level of power you need. Although most battery maintainers are designed to charge 12v batteries, the accompanying solar panels can vary. The solar panels' output can range from 2.4W to 15W. The higher the watts, the faster the charge. Keep in mind that battery maintainers are not designed to charge quickly, they are designed to work like trickle chargers, but a little extra power can be helpful.
If you plan on using your solar battery tender at home to maintain a seldomly used vehicle, then higher power may not be a concern. If you plan on taking your battery tender with you on camping trips or somewhere where quicker power may be needed, you'll want to choose a solar panel that puts out a little more juice.
Style
The second step is to choose which style will best fit your needs. Most solar battery tenders have a similar design, but there are a few extra features that can make it more convenient for you to use. Do you need one that is portable and durable enough for motorcycle road trips? Most solar battery tenders are very portable, but a compact model may be more convenient. If something more stationary would do the trick, then you have the option to choose a larger model that may offer more power.
You will also want to consider the charging cable options. You may have noticed that all of our picks come with at least two charging cable options, although some include three. Each type of charging cable comes with its own benefits, you simply have to decide which one would work best for you.
Bottom Line
We've all experienced that sinking feeling that comes with discovering a dead battery. There are few things more frustrating than having to put all your plans on hold until you can get the battery back up to a decent charge. With a quality solar battery tender, you can know that your vehicle's battery is charged and ready to go whenever you are.
Choosing a solar battery tender means that you can charge your vehicle's battery for free wherever the sun is shining. You simply can't go wrong with a product that is both eco-friendly and budget-friendly. Though all of these battery tenders are compatible, we recommend the Deltran Battery Tender Battery Maintainer.
Top 5 Best Solar Battery Tenders of 2021