Approximately one-third of your life will be spent sleeping. That means that what you're sleeping on is going to have a huge impact on your life. The quality of your sleep can affect your mood and your overall physical health, so having the right mattress is vital. But, did you know that comfort and sleep quality are not the only elements that you should consider when choosing a mattress? The material that your mattress is made of could be more important than whether or not the mattress is comfortable.
Most modern mattresses are made from synthetic materials that are chemically treated to be flame-retardant. These materials, and the chemicals that they use to treat them, are meant to be safe, but they can release unwanted emissions overtime. Why not skip the chemicals and emissions and choose a quality non-toxic mattress? There are many to choose from, so we've compiled a list of some of the best to make your search easier.
Top 5 Best Non-Toxic Mattresses of 2021
---
Reviews of the Best Non-Toxic Mattresses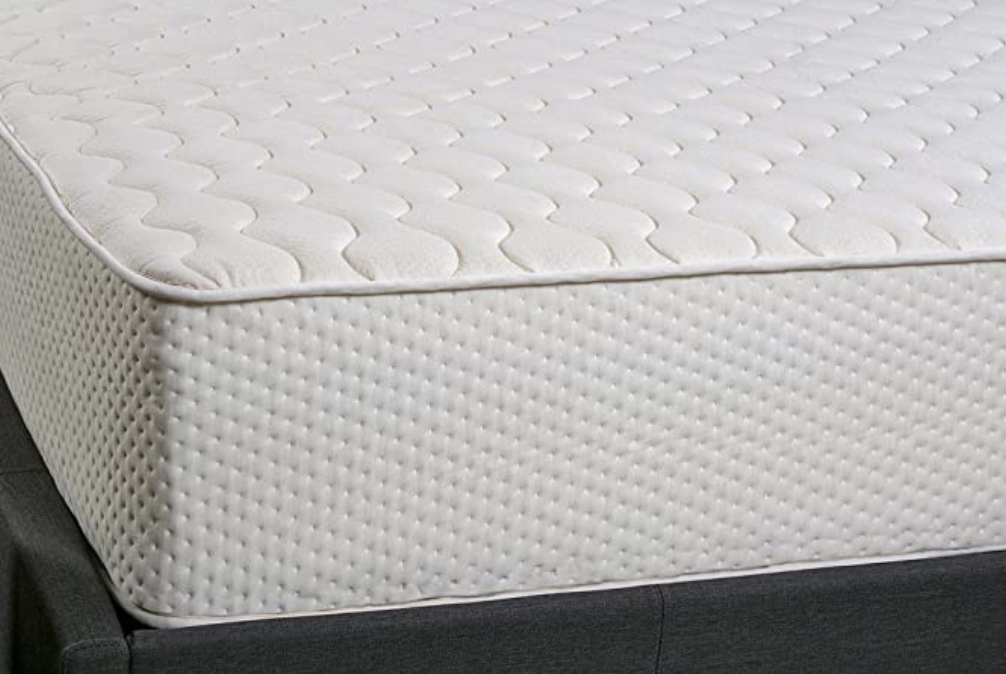 Quick Look: Made from natural latex and wood. Hypoallergenic. Comes in seven sizes from twin to split king. Double-sided with two firmness options. Naturally fire-resistant. Made in the USA. Comes with a 20-year warranty.
Check Price at Amazon
Choosing a mattress can be a challenge, but with this 100% natural mattress from Latex For Less, the choice is a no brainer. This mattress comes in seven sizes, from twin to split king, meaning there are plenty of options for the whole family. Not sure if you want a firm or a medium mattress? No problem. This mattress has a firm side and a medium side, so all you have to do is choose the side that best fits your needs.
This mattress is made from all-natural sustainably sourced materials. The latex used in the foam is made from hevea brasiliensis trees. There are no harsh chemicals or preservatives involved. The shell of the mattress is made from 100% organic cotton and California wool meaning that it is naturally flame-resistant as well as breathable and comfortable.
The best thing about Latex For Less is their commitment to making quality products in an environmentally conscious way. They manufacture all of their mattresses in the United States to help limit emissions and they use only responsibly sourced materials. Not only that, but they also back their craftsmanship with a 20-year warranty.
Learn More and Buy Now at Amazon
---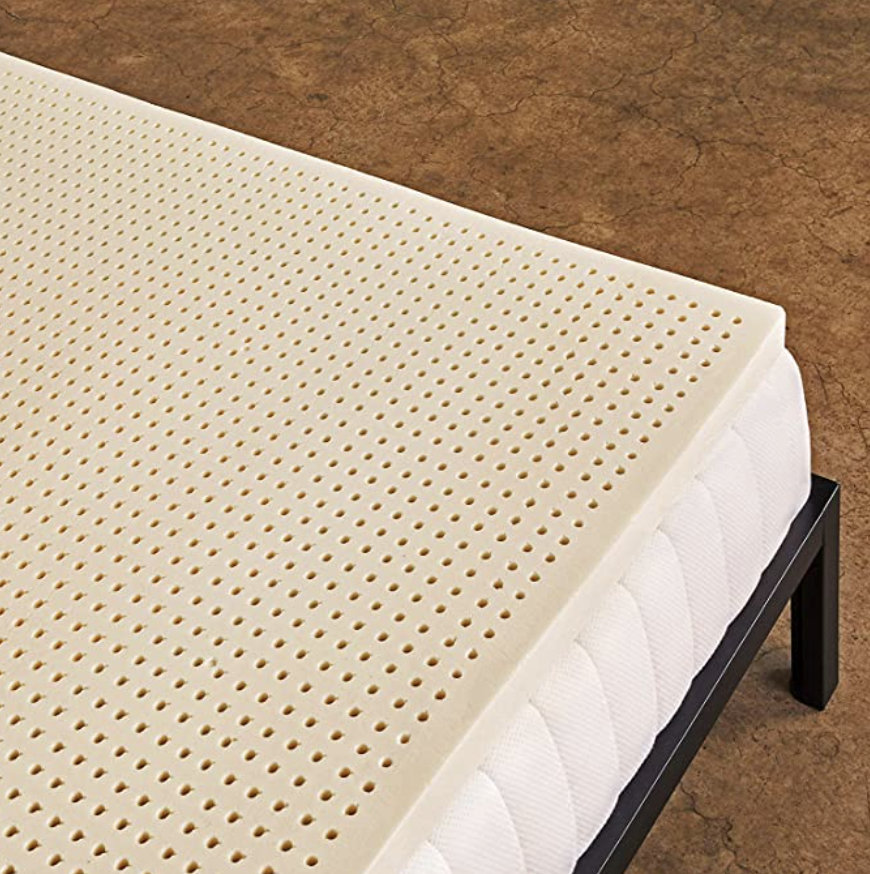 Quick Look: 100% natural latex mattress topper. Comes in three thicknesses and six sizes. Soft, but supportive. GOLS and Oeko-Tex Standard 100 certified. Naturally breathable and cooling.
Check Price at Amazon
Buying a new mattress can put a big dent in your budget. If you're not ready to invest quite yet, you can still improve the air quality in your room by purchasing a quality non-toxic mattress topper like this one from Sleep On Latex. This topper is made from 100% latex and is designed to offer support and comfort throughout the entire night.
This mattress topper comes in six sizes, from twin to California king, and it is available in three thicknesses ranging from 1" to 3". The 1" topper is a great choice for those who like their existing mattress, but still want a natural barrier between themselves and the mattress. A thicker topper would be great for those who like a softer sleeping experience.
The Pure Green mattress topper has been certified organic by the Global Organic Latex Standard (GOLS) and has the Oeko-Tex Standard 100 certification, Greenguard Gold, and the ECO Institute certification. The foam padding contains only natural latex materials, nothing synthetic, toxic, or unnecessary.
Learn More and Buy Now at Amazon
---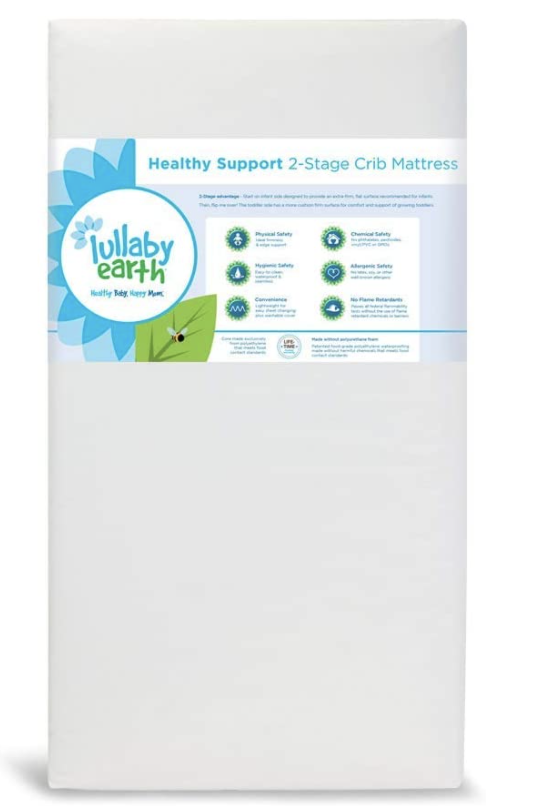 Quick Look: Waterproof convertible crib mattress. Lightweight and easy to clean with curved edges. Greenguard Gold and MADE SAFE certified. Made in the USA. Limited Lifetime Warranty.
Check Price at Amazon
Parenthood can be stressful, but one thing you should never have to stress about is your baby's mattress. With this non-toxic convertible crib mattress from Lullaby Earth, you won't have to worry about your baby's mattress until it's time to look for their "big kid" bed.
This mattress comes with two firmnesses. One side is firmer for little babies while the other side offers more cushioning for when your baby becomes a toddler. This mattress is lightweight, seamless, and waterproof, making it easy to clean and maintain. Not only that, but it is 100% non-toxic.
The inner batting is made from 100% organic cotton and the outer shell is made from food-grade, recyclable polyethylene. This plastic shell is safe and emissions-free while helping to ensure that the mattress lasts through all of life's little messes.
Learn More and Buy Now at Amazon
---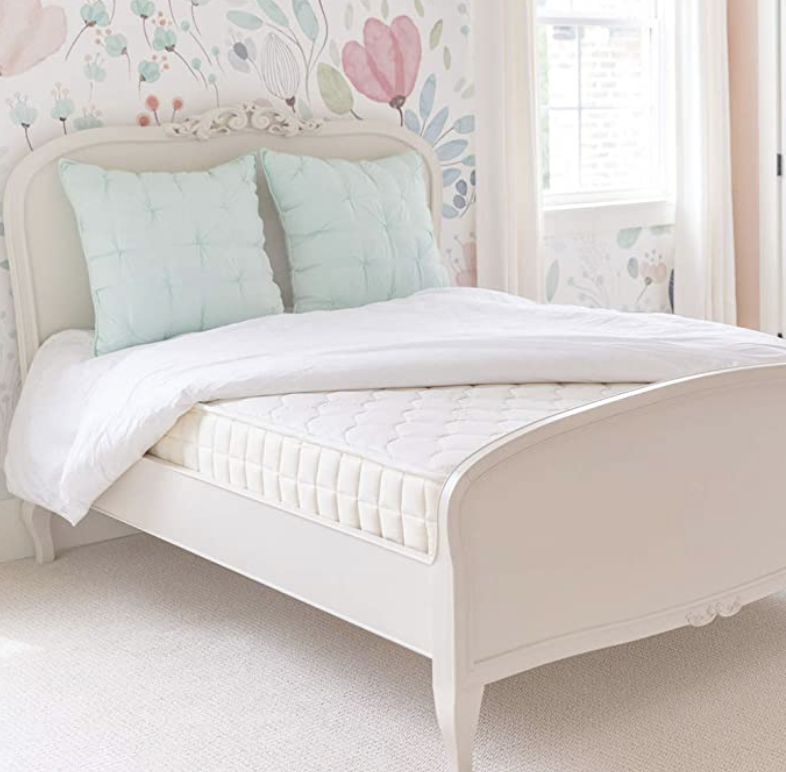 Quick Look: 100% certified organic twin XL mattress. Quilted-top, supportive, and comfortable. GOTS, GOLS, 1% For The Planet, Greenguard Gold, and MADE SAFE certified. Handcrafted in the USA. Comes with a 10-year warranty.
Check Price at Amazon
Choosing your child's first full-size bed is an important decision. Naturepedic makes the choice easy with this organic mattress designed just for kids. It is made out of organic wool and cotton as well as fully-encased steel coils to ensure comfort and support. This bed is manufactured without the use of any glues, adhesives, polyurethane, or flame retardants.
The Verse is double-sided, one side is quilted while the other is waterproof. The quilted side offers extra cozy comfort while the waterproof side offers comfort and protection against accidents. The cotton and wool outer shell is cooling and breathable, ensuring that your child stays comfortable all night.
This mattress comes with a variety of certifications including Greenguard Gold, Global Organic Latex Standard, and MADE SAFE. Naturepedic prides itself in manufacturing quality non-toxic mattresses, not only for kids but for adults as well, so don't think you have to be a kid to take advantage of this quality sleeping experience.
Learn More and Buy Now at Amazon
---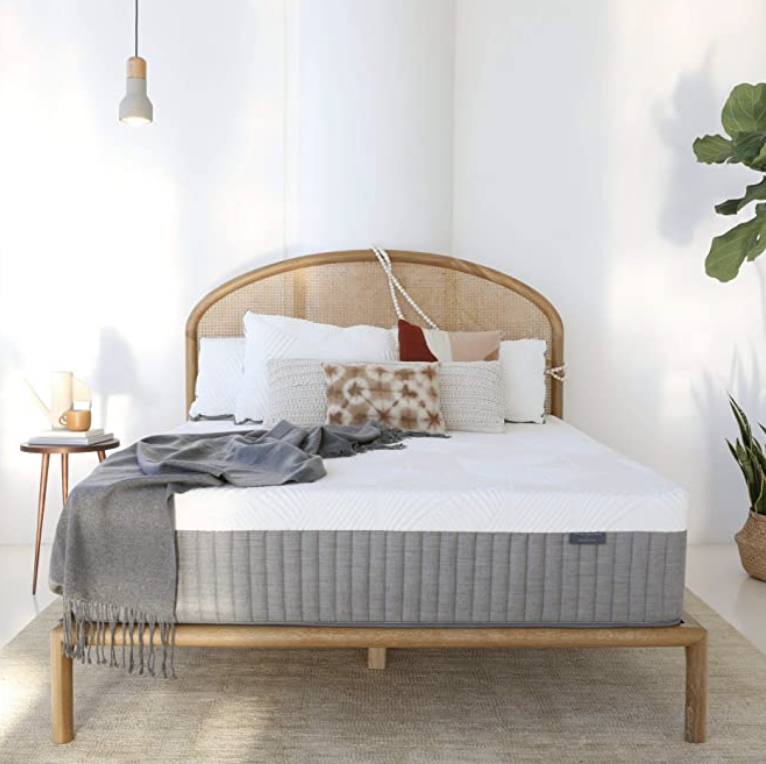 Quick Look: Non-toxic, charcoal-infused memory foam mattress. Made with CertiPUR-US foams containing no formaldehyde, heavy metals, phthalates, or flame retardants. Comes in six sizes and two thicknesses. Made in the USA. Includes a 25-year warranty.
Check Price at Amazon
Natural latex is one of the most common materials used in non-toxic mattresses. Unfortunately, latex is also a common allergy. If you or someone you love has a sensitivity to latex, don't worry, there is still a non-toxic option for you. The Cypress Luxe from Brentwood is the perfect latex-free option.
This luxurious mattress comes in six sizes ranging from twin to California king. There are also two thicknesses to choose from. The 11" mattress offers solid support with the firm comfort of memory foam where the 13" version provides even more cushion and comfort. The charcoal-infused memory foam is breathable and temperature regulating, ensuring a comfortable night's sleep every night.
This mattress is Greenguard Gold certified and completely non-toxic. Each mattress is handcrafted in the USA and comes with a 25-year warranty, showing that Brentwood truly stands behind the quality of their products.
Learn More and Buy Now at Amazon
---
How We Chose The Best Non-Toxic Mattresses
If you've been looking for a non-toxic mattress for any amount of time then you know that there are thousands of options to choose from. With all these quality brands, how did we manage to choose only five? Simple. We focused on quality materials, hefty certifications, and ample options.
Materials
The most important consideration when choosing a non-toxic mattress is the material used to create it. We looked for mattresses that contained materials like organic cotton, natural latex, organic wool, and steel. These are all trusted materials that are non-toxic and safe for your entire family.
What you won't find in these mattresses are things like formaldehyde, flame retardants, adhesives, synthetic latex, and phthalates. These substances are toxic and should be avoided, especially when it comes to the place you're going to be spending a third of your life. That is why we were careful to choose mattresses that were free of these substances.
Certifications
We wanted to ensure that we chose only quality products for our list. With that in mind, we only chose mattresses that were tested and certified as safe. Certifications such as Greenguard Gold, Global Organic Latex Standard, and MADE SAFE prove that these mattresses have all been through rigorous testing to ensure that they are made to the highest standard and are truly non-toxic.
Options
Last, but not least, we wanted to be sure we had something for everyone, so we chose mattresses that were either available in multiple sizes or offered a couple of different firmnesses or uses. We understand that not everyone in your family is going to need the same type of mattress, so we chose a variety to ensure that you could take advantage of all options.
What You Need To Know About Non-Toxic Mattresses
Finding non-toxic mattresses is easy, but knowing exactly what to look for can be a bit tricky. Similar to many other 'earth-friendly' or 'green' products, not all non-toxic mattresses are quite what they seem. Here are a few tips to help you sort through the options and find the best ones.
Manufacturer Transparency
One of the first things you'll notice about the manufacturers on our list is that they are all enthusiastic about sharing every type of material they use in their mattresses. If you're looking at a mattress that is supposed to be all-natural or non-toxic, but you can't find a clear list of materials, you should hesitate before making your purchase. Quality manufacturers like Latex For Less and Brentwood put extensive effort into ensuring that their products are truly non-toxic, not just for you but for the planet as well. They are proud of the materials they use and are perfectly happy to share them openly.
Quality Standards
Every company wants to say their mattresses are the best but don't just take the manufacturer's word for it. Check out the types of certifications they have such as GOTS, GOLS, or MADE SAFE certifications.
The Global Organic Textiles Standard (GOTS) is a globally recognized certification for quality organic materials. Not only do they certify that the materials themselves are organic, but they also certify that the materials were made in an eco-friendly way and under good working conditions.
The Global Organic Latex Standard (GOLS) is similar to the GOTS, but it is specifically for latex. This certification shows that the natural latex used in a product has been organically produced and manufactured. This certification also includes strict rules about work safety and proper working conditions for all employees involved in the manufacturing process.
MADE SAFE is an independent American company that certifies products as safe and non-toxic. They conduct extensive research to ensure that the products they certify are free from any harmful chemicals or other substances that could be considered dangerous. They not only certify textiles but many other products such as cosmetics, cleaning products, and baby products.
These are just a few of the certifications available for non-toxic mattresses, but these are considered the gold standard. If you see these certifications, you know that the mattress is truly well-made and safe.
Guarantees
A mattress is a big investment, so you want to know that you will be getting your money's worth. With that in mind, it is always a good idea to look for a manufacturer that offers guarantees and warranties. Some companies will allow you to try their mattress for a few months or even up to a year and still let you return it if you aren't satisfied. They also offer warranties for anywhere from 10 to 25 years. When you see guarantees and warranties like that, you know you have found a company that truly backs the quality of their product.
How to Choose The Best Non-Toxic Mattress For You
The best non-toxic mattress for you is easy to find once you know what you're looking for.
Materials
As you now know, most non-toxic mattresses are made with natural or organic materials such as wool, cotton, and latex. Some people do have allergic reactions to wool and latex, so it is important to know your allergies before making your purchase. If you do have allergies to any of these natural materials, do not despair, there are non-toxic or low-emissions mattresses that are made with synthetic materials. They may not be as earth-friendly as the organic options, but they are still better for your health than the older chemical treated mattresses.
Style And Size
Last, but certainly not least, you get to choose the style and size. If you're choosing a bed for yourself and aren't sure what type you like, the best thing to do is to try a few. Going to a showroom and sitting or laying on a few models may sound fun, but it's not the best option. The best way to test a mattress is to sleep on it. Find a company that offers a good trial period and choose the mattress that is closest to what you think you like. For example, if your current bed is fairly comfortable, but you wake up stiff, you may want to try something a little softer. If you find that you can't easily sit up on your bed because you sink into it, you may want to choose a firmer model. The trial period will allow you to truly test whether or not the bed is right for you.
If you are choosing a bed for your child, you should lean toward a firmer mattress. Although a soft fluffy bed may seem nice, a firm mattress is much safer, especially for infants and toddlers.
The size depends on the amount of space you have but if you have the budget and the room for something bigger, go bigger. Studies show that a little bit of extra space, especially for couples, can make a big difference in the quality of your sleep.
Bottom Line
Mattresses are significantly more important than we give them credit for. Our mattresses affect our sleep quality which in turn can affect our overall health and mood. Our choice of mattresses can also have a significant impact on the air quality in our homes and can affect the environment as a whole. We need to choose our mattresses with care.
Choosing a quality non-toxic mattress is the way to go, but how do you find one? Simply look for transparency in manufacturing, proper certifications, and quality warranties. You'll know a good company by their certifications and their willingness to stand behind their products. Once you find a quality manufacturer, you simply have to choose the style and size that best fits your sleeping needs. We hope this article has given you all the information you need to switch to a non-toxic mattress today.
Top 5 Best Non-Toxic Mattresses of 2021