Best Solar Panel Installation Companies in California
Finding the Best California Solar Panel Installers
Find the best California solar company for your needs from our directory of local solar panel installers below or save time and get free quotes from multiple California installers to find out how you can go solar today.
How Much Do Solar Panels Cost in California?
Do you want to know how much solar panels may cost you to buy and install in California?
Use our simple solar panel cost calculator below to get an estimate of solar installation costs in California.
---
Compare California Solar Panel Installers By City
How to Find the Best Solar Installation Companies in California
When it comes to solar, California is king.
The state boasts an incredible 1,322 solar installers – far more than any other state – so you've got huge options.
But that can make finding the best solar companies in California rather difficult.
California ranks first in the country in just about every solar data point.
It's home to 40% of the country's solar capacity, 30% of the company's solar jobs, and almost 50% of the 2 million solar installations in the country.
Why is solar so popular the Golden State?
It has everything solar panels love: great sunshine, high utility prices, and excellent incentives.
Even so, not every solar installation company is right for you.
The best way to get an accurate savings estimate is to get multiple quotes from the best California solar panel installers here.
---
Average California Home Solar Installation Costs
The average cost to install solar in California sits around $3.10 per watt, a bit higher than the national average thanks to the state's higher sales tax and labor wages. At this cost, a typical installation of 6,000 watts costs about $18,600. Of course, this price can increase or decrease based on equipment quality, complexity of the roof, and installation size (bigger installations mean more wiring, electrical conduit, and larger inverter).
While the initial installation costs in California are higher than in other states, CA homeowners can actually save far more than most Americans can over the life of the installation. While a 6,000 watt installation would likely save a non-California homeowner between $10,000 and $20,000, in California – even with the state's new net metering regulations – that same installation can save you about $41,000.
Let's take a look at a few common solar installation sizes to compare cost and savings:
| System Size | $/watt Cost | Total Cost | Total Cost (with ITC) | Total Savings |
| --- | --- | --- | --- | --- |
| 4 kW | $3.10 per watt | $12,400 | $8,680 | $27,593 |
| 6 kW | $3.10 per watt | $18,600 | $13,020 | $41,396 |
| 10 kW | $3.10 per watt | $31,000 | $21,700 | $68,990 |
While all the 1,300 solar installers can certainly install solar panels on your roof, there's a huge variety in experience, knowledge, equipment, and prices from one installer to the next. The best way to ensure a great customer experience and quality installation is to talk to several solar companies from our trusted marketplace. All installers provide free estimates and it's a great opportunity to talk about cost, equipment, warranties, and incentives.
With so many installers in California, picking 'the best' can be quite difficult. We've looked at dozens of companies and found three that really stood out thanks to their customer service, experience, and services. Here are our top 3 picks for the best solar Companies in California for 2021.
The Top 3 Best Solar Companies in California for 2021
---
California Solar Company Reviews
Let's take a look at each of these more in depth.
Solar Optimum: Best Customer Service
Quick Look: 10,000 installations and near-perfect customer reviews
Solar Optimum is the golden jewel of California installers. Thanks to their well-known, high-quality customer service, the BBB gives them an A+ and Optimum has won numerous 'best of' awards for California installers, including from the LA Daily News and Angie's List. Review sites like Best Company and Solar Power World routinely rank them at the top of their lists of installers. Regardless of where you like to read your customer reviews, Optimum has a near-perfect track record.
Based in Glendale, Optimum has been around since 2008 – middle-aged by solar industry standards. In that time they've been pretty busy, having installed 10,000 residential solar installations. All their installations come with a 25-year workmanship warranty on top of the 25-year warranties the equipment manufacturers offer. Solar Optimum is certified to install some of the most premium solar products on the market, including ultra-efficient Panasonic solar panels, Enphase microinverters, and Tesla Powerwalls.
If you're looking for an excellent customer experience, with top-notch staff and equipment, Optimum can do it right.
Baker Electric: Most Experienced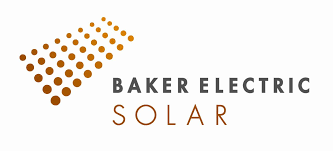 Quick Look: 12,000+ installations, founded in 1938
Few installers in the entire country can beat Baker Electric's experience. Founded in 1938, they have over 70 years as an electrical contractor and have installed over 12,000 residential solar installations. That makes them the most experienced solar installer on our list (indeed, pretty much anyone's list). Baker also installs larger commercial solar as well and in 2015, they hit 1 gigawatt of total installed solar – that's enough energy to power about 160,000 homes!
Based in Escondido, Baker installs throughout southern California. Besides solar, they also installs energy storage (Tesla Powerwall), smart home technology, and HVAC. And if you're looking to install Sunpower's ultra-efficient, premium panels, Baker does that too.
With such a long history and so many installations under their belt, the people at Baker know what they're doing. And their customer reviews prove it, with hundreds of homeowners reporting Baker's salespeople are courteous and the installers are professional, clean, and hard working.
PetersenDean: Best General Contractor

Quick Look: 10,000 installations, founded in 1984, installs solar, roofing, HVAC, and fencing
If you've got multiple home projects you need to take care of, take a look at PetersenDean before any others. This company can install your PV solar system, give you a new roof, replace your HVAC system, and even fix up your fencing.
With so many options, you might think they're like those restaurants with 100-page menus: They can do it all, but they can't do anything well. But since their founding in 1984, they've installed 10,000 solar systems and homeowners report their customer service both before and after the installation is top-notch. However, to be fair we should note that there are a few more poor reviews than the companies above. But their reviews are still miles better than all the big-box installers and the BBB gives them an A+ rating.
PetersenDean is actually one of the largest companies on our list, installing solar throughout California as well as Arizona, Florida, Hawaii, Nevada, and Texas.
How to Choose the Best Solar Installer in California
Compared to other electrical systems, solar installations are pretty simple. However, you still need a knowledgeable, experienced installer to make sure it all works as well as possible. Here are a few tips to help you choose the best for you.
Get Free Estimates and Compare Quotes
Even though savings can be higher in California than most states, with the state's high installation costs, taking time to compare quotes from multiple installers can ensure you get the best deal and help you save even more. Get multiple quotes from the best local California installers to find the best choice for you.
Not only do different installers offer various equipment and prices, but each one has their own preferred lenders and financing types, so talking to a handful of solar companies gives you a broader view of the available financing out there. With so many financing options available in California – cash, loan, PACE, and PPAs – you need to weigh the pros and cons of each type to see what makes the most sense for you. Of course, your installers will be able to tell you all about what they offer and can help you decide.
Licenses/accreditations
The state of California requires all solar systems to be installed by a licensed contractor. The state actually has a specific license for solar contractors (type C-46) which allows them to install both photovoltaic solar (electricity generating solar panels) and thermal solar (solar hot water).
California also allows businesses holding numerous license types to install PV solar, including General Engineering (type A), General Build (B), and Electrical (C-10). Plumbing contractors (C-36) and Hot Water Heating contractors (C-4) can install solar water heaters, but not PV solar. Lastly, swimming pool contractors can install solar heating for pools.
Of course, a license – especially a general non-solar license – doesn't necessarily mean the installer has a lot of experience installing solar systems, so do some research beforehand, ask lots of questions, and talk to multiple installers.
Warranties
Warranties are a crucial area of consideration for your solar installation. While your equipment will be covered by 12 to 25-year manufacturing warranties, your installer will cover all your installation work, so you need to discuss this with all your potential installers beforehand. If your roof starts leaking in five years (which is quite rare, but can happen), you'll want to know you're covered.
The state of California requires all solar installers to offer a 10-year workmanship warranty that protects against unusual degradation, components breaking, and defective work. While 10 years is the minimum, some installers will warranty their installations for even longer, sometimes up to 25 years – that's just one more reason to talk to multiple installers!
Common Solar Panel Installation Financing Options in California
California boasts the most mature solar industry in the country, with more financing options than pretty much any other state.
Cash
Paying in cash is the simplest way to finance your solar installation. Just save up that $18k and pay your installer. With no interest rates or leasing fees, you're spending as little as possible upfront, so you'll see the highest savings over the life of your installation. Of course, your hard-earned cash is tied up in the investment, so if you bank account isn't overflowing, take a look at loans instead.
Solar Loan Options
Loans offer a way to avoid paying that high initial investment that a cash payment requires. Credit unions, banks, and specialty loan companies dedicated to green energy all offer low-interest loans for solar installations. Your installer will likely have a preferred lender they typically work with, but it pays to call up a few credit unions to ask about interest rates.
PACE Financing
California is one of only three states in the US that allows homeowners to take advantage of PACE, or Property Assessed Clean Energy, financing. PACE financing is similar to a credit union loan, but it's actually financed through your local government and you pay back the loan via additional fees on your property taxes (hence the name, 'property assessed').
PACE financing has a few distinct advantages over traditional loans. First, since the loan is connected to your home, not the homeowner, you don't need to worry about paying off the entire loan when it's time to move. The PACE loan simply stay with the house and the new homeowner will take over the payments as part of the property taxes. PACE loans can also have lower interest rates than conventional loans and generally include much longer terms as well, so your monthly payments can be much smaller.
Counties across California offer PACE financing via numerous 3rd party companies, so be sure to ask your installers what PACE options are available in your area.
Power Purchase Agreements (PPAs)
Under a Power Purchase Agreement, your solar installer owns your solar installation, and you pay them for all the clean electricity your installation produces. This removes the burden of paying those thousands of dollars to install the system, but also takes away some of the benefits, including the federal tax credit (which goes to the owner of the installation) and by extension much of the potential savings.
While PPAs and leases initially drove the solar boom a decade ago, homeowners are now turning to ownership, as you can generally see a better financial return with a cash or loan purchase.
Solar Rebates and Tax Credits
Just a handful of years ago, investor-owned utilities (like PG&E and SDG&E) shelled out huge rebates, mandated by the state, for homeowners installing solar. While most of these utility incentive programs have already met their participation caps and dried up, California homeowners still have a few excellent incentives available to help drop the cost of solar, including the best incentive around: the federal income tax credit.
Federal Tax Credit
This credit, officially known as the Investment Tax Credit or ITC, is worth 30% of the cost of your solar installation, which can also include reroofing costs if your roof is too old or damaged for solar, solar water heaters, or energy storage systems.
If your tax liability is high enough, this credit is a virtual dollar-for-dollar discount on your solar installation, which you'll claim at your next tax season. For a 6,000 watt system that costs $18,600 to install, you'd be eligible for a $5,580 credit on your federal taxes, dropping your total investment to $13,020.
The federal tax credit is set to decrease to 26% at the end of 2019, so you'd better act quickly if you want to take full advantage of this incentive – by far the best solar incentive out there today!
Property Tax Exemptions
California also offers solar homeowners a property tax exemption on the assessed value of the solar installation. Until 2024, all new installations are eligible for this incentive. The average property tax in California is 0.79%, so the property tax exemption could theoretically save you about $147 in the first year alone for that $18,600 installation.
City and Utility Rebates
Beyond the federal tax credit and the state property tax exemption, a handful of cities and utilities also offer rebates for homeowners going solar. Through its GoSolarSF initiative, San Francisco still offers homeowners rebates of $200 per kW with a cap of $8,000. Beyond that, Sacramento municipal utility SMUD offers $300 per installation and the City of Ukiah offers solar rebates, but is currently updating the program at the time of writing.
California Solar Policy
California has some of the best renewable energy policies in the country. In 2018, it adopted a goal of 100% clean energy by 2045. That's a huge deal, especially considering California is the world's 5th biggest economy and even larger than the UK's.
The state has also made it incredibly easy for homeowners to install solar. They passed laws to make the interconnection process (connecting your solar installation to the utility grid) as painless and cheap as possible.
The most important policy for solar homeowners, however, is California's net metering regulations. Under the new NEM regulations, solar is still a great investment, but all solar homeowners must move to Time-Of-Use rates, where you'll pay more (or less) throughout the day depending on energy demand, and require solar homeowners to pay a few additional fees, including:
Mandatory one-time interconnection fee, typically around $100
Per-kWh fee, called 'non-bypassable charges', for all solar energy sent to the grid.
Both solar and non-solar homeowners must pay a monthly fee
Lastly, after installing solar, your utility will send you a 'true up' bill at the end of each year. If you used more electricity than you produced, you'll need to pay the difference. If you produced more than you used, your utility will pay you for that excess (about $0.03 to $0.04 per kwh).
Conclusion
Ready to go solar in California? Get multiple quotes from the best local California installers to find the best solar company in California for you.
Compare California Solar Panel Installers
View our list of California solar panel installers below or get quotes from multiple companies to find the best deal.
Are Solar Panels a Good Investment in 2021?
That is a great question! In a word, absolutely. In fact, with installation costs dropping over 60% since 2010, solar is a better investment than ever before!
And while the price of solar technology continues to drop, the price of utility electricity continues to go up. In the last 15 years, utility rates have increased an average of 2.9% each year.
That is actually the main crux of solar savings. You pay a one-time fee (ie your installation cost) to install solar and you are then able to avoid those utility price hikes - as well as the current high utility prices - for the next 25 years.
Obviously, some states have much higher utility rates than in other states, so solar savings will be greatest in those states, but that doesn't mean it's a bad decision in other areas.
Generally speaking, savings follows utility costs, but on average the lifetime solar savings for many homeowners is between $12k and $32k. That is a lot of money saved!
How much can you save by installing solar panels on your home? It is easy to find out. Simply get a free quote and see how much you can save by going solar today!