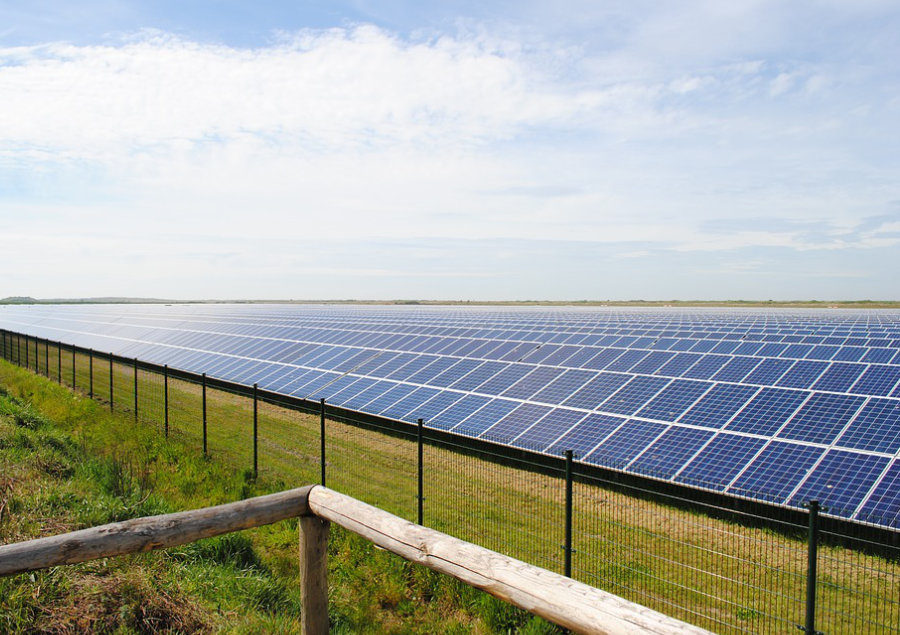 With Trump announcing a new 25% tariff on Chinese-made solar inverters yesterday, we got to wondering how the 2018 solar panel tariff – much maligned at the time for potentially hindering one of the US' fastest growing industries – has affected the solar biz over the last 15 months.
Has the tariff succeeded in its original goal, namely to help buoy American solar panel manufacturing against cheaper Chinese imports? While there is more manufacturing than before, overall it's done very little.
Tariff did lead to growth in domestic solar panel manufacturing
In January 2018, President Trump imposed a 30% tariff on imported solar panels, claiming the low prices were hurting American business. Fifteen months on, solar panel manufacturing has hit a growth spurt thanks to the tariff, though ironically not from the companies that originally asked for the tariff.
Suniva and SolarWorld Americas, both of which petitioned for the tariff in mid-2017, are now defunct. Suniva, which filed for bankruptcy days before requesting the tariff, is still moving through the process. SolarWorld Americas, which ironically is wholly-owned by German company SolarWorld, was purchased (along with its Oregon factory) by American panel manufacturer Sunpower.
Sunpower, which is majority-owned by French oil and gas company Total, has reported they paid about $46 million in import duties thanks to the tariff, as the company manufactured quite a bit of their products overseas. To combat the tariffs, Sunpower actually secured an exemption for some of their products and, by buying out SolarWorld Americas for $26 million, they're able to build panel domestically.
Speaking on the tariff in 2019, SunPower CEO Tom Werner said, "It was a big blow. It was the most significant factor for our company last year."
Ironically, it's foreign manufactures that have invested the most in American solar panel manufacturing. In 2018 and 2019, three foreign manufacturers have built plants in the US.
Chinese manufacturer JinkoSolar is opening the third-largest panel factory in the US in Jacksonville, Florida, where it'll produce 400 MW of solar panels each year – equal to about 1.2 million residential panels per year. The factory will employee 200 individuals in two shifts.
Korean manufacturer Hanwha Q CELLS opened its own plant in nearby Georgia, with an astounding 1.7 GW of annual manufacturing capacity – equal to about 5 million solar panels. The company now has manufacturing plants in South Korea, the US, China, and Malaysia.
Lastly, Korea's LG completed a 500 MW factory in Huntsville, Alabama, in early 2019. LG will employee more than 400 workers at the factory, which is located on its pre-existing 48-acre campus.
FirstSolar, the largest American solar panel manufacturer, is the big winner in all this, as their non-crystalline, thin-film solar panels aren't affected by the tariffs. As Bloomberg reports, the company's production has surged since the beginning of 2018, jumping from 481 MW of capacity in Q1 to 956 MW in Q4.
Trump tariffs led to contraction of the larger solar industry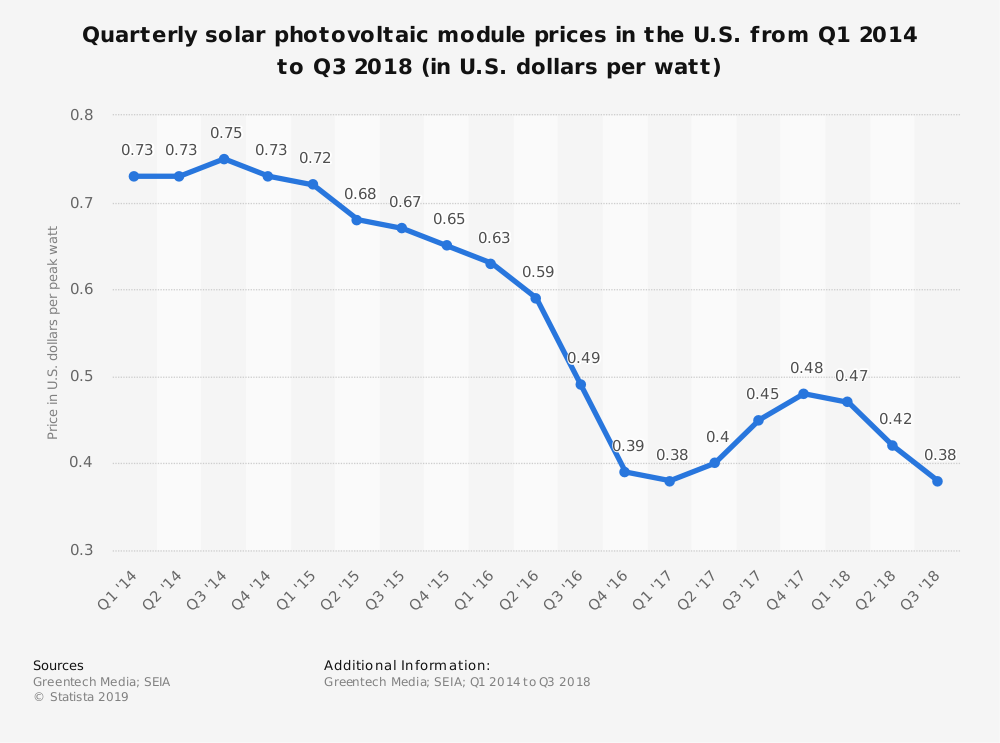 When Trump announced the tariff on Chinese solar panels, industry experts it could send the solar industry into a tailspin, stifling an industry that's relied on cheap imports to slash prices and see huge growth.
They weren't wrong. Utility-scale solar developers, who enjoy lower overhead costs than residential developers, were the biggest hit segment, as solar panel costs make up a larger portion of their total installation costs. When the tariff was announced, experts estimated that $8 billion of utility-scale projects were either put on hold or cancelled due to the uncertainty around what would happen in the industry.
This led to stagnation in the solar industry. In Q3 2018, the US only installed 702 MW of utility-scale solar, accounting for just 39% of all installed solar in the quarter, the lowest level since Q1 2012.
As installation numbers fell, employment in the solar industry also dropped. From 2017 to 2018, 17,700 jobs were lost, after constant annual growth since 2010, during which time it added an average of over 20,000 workers annually.
However, things are changing. After that initial drop, seemingly largely brought on by fear and uncertainty instead of the actual tariff, the industry is ripe to explode once again.
Take a look at the graph above and you'll see that solar panel prices actually spiked in Q4 2017, when the International Trade Commission ruled that cheap imports were hurting US business. Take a closer look and you'll see that prices resumed falling in Q1 2018, the same period the tariff began, and have continued falling since then.
The Solar Energy Industries Association says, "Total installed U.S. PV capacity is expected to more than double over the next five years – by 2024, more than 15 GW of PV capacity will be installed annually."
Workforce statistics for 2019 aren't yet available, but experts predict the solar workforce will increase 7% in 2019. That's equal to about 17,000 new employees.
As we get closer to the expiration of the 30% federal tax credit, and more states pass pro-solar legislation, solar installers are preparing for a ramp up. Hawaii, New Mexico, New York, and California all passed 100% renewable legislation. California solar developers in particular are preparing for an explosion, as the state also passed a law that by 2020 all new homes in the state must include pre-installed solar.
Manufacturing is just 14% of all solar industry jobs
So solar panel manufactures added new employees after the tariff, but is panel manufacturing a significant enough portion of the larger solar industry to justify a tariff that hinders growth of the other workforces?
The Solar Foundation estimates that in 2018 there were 242,343 individuals employed in the solar industry. Of those, 33,700 – or about 14% – worked in manufacturing. The remaining 86% work in installation, project development, O&M, and other departments.
Of course, the three new manufacturing plants from Jinko, LG, and Hanwha will add jobs to the manufacturing side –likely hiring around 1,500 people total. And FirstSolar and SolarWorld's expansions should also add employees. However, panel manufacturing is still a fairly small portion of the larger solar industry.
So did the tariff help or hurt or the solar industry?
It's somewhat of a mixed bag. The tariff did lead to more solar panel manufacturing jobs in the US. LG, Hanwha, and JinkoSolar all opened factories in the US, likely adding around 1,500 manufacturing jobs, and FirstSolar vastly ramped up production thanks to their tariff-free thin-film technology.
Manufacturing though makes up just 14% of all employment in the solar industry. And because of the fear and uncertainty around the tariffs, companies halted solar projects and an estimated 17,000 jobs were lost – far more than the tariff could've ever encouraged.
We're finally expecting growth in the solar industry this year, and many analysts see the tariff like a fly at the dinner table: it doesn't really affect your meal, but it's certainly annoying. Since the tariff only lasts until 2022 and drops in size each year (as a percentage of the total panel cost), the fly is constantly getting smaller and smaller, and less and less of an annoyance for the industry.
Image Source: Public Domain via Maxpixel