Staying active can be challenging when you have a computer-based job. So what is the solution? A standing desk. After all sitting is the new smoking. Standing desks give you the ability to move more while still getting your work done. Of course, like every type of office furniture, there are a lot of standing desks to choose from, so we have compiled a list of our favorites to give you a good idea of what is available. We will also give you all the information you need to find the best standing desk for you.
Top 5 Best Standing desks of 2021
---
Reviews Of The Best Standing Desks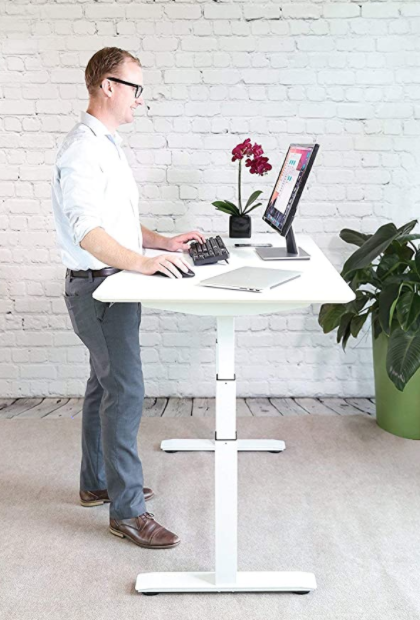 Quick Look: 54 x 30 desktop, electric height adjustment, and ergonomic design. Comes in multiple colors and comes with a 2-year warranty.
Check Price at Amazon
Not only does the Seville Classic Airlift Pro Desk come with a classy sleek design, but it comes with everything you need to improve your workday posture. With height adjustments from 25.6" to 51.4", this is a great choice for users of all heights.
You can use the easy-to-read LED height display to choose your desired height. Simply program that height into one of the four programmable preset buttons for perfect adjustments at the press of a single button. The electric motor offers quiet adjustments, ensuring that you can change your desk height as often as you want without bothering your coworkers.
This desk has an ergonomically curved front, giving you access to the entire desktop without having to strain. It also comes in multiple colors so that you can match your desk to your office decor.
Learn More and Buy Now at Amazon
---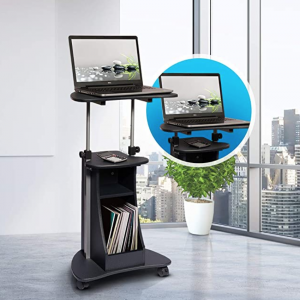 Quick Look: Compact mobile laptop cart that adjusts from 28" to 43". Has non-marking caster wheels and storage compartment. Comes with a 5-year warranty.
Check Price at Amazon
Looking for a standing desk, but don't have a lot of room? Then the Techni Mobili Laptop Cart is the perfect model for you. This compact laptop desk easily adjusts from 28" to 43", so you can always have your laptop at the perfect height whether you feel like sitting or standing.
The non-marking castor wheels make this desk easy to move around your home office whether you have carpet or hardwood flooring. The desktop has a safety bar across the back to help keep your laptop in place while you move the desk. When you are ready to get to work, simply lock the wheels in place for a sturdy stationary work surface.
Speaking of sturdy, this desk is made out of heavy-duty engineered wood that is moisture and scratch-resistant. The adjustable laptop shelf raises to reveal a secondary shelf that can hold up to 22lb. There is also a convenient storage compartment on the front of the desk, providing you with that extra storage space you need.
Learn More and Buy Now at Amazon
---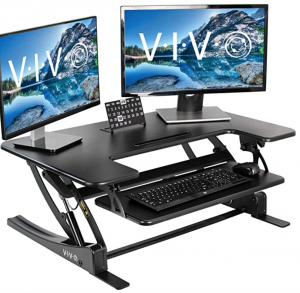 Quick Look: 36 x 22 work surface that holds up to 33lb. Dual gas spring force lift for desktop and ergonomic keyboard tray. Comes with a 3-year warranty.
Check Price at Amazon
Love your current desk but still want the benefits of a standing desk? Then try the Vivo Desktop Converter. This 36" x 22" worksurface sits right on your desk and gives you the ability to raise your computer to standing height with one simple movement.
This futuristic-looking desk converter comes in black or white and provides enough work surface to hold two monitors. It also has a convenient device slot near the front of the desk where you can prop your phone or other smaller devices.
With easy assembly and simple operation, this desk will have you on your feet in no time. The ergonomic keyboard tray raises and lowers in sync with the desktop for comfortable typing whether you are sitting or standing.
Learn More and Buy Now at Amazon
---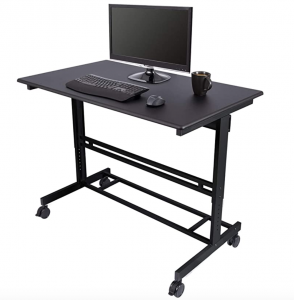 Quick Look: 48 x 28.5 work surface, steel frame, and 3 inch locking caster wheels. Manual height adjustment, height ranges from 28.75 to 42.25 inches.
Check Price at Amazon
If you need to work in different areas of your office or you just need to be able to rearrange your space quickly, a mobile desk can be a lifesaver. With the Stand Up Desk Store Mobile Desk, you can enjoy both the benefits of a standing desk as well as those of a mobile desk in one convenient package.
With a wide 48" x 28.5" work surface, this desk gives you all the room you need for your monitor, keyboard, laptop, and any other work projects you may have. The sturdy steel frame with 3" casters allows you to move your desk whenever and as often as you like without fear of it wearing out. The desk height is adjusted manually and can be adjusted from 28.75" to 42.25" in increments of 1".
Move around with ease and still enjoy the benefits of a standing desk. The modern sleek design would look good with any office decor, so you can roll it from office to office and still look classy.
Learn More and Buy Now at Amazon
---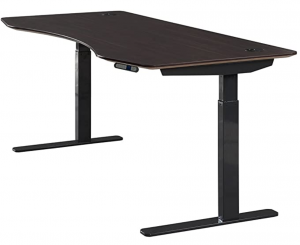 Quick Look: Extra-wide work surface and foot room, electric height adjustments, and ergonomic design. Steel frame can hold up to 225lb. Comes with four programmable preset buttons, LED height display, and a quiet motor.
Check Price at Amazon
Sometimes you just need more space to work and that is what you will have with this exquisite standing desk from Apexdesk. The work surface of the Apexdesk Elite is 71" x 33", meaning you can fit all your desktop favorites and work projects with room to spare. Not only will you have plenty of room on the desk, but there is also plenty of room underneath the desk. Featuring separate legs with no crossbar, you will have all the foot room you need as well as lots of extra storage space.
This desk adjusts from 29" to 48" with ease. The quiet airlift motor will lift your desk without causing any noise pollution. You can use the LED height display to choose your desired height and then program one of the four programmable preset buttons to save your favorite setting.
The industrial steel frame is easy to assemble and is designed to withstand daily use for years to come. The smooth, solid ergonomic desktop has a curved front edge to give you easy access to the entire work surface. It also comes in multiple color combinations to ensure that your desk will match your office style.
Learn More and Buy Now at Amazon
---
How We Chose The Best Standing Desks
The main qualities that we looked for in our standing desks were wide height range, quality construction, and ease of use.
Height Range
A wide height range on your standing desk will make it easier for you to use your desk properly. That is why we looked for desks with wide height ranges so that they can accommodate users of all sizes. If you are sharing your desk with others, it is especially important to have a wide height range. With that in mind, we looked for desks that would work for both single and multiple users.
Quality Construction
There is nothing more distracting than a wobbly or uneven work surface which is why we looked for desks with solid desktop surfaces and sturdy frame construction. A solid work surface means that you never have to deal with uneven surfaces that can interrupt workflow. Sturdy frame construction means you won't have to worry about your desk unstable or unreliable. Your desk needs to work as hard as you do, so we chose desks that could hold up to everyday use without wearing out or becoming wobbly.
Ease of Use
The best way to ensure that you will get the most out of your standing desk is to choose one that is easy to use. That is why we looked for models that were easy from start to finish. From simple assembly to easy height adjustments, each of our picks is convenient enough for users of all ages. Easy height adjustment means that you can change the height of your desk throughout the day with missing a beat. Features like memory settings make height adjustments even easier, especially if more than one person will be using the desk.
What You Need To Know About Standing Desks
Standing desks have really gained popularity over the last decade, so much so that they may seem like a fad to some, but there are some solid reasons to choose a standing desk.
Why Choose a Standing Desk?
Studies show that standing uses more muscles and is healthier for you than sitting. Since you are using more muscles when you stand, you are also burning more calories as well as improving your circulation and posture. With those types of benefits, standing for part of your workday is obviously a good idea, but standing all day can be just as bad as sitting if you are standing in the same position for long periods of time. The best course of action is to change position throughout the day. This can be done by simply stepping back and forth a few times every hour, doing some calf raises, and alternating between sitting and standing. With a quality standing desk, you can adjust the height of your desk throughout the day to meet your needs which means you can get your work done and stay healthy at the same time.
Styles of Standing Desks
Since you now know how important it is to alternate between sitting and standing throughout your workday, you can probably guess how important it is to have a desk that makes that possible for you. There are four main types of standing desks: desktop, manual, electric, and mobile.
Desktop
These are sometimes called desk converters because they are not actual desks, but more of an addition to your stationary desk. They are usually multi-shelved units that sit on top of a regular desk to raise the monitor and keyboard to a standing height. These are convenient because you do not have to replace your entire desk, but they still offer the benefits of being able to switch back and forth from sitting to standing. These are a great option for those who have a pre-furnished office at work. The downside to desktop converters is that they limit your workspace when standing. Since they do not raise the entire work surface, these can be inconvenient for those who need more space for their work. But for those who only need to raise their computer, this can be the perfect desk solution.
Manual
These desks allow you to adjust the height of the work surface using a crank or bolts that can be loosened for adjustments then tightened to hold the work surface in place. The benefit of manual desks is that they can be freestanding, so you do not have to worry about being near an outlet. Another benefit is that these desks are often much less expensive than their electric counterparts. On the downside, manual adjustments can be cumbersome and time-consuming, so these desks are better for those who do not plan on changing heights too often.
Electric
These desks use a motor to move the desk up and down at the press of a button. Electric desks are much easier to adjust and some even have memory settings so you can program your desired heights and never have to mess with it again. The downside is that they can be a bit noisy, so if you share your workspace with others, you may also want to consider how much noise is involved in adjusting the height. Most electric desks are fairly quiet, but it is still something to consider.
Mobile
This might be a moot point for those who have a permanent office space, but for those who need something a little more versatile, there are mobile standing desks as well. These usually have manual height adjustments and are great for those who need to rearrange their workspace quickly and easily.
How to Choose The Best Standing Desk For You
When it comes to finding the best standing desk for you, there are few key things to consider before making your purchase. We talked to entrepreneur and serial work-from-home dad, Michael Gardon, about what he finds important in a stand up desk. Michael invests in and manages websites like testing.org and contributes to a popular podcast on careercloud.com. Here's what he said about his desk situation: "I've used many stand up desks in my career. I even created a makeshift desk over my treadmill when I was training for Ironman. The most important features for me are stability, style, size and cord management (for electronic desks). I need stability because I have 3 kids that are prone to tip things over. With style, you can get some really cool reclaimed wood tops, from anywhere and just buy a stand up base. I think most people will want at least a 60 x 30 desk. Anything smaller can get cramped. I need lots of room to hold multiple computer monitors, notebooks and sketches. Lastly, if you have a power desk, you gotta understand cord management, and be able to hide cords that might hang down. This is easy if you place the desk on a wall, but harder if you need the desk to be in the center of your room."
Know Your Measurements
The first thing you should do before you start looking for a standing desk is to determine your measurements. If your desk is too tall or too short, it can have a harmful effect on your posture and since one of the main benefits of a standing desk is that it is supposed to improve your posture, getting the correct height is vital. To get your correct measurements, you may need the help of a friend. All you have to do is sit in your desk chair, bend your arms like you are resting them on a desk, and measure from your elbow to the floor. Now stand up and measure from your elbow to the floor. That will give you the minimum and maximum heights you need for a proper standing desk.
Size
The next measurements you have to consider are how big of a work surface you need as well as how much room you have for the desk. Although buying the biggest one may sound nice, you do not want your desk to overwhelm your office and make you feel cramped.
Start by considering what type of work surface you need. If you are replacing an old desk, that will give you a good idea of the size you need. If you are buying this desk for a new venture and really don't know how much space you need, there is an easy way to find out. Collect everything you plan on having on your desk and lay it out on a table or counter, arranged as you would your desk, then measure the space you've used.
Once you have a general idea of the required desktop, use masking tape to mark out that space in your office. Place your desk chair in front of it, just like you would if the desk were already there, and take a seat. This will give you a realistic picture of how much space will be used up by your new desk. Of course, you have to work with the space you have, so you may have to choose a desk that is slightly smaller, but at least this will give you a general guideline.
Style
This part of the decision-making process is all up to you and your preferences. As you now know, there are several different styles of standing desks such as manual or electric and stationary or mobile. What you have to do is choose the style that best fits your workload. After that, you just have to choose the design that best fits your style and you are ready to enjoy all the benefits of having a quality standing desk.
Bottom Line
Having a standing desk can improve your posture, relieve the stiffness and soreness caused by continuous sitting, and help you to burn more calories throughout your workday. There are many different designs and styles to choose from, but just remember our simple tips and you are sure to find the desk you need.
It's hard to go wrong with any of our top standing desk picks, but we recommend Seville Classic Airlift Pro for its durability, height range and ease of use. Compare all of your options before making a final decision, though, to make sure that you're choosing the right model for your circumstances.
Top 5 Best Standing desks of 2021