Camping and hiking are some of the most popular recreational activities in the world. There are so many wonderful things about being outdoors, but there is one camping activity that is not fun: cold showers. Thankfully, there is an easy solution to this camping conundrum and that is a solar shower.
Most solar showers are designed specifically for camping, so they are lightweight, portable, and very easy to use. These handy little showers are great for camping and RVing as well as days at the beach and poolside. There are hundreds of solar showers to choose from, so we decided to do a little bit of research to help you narrow your search. We've put together a list of our favorites as well as compiling some useful information that will help you find the best solar shower for your camping crew.
Top 4 Best Solar Showers of 2021
---
Reviews of the Best Solar Showers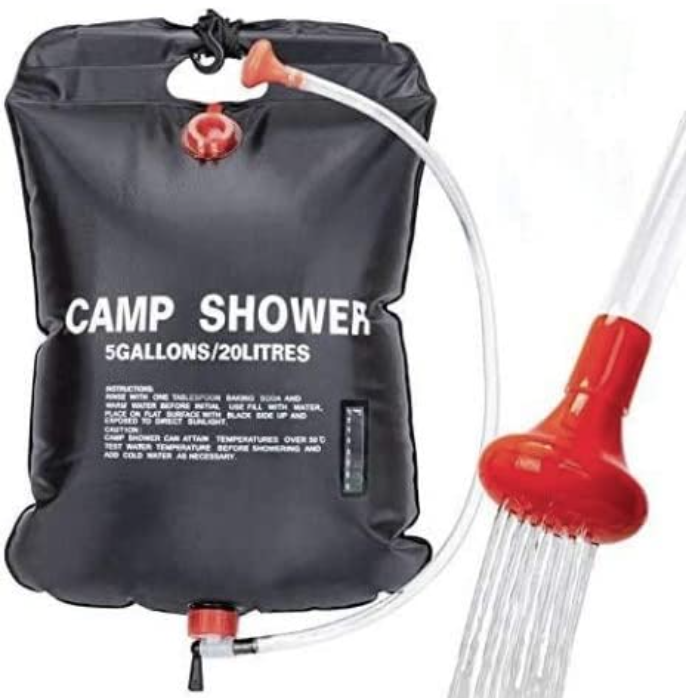 Quick Look: 5-Gallon solar shower with adjustable shower nozzle. Compact and lightweight. Comes with a mesh carrying bag and sturdy PVC handle reinforcement. Heats up to 113℉.
Check Price at Amazon
Camping on a budget? No problem! With this 5-gallon solar shower from VIGLT, you can enjoy a hot shower while staying well within your budget. This PVC solar shower can get up to 113℉ with only 3 hours of sun exposure. Simply fill it up and set it in the sun. By the time you're done with a short hike, you'll have a nice hot shower waiting for you.
This solar shower is designed to be heavy-duty, but still flexible enough to not take up your entire backpack. The bag itself is completely foldable for easy packing. The reinforced hose and shower nozzle fit easily into the included mesh carrying bag so nothing gets left behind.
When the water reservoir is full, it is quite heavy. To protect the handle from undue strain, this kit comes with a PVC tube that can be inserted into the handle of the bag to both stabilize and reinforce it. This solar shower also comes with a temperature gauge so you know when the water is hot enough.
Learn More and Buy Now at Amazon
---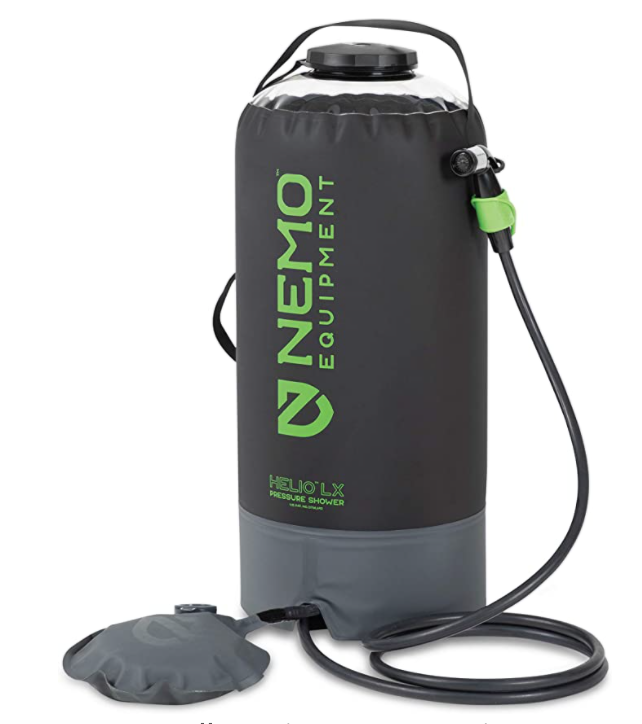 Quick Look: 5.8-Gallon pressurized portable shower. Comes with foot pump for pressurizing, 7' shower hose, and controllable sprayer nozzle. Sturdy compact design. Comes with a lifetime manufacturer warranty.
Check Price at Amazon
If the light water pressure of a gravity-fed solar shower just isn't enough for you, then check out this 5.8-gallon pressurized solar shower from NEMO. Use the included foot pump to quickly inflate the bag and you get to enjoy 7 to 10 minutes of continuous strong water pressure, no electric pump is required.
This solar shower comes with a unique barrel design that rests on the ground instead of having to be hung up. The bag is stabilized by four sturdy legs, so you don't have to worry about it tipping or shifting when you're trying to shower. This, along with the 7' shower hose, makes it easy for even the tallest campers to shower with ease.
The wide fill spout and see-through panel make it easy for you to fill the water reservoir and know exactly how much water you have at all times. It also makes it easier to empty and properly dry the shower for storage. When you are ready to pack up your shower, simply follow the precise folding panel design for compact and convenient storage.
Learn More and Buy Now at Amazon
---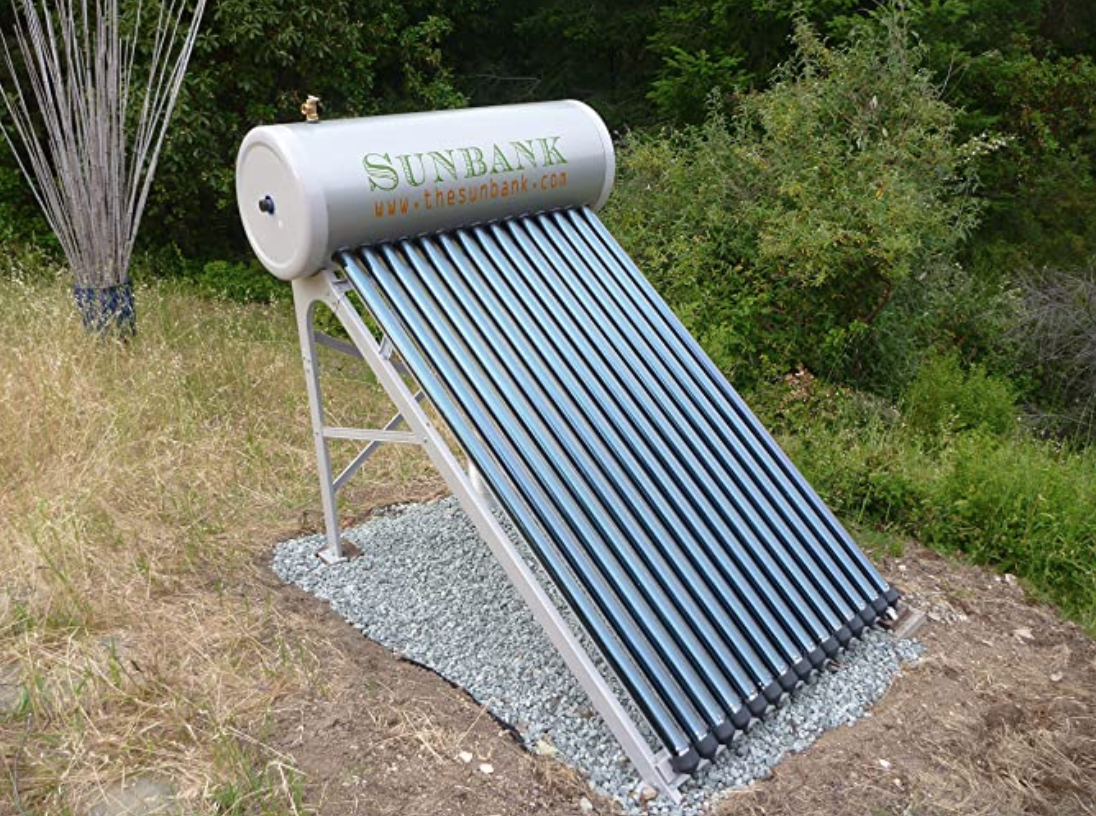 Quick Look: Pressurized solar water heater, no pump required. Comes in multiple sizes and can be expanded. Safe for colder climates. Easy to install with multiple installation options. Comes with a 10-year warranty on heat collectors.
Check Price at Amazon
Quick Look: 4-in-1 backpack design. Functions as a weather-proof backpack, solar shower, portable washing machine, and compression dryer all in one. Comes with a 1-year manufacturer warranty.
When you're hiking, every piece of gear has to serve a purpose, and the more multipurpose gear you have the better. This backpack from Scrubba is the perfect multifunctional addition to your hiking gear because not only does it have more than one use, it actually has four.
For starters, it functions as a weather-proof, airtight backpack that will keep all your gear safe and dry, no matter the weather. Secondly, it can be used for a solar shower. Simply fill the bag with water, leave it in the sun for a little while, and you're good to go.
Once you're done washing yourself, you can go ahead and wash your clothes in the bag. It comes with a built-in flexible washboard on the inside for quick and easy clothes washing. When the clothes are sufficiently scrubbed and rinsed, you can then use the same bag as a compression dryer to remove excess water. As you can see, this bag would be a great choice for campers and hikers alike.
Learn More and Buy Now at Amazon
---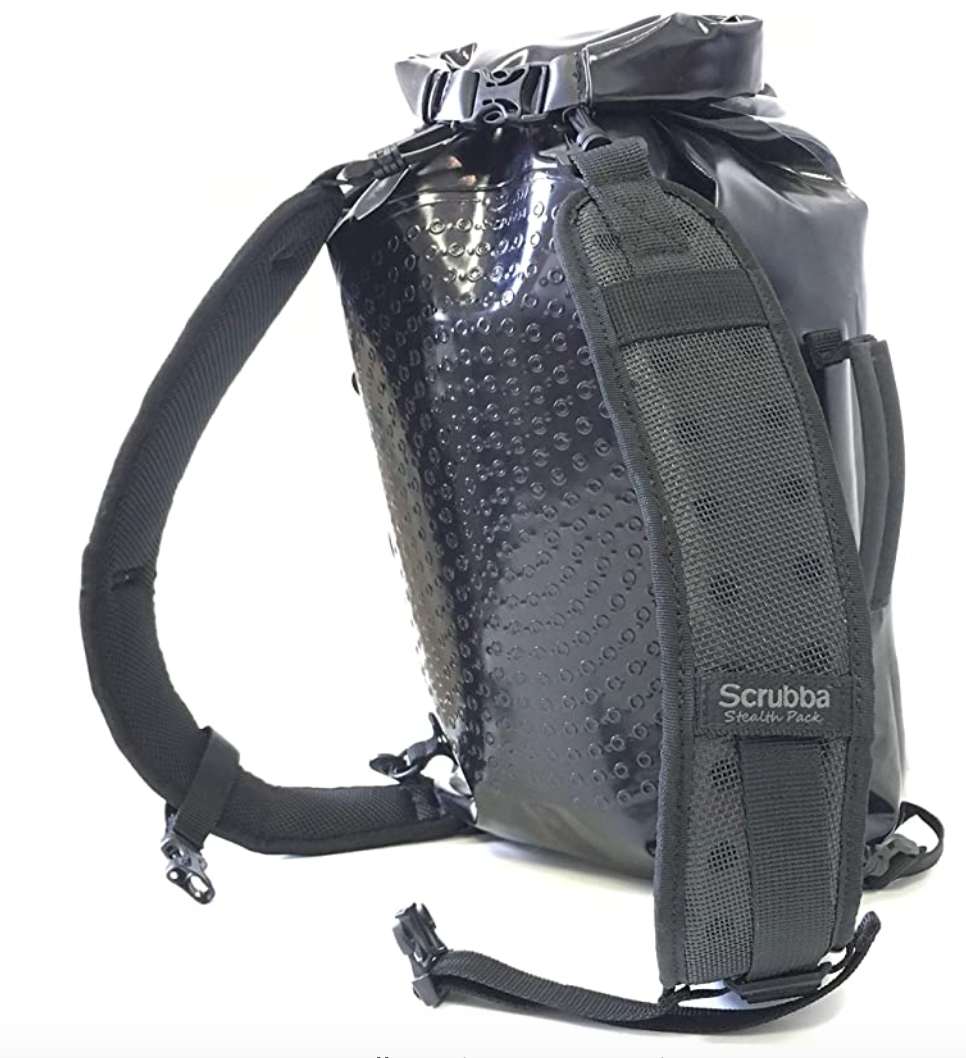 Quick Look: Freestanding 9.3-Gallon solar-heated shower. 7.2' tall with adjustable shower head and lower spout. Includes temperature adjusting handle and mounting screws.
Check Price at Amazon
Solar showers can be just as helpful poolside as they are trailside. If you're looking for an eco-friendly way to rinse off after a dip in the pool, then this solar shower from VINGLI is just what you need. This shower can be left freestanding or you can use the included mounting screws to make the shower a permanent fixture.
The water reservoir can hold up to 9.3 gallons of water and can easily be filled with your garden hose. The rain-style showerhead is fully adjustable so everyone can enjoy a comfortable shower. Just want to rinse your feet? The lower spout allows you to do a quick rinse without having to use extra water.
This shower comes with a sturdy PVC structure and corrosion-resistant fittings, for a long-lasting design. The finish is scratch and weather-resistant so it can be left out all summer without fear of undue damage. The sleek modern design also makes it a nice addition to your poolscape.
Learn More and Buy Now at Amazon
---
How We Chose The Best Solar Showers
Choosing the best solar showers was a challenge because there are so many great products to choose from. In order to narrow our search a bit, we chose to focus on high-quality designs, versatility, and ease of use.
High-Quality Designs
When you're out on the trail or at your favorite camping spot, the last thing you want to do is worry about whether your equipment is going to hold up. That is why we chose solar showers that are designed to last through all kinds of weather. With solid construction and quality materials, these showers are meant to last through all your adventures.
Versatility
We know that everyone is different, so we chose to showcase a variety of solar showers. We wanted to make sure you were able to get a good idea of what was available and how each style would or wouldn't fit your needs.
Ease of Use
Solar showers take one of the biggest camping challenges and turn it into something simple. These devices are so easy to use that you'll hardly have to think about what you're doing when you set it up. Because solar showers are so user-friendly to begin with, we chose to look for models that took ease of use a step further. Features like handle stabilizers, extra-long hoses, and compact storage are just some of the little details that set these models apart from the competition. We chose these models because these manufacturers took a simple thing and made it better.
What You Need To Know About Solar Showers
As we mentioned, solar showers are very simple products, but just in case you're new to the solar shower scene, here is a quick rundown of what you should know.
What Are Solar Showers?
Solar showers are showers that require no electricity to function. They don't use a pump or any heating devices. The water is heated by the sun and the water is forced out either by gravity or some kind of pressurization. This type of shower is perfect for camping, hiking, RVing, days at the beach, or even out by the pool. In any situation where you're outdoors and need a wash, a solar shower is the way to go.
How Many Styles Are There?
There are three main types of solar shower: gravity-fed portable, pressurized portable, and stationary.
Gravity-fed portable solar showers are an old school camping favorite. These showers usually come in the shape of a watertight bag that serves as the water reservoir. The reason these are so popular with hikers and campers is that they are lightweight and easy to squeeze into an already full backpack.
A solar shower like this will typically have a filling port at the top and a hose with a showerhead or spray nozzle at the bottom. To use one of these showers, you simply fill the reservoir and leave the bag out in the sun for a few hours to heat up. Once the water is warm, you hang the bag from a tree or a poll. The bag has to be high enough that the entire unit is above the head of the tallest person who is going to be using it. After that, the rest is gravity. The shower head or nozzle will have some kind of shut off valve that allows you to turn the water feed off and on as you need it. The main drawback of this style is that they offer very little water pressure, so if you need high water pressure, this isn't the style for you.
Pressurized portable solar showers offer more water pressure, but slightly less portability. The setup for these models is basically the same, but when it comes time to shower. it is quite different. Instead of having to hang the bag up so gravity can push the water out, the bag remains on the ground and you use a foot pump to force air into the water reservoir, creating pressure. That pressure forces the water out through the spray nozzle, offering you better water pressure. The main downside for this style is that they're usually bulkier than their gravity-fed counterparts, making them okay for camping, but not ideal for hiking.
Stationary solar showers are what you find out next to the pool. These usually offer more solid construction. They are often made out of PVC or some other weather-resistant material that is heat absorbent. The main structure of the shower is a hollow poll with a showerhead at the top and a small spigot near the bottom. To use one of these showers, you simply attach your garden hose to the filling spout and fill the inside of the structure. Leave it out in the sun to warm for a while and you have a nice warm outdoor shower.
These showers aren't always stationary, they can be freestanding if you prefer, but they are not portable enough to take with you on a quick camping trip. These showers work well out in the garden or next to the pool for rinsing off. Some even use them for washing pets or cleaning outdoor equipment.
How to Choose The Best Solar Shower For You
Now that you know what is available, let's talk about what you should consider before making your purchase.
Portable Or Permanent
The first thing you should consider is how portable your shower needs to be. If you're backpacking, then you'll want a gravity-fed shower that is lightweight and compact. If you want something to take on family camping trips, then a pressurized shower may be a better choice. Pressurized models are often bigger and more convenient for consistent use. If you're looking for a more permanent fixture for your lawn, then a stationary model is the obvious choice.
How Much Water Do You Need?
Once you know what style you need, you have to decide how much water you're likely to use at any given time. Gravity-fed solar showers come in a wide range of sizes from 1 gallon up to 10 or more gallons. Bigger might seem better at a glance, but keep in mind that water is heavy. One gallon of water weighs about 8lb, so if you have a 10-gallon shower, you will have to lift and hang 80lb of water. That would be a serious challenge for most people. Even a 40lb shower could be hard to hang for some. With pressurized and stationary models, the weight isn't quite as worrisome, but you still have to keep in mind that the more water you have, the longer it will take to heat.
When it comes to traveling, the best thing to do is to buy the smallest model that will fit your situation. If you're traveling solo then something like the Scrubba Stealth Bag would be plenty. If you're sharing with one or two other people, then a 5-gallon model may be a better choice. For anything more than that, you may want to consider purchasing multiple showers so that there will be enough hot water for everyone.
Bottom Line
Solar showers are the perfect addition to any camping trip. With a solar shower, you can enjoy a nice warm shower without having to worry about finding a power source and dragging along a water heater. These showers are environmentally friendly and extremely easy to use, so what's not to love? You can't go wrong with any of our top picks!
Top 4 Best Solar Showers of 2021