Whether you're trying to keep your animals in or keep unwanted animals out, they always seem to find a way into places that they don't belong. One of the simplest and most effective ways to keep animals where they should be is a quality electric fence. Electric fencing is designed to give off a tiny shock whenever touched by a person or animal. These shocks are not harmful, but they are an effective way to warn an animal that they have gone too far and should turn back. You could install an electric fence that runs on AC power, but why pay to power your electric fence when you could use free eco-friendly solar power?
Solar electric fence chargers use small solar panels to charge an internal battery that in turn provides electricity for your electric fence. Not only are these chargers simple to install, but they are also free to run, making them even more user-friendly. Several companies make these chargers so to save you some time, we did a bit of research and compiled a list of some of the best chargers out there. After checking out our product picks, you can read on for some helpful information that will help you to choose the best solar electric fence charger for you.
Top 5 Best Solar Electric Fence Chargers of 2021
---
Reviews of the Best Solar Electric Fences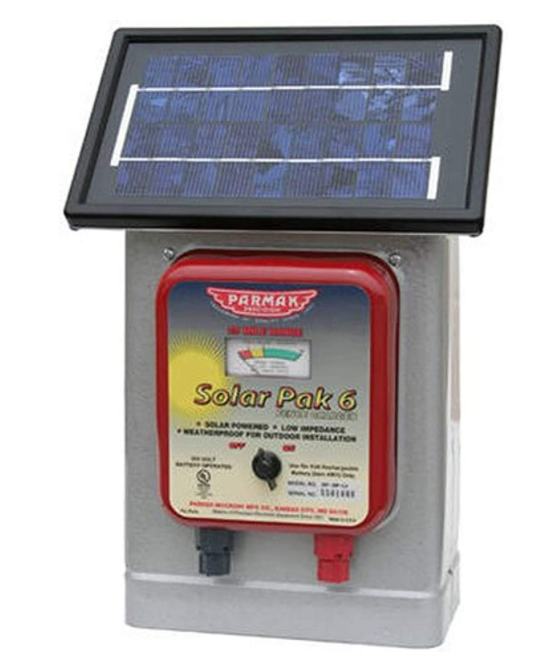 Quick Look: Low impedance 6V solar charger. Powers up to 25 miles of single wire fence. 1.4 joules output. Made in the USA. Comes with a 2-Year warranty..
Check Price at Amazon
This powerful electric fence charger is just what you need to keep your cattle in the correct pasture. The Solar Pak 6 from Parmak is capable of delivering a 1.4-joule jolt in a pulsing shock that is strong enough to warn large animals like cows and bears that it is time to turn back.
This unit can power up to 25 miles of wire, allowing you to protect a large area with a single wire fence or provide more protection to a small area with a double or triple wire fence. The internal 6V battery can hold enough of a charge to power your fence for two weeks without sunlight, The battery power meter on the front of the unit makes it easy to check if your fence is being powered properly.
Once your fence wiring is in place, you can connect this charger in just a matter of minutes with the intuitive wire connectors. The galvanized metal casing makes this unit highly durable and capable of standing up to harsh weather.
Learn More and Buy Now at Amazon
---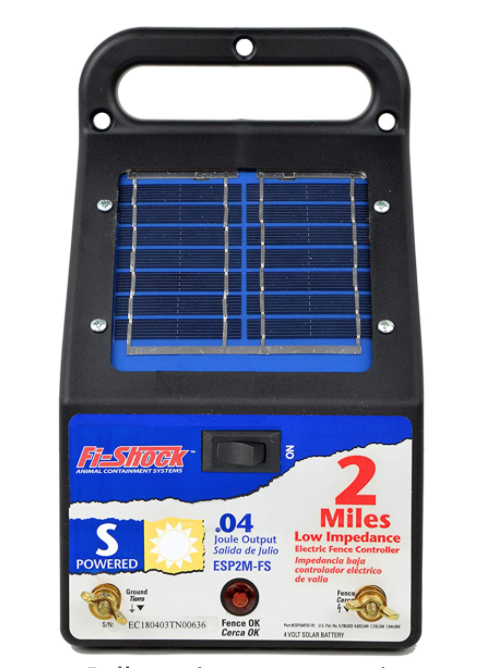 Quick Look: Low impedance 4V solar charger. Powers up to 2 miles of fence. 0.04-joule output. Made in the USA. Comes with a 1-Year warranty.
Check Price at Amazon
If your fencing needs are a little more compact, then why not consider this model from Fi-Shock? The Fi-Shock 4V Fence Charger can power up to 2 miles of wire, making it perfect for protecting smaller areas like chicken coops or gardens.
With this charger, your fence will deliver 0.04-joule shocks that will be strong enough to scare away small animals without causing harm. The internal 4V battery is capable of powering your fence for up to two weeks without charging, so you should have no pauses in power, even on cloudy days.
This unit comes with a few handy features like a toggle on/off switch and a red indicator light to let you know when the fence is on. Its straightforward design also makes it very easy to install. This charger is compatible with steel, aluminum, and poly wire as well as poly tape.
Learn More and Buy Now at Amazon
---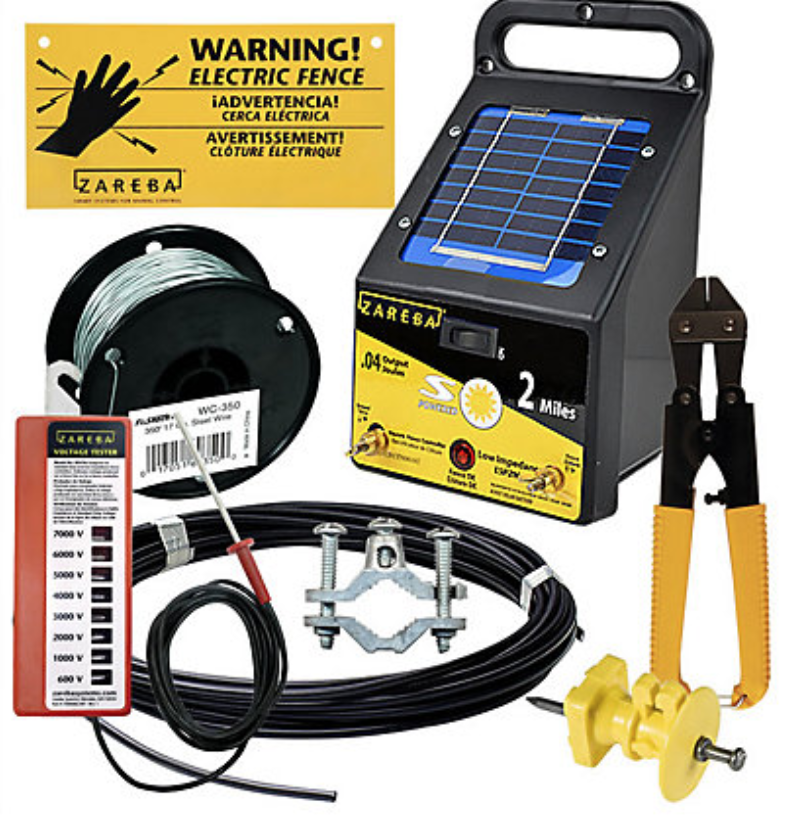 Quick Look: Kit includes solar charger, fence wire, ground wire, grounding rod, voltage tester, wire cutters, and clamps. Powers up to 2 miles of wire. 0.04-joule output. Comes with a 12-month warranty.
Check Price Online
Electric fences can be just as helpful in keeping animals out as they are at keeping animals in. With this Solar Garden Protection kit from Zareba, you will be able to protect your garden from all your little furry veggie thieves like rabbits, squirrels, and groundhogs.
This charger can charge up to 2 miles of wire and deliver a 0.04-joule jolt, just enough power to frighten away small garden prowlers. The charger itself is easy to install and comes with an internal battery that will keep your fence electrified for up to two weeks on a single charge. It also has a red indicator light on the front to show when the charger is functioning properly.
The nice thing about this kit is that it comes with nearly everything you need to set up your fence except fence posts, so this is a great option for those who are installing a brand new fence. Even if you're just modifying your existing fence, this kit comes with some handy tools to help you get the job done quickly.
Learn More and Buy Now
---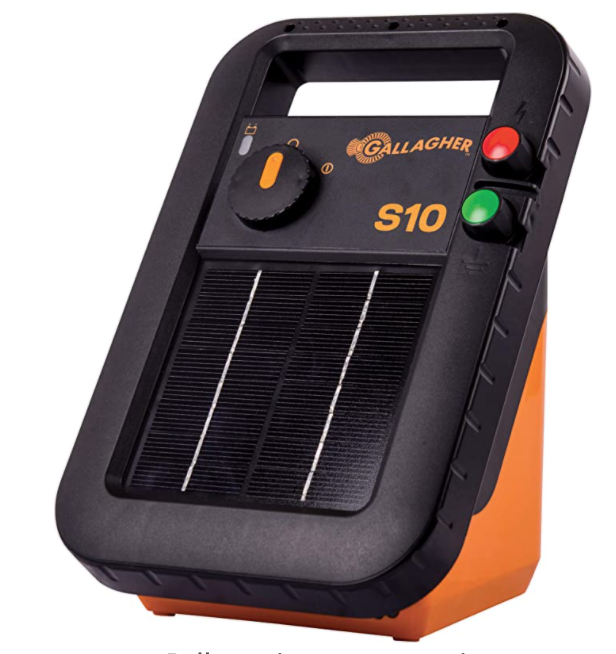 Quick Look: Comes with 6V battery. Sturdy water-resistant case with handle. Easy installation. 0.1-joule output. Comes with a 3-Year warranty.
Check Price at Amazon
If you're looking for a portable option to use for temporary grazing pastures, then this is the charger for you. The Gallagher S10 is designed for easy installation and portability. It comes with multiple mounting options and a sturdy handle for transport.
This charger is strong enough to power up to 3 miles of wire, giving you the ability to surround up to 15 acres of land with a single wire fence. It delivers a 0.1-joule shock which is strong enough to ward off larger animals such as deer, pigs, cattle.
The S10 comes with a strong 6V battery that can last up to 3 weeks without sunlight, making this a good choice for those who live in areas with more cloudy weather. The tough water-resistant case also makes it good for use in more extreme weather conditions.
Learn More and Buy Now at Amazon
---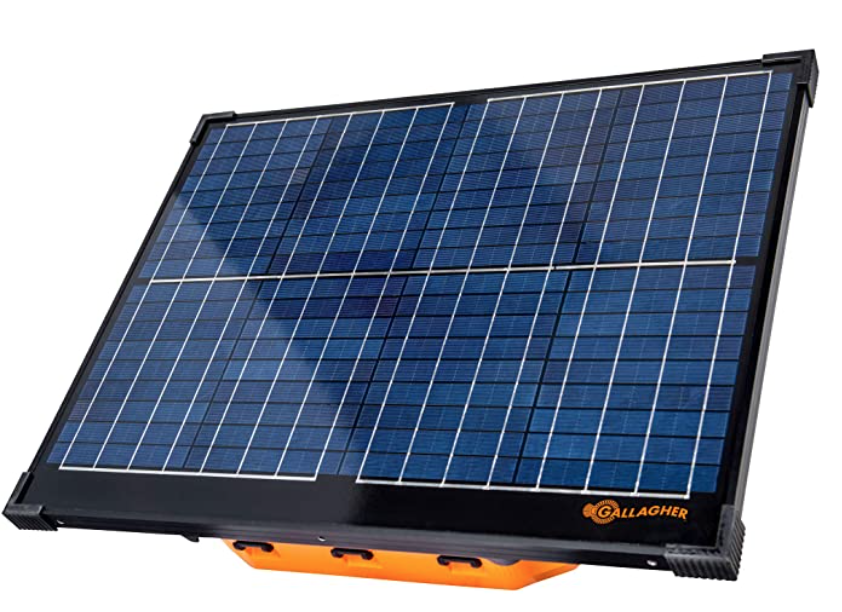 Quick Look: Built-in 12V battery. Powers up to 60 miles of wire. 4-joule output. Sturdy weather-resistant design. Comes with a 3-Year warranty.
Check Price at Amazon
Sometimes a small fence won't do. When it comes time to set up a large grazing area or protect your orchard from unwanted animal guests, look no further than the S400 from Gallagher. This powerful solar charger has a built-in 12V battery that is capable of electrifying up to 60 miles of wire. That means you can set up a 280-acre grazing area knowing that your animals will be properly contained.
This charger has a sturdy weather-resistant case that is designed to withstand all kinds of weather. The battery is capable of powering your fence for up to 2 weeks without sunlight, although it may last longer depending on the power setting you use. You can choose between a strong pulse or a less powerful pulse, depending on your needs at the time.
The S400 is designed for easy installation and portability, making it a great option for rotational grazing. It delivers a powerful shock of 4 joules, making it strong enough to keep your cattle safely contained and tough enough to ward off unwanted intruders such as bears.
Learn More and Buy Now at Amazon
---
How We Chose The Best Solar Electric Fence Chargers
Power
When it comes to electric fencing you want to know that your fence is functioning properly and powerfully. That is why we chose chargers with powerful batteries that would continue to work, even on cloudy days. We know that not everyone will need the same amount of power, so we looked for a variety of sizes. Rest assured, no matter which size you choose, you will still be getting a powerful fence charger that you can rely on.
Quality Materials
Since this is a product that is meant to be left outside year-around, we looked for models that were built to last through all kinds of weather. Features like water-resistant cases and tough solar panels help to make these models more reliable. Long-term manufacturer warranties are also a positive sign, showing that these companies fully support the quality of their products.
Ease of Use
Whenever you're dealing with electricity, safety and caution should be at the forefront of your mind. That is why we looked for units that were easy to install and maintain. The easier the installation the less likely you are to encounter any safety issues. All of the chargers on our list come with easy to follow set-up instructions, obvious on/off switches, and power indicator lights. Each of these features will assist you in a safe and worry-free installation process.
What You Need To Know About Solar Electric Fences
If you're new to the world of solar-powered electric fencing, there are a few key things you should know before you get started.
Accessories Not Included
Most solar electric fence chargers do not come with any fencing materials, they are sold individually. This means that you will have to buy all the accessories required for installation. These materials may include things like:
Fence Posts
Post Insulators
Grounding Post
Grounding Clamp
Electric Fencing Wire or Tape
Insulated Handle
Voltage Tester
The number of materials that you need will depend on whether you're installing a brand new fence or just electrifying an existing fence. Just be aware that unless you're purchasing a kit, like the one we featured from Zareba, you'll have to buy all your accessories separately.
Stay Grounded
This is probably one of the most important things to remember about installing an electric fence. You absolutely must ensure that the fence charger is properly grounded. Electricity always travels in a circuit. If you do not have a properly installed grounding rod, the electricity will not have anywhere to travel, meaning whatever touched the wire will not receive a shock.
To ensure that your electric fence is properly shocking, a grounding rod must be installed. A good quality grounding rod should be at least 6' tall and should be made out of galvanized steel or copper. This rod must be driven into the ground as deep as you can get it, leaving only a few inches exposed. Use a grounding clamp to attach the grounding wire from your charger to the grounding rod and you should be good to go. If you have a larger fence you may have to install multiple grounding rods for it to work properly. Remember to keep all grounding rods away from existing water lines, electrical lines, or phone lines.
Cleanliness Is Next To Efficiency
Solar electric fence chargers require very little maintenance, but your fence itself will involve some work. If your fence is properly electrified, it should be giving off small electric charges every time it is touched. This includes when it is being touched by brush and weeds. Anything touching your fence can seep power away from it and weaken the battery, meaning that it will not function properly. To avoid this problem you should make sure that nothing is touching your electrified wires because even something as seemingly insignificant as tall grass can decrease the efficiency.
How to Choose The Best Solar Electric Fence Charger For You
Now that you know all about solar electric fence chargers it is time to determine which one will be the best for you. This is a pretty simple process that just requires a little bit of forethought.
Know Your Area
The first step is to determine what size area you want to surround. You can do this in several ways. You could simply use a measuring tape if the area is small enough or you could walk around the area using the GPS tracker on your phone to track how far you've walked. Once you know how big the area's parameter is, you can then determine how much wire you need to energize.
Remember, the power range given in the specifications is usually for a single wire. This means that a charger capable of powering 20 miles of wire can only power 10 miles of fencing if you plan on having two electrified wires on the fence. If you want to have three electrified wires you would have to divide that number by three and so on. If you are fencing in a large area, you will probably want to purchase multiple chargers to ensure that they can produce enough power.
Know Your Animals
The second thing that you need to know is what type of animals you're trying to control. This will help to determine how powerful the fence needs to be. If you're just trying to protect your garden from rabbits and other small creatures, then a smaller charger should be sufficient. If you're using the fence to contain your livestock, then you'll want to choose something with a little more juice. Thankfully, most solar electric fence chargers come with a guide on them to show you the type of animals that they are meant to repel, making this part of the process pretty straightforward.
Bottom Line
Electric fences are one of the easiest and most efficient ways to contain your livestock or protect your land from unwanted animals. With a solar electric fence charger, you can install an electric fence anywhere on your property without having to run new wiring or waste money on extra energy bills. Solar chargers are simple to install and even easier to maintain, making them the perfect choice for temporary pastures and rotational grazing.
Though you can't go wrong with any of our top 5 solar electric fence chargers, we recommend the Parmak Solar Pak 6 Fence Charger as the best overall choice.
Top 5 Best Solar Electric Fence Chargers of 2021