Pretty much everyone has a memory of a school science project that involved harnessing the power of the sun. Thankfully, solar cookers have come a long way from cardboard box science projects. Modern solar cookers can work just as well as your home oven, offer much better portability, and do not require any fuel to operate.
There are many reasons to choose solar cooking. Camping, picnicking, or perhaps even supplementing your home cooking with an awesome fuel-free cooking option. Whatever your reason for wanting to harness the power of the sun, choosing the right solar cooker can make a huge difference in the quality of your cooking experience. Take a look at some of our favorite solar cookers and afterward, we will tell you all about why we chose them as well as give you some handy tips to help you choose the best cooker for you.
Top 6 Best Solar Cookers for 2021
Reviews of the Best Solar Cookers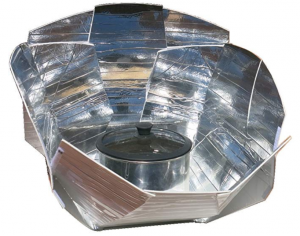 Quick Look: Easy to set up and take down. Compact, ultra-portable. Environmentally friendly materials. Comes with a cooking pot.
Check Price at Amazon
The Haines 2.0 Cooker is a great example of a panel cooker. It is easy to set up and take down, is very portable, and can boil water in 40 minutes, which is quite a bit faster than other units in this class. The cooker itself only weighs 1lb 9oz and comes with a convenient nylon carrying bag for transport.
This cooker is made out of metalized polyester foam, the same stuff they use to make high-quality sunshades for car windshields. This material is highly durable, it can stand up to boiling water and it won't scratch. What is even better is that these units are produced in an environmentally conscious way and none of the materials are harmful to the environment.
The designer of this cooker, Roger Haines, put three years of research into making his design and his hard work shows. There are lots of handy features such as easy color-coded snaps for switching the cooker between high-sun and low-sun cooking. It also comes with a polycarbonate plastic sleeve that sits under the cooking pot to allow more sunlight to reach the surface of the pot. It also comes with a polycarbonate windscreen that goes over the top to keep even more heat on the cooking pot.
Speaking of the pot, this cooker comes with the perfect pot for solar cooking. It is a 3.5qt steel dish that is black on the outside and has a glass lid. Haines designed this pot specifically for solar cooking and it really does the job.
Learn More and Buy Now at Amazon
---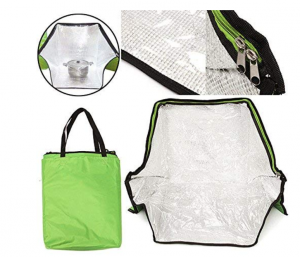 Quick Look: Super budget-friendly. Fully collapsible and extremely portable. Only weighs 1.25 pounds.
Check Price at Amazon
The Green Ultra-Portable Cooker is made from composite mirror cotton and reflective vacuum aluminizing sheeting. Gets up to 250°.As the name implies, this cooker is perfect for the solar chef who is on the go. It is completely collapsible and folds into a convenient rectangle that measures 18.5" x 17.1" x 2″.
It only weighs 1.25lb and it even has a handle for effortless transport.This is a panel cooker that is very easy to set up. Simply unzip, unfold, and pop open.
The cooking space measures 26.7" x 15.7", so this will easily hold a regular-sized dutch oven. The temperature ranges from 176° to 250°, so perfect for warming bread, keeping already cooked foods warm, or cooking your favorite slow cooker recipes.
The outer layer of material is bright green composite mirror cotton which is sturdy and heat resistant. The reflectors are made of vacuum aluminizing sheets. This is a sturdy panel cooker that would be great for picnics or cookouts. It does not have a front cover to keep the heat in, so this unit is only meant for warm weather use on very sunny days.
Learn More and Buy Now at Amazon
---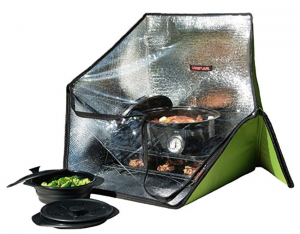 Quick Look: Collapsible, compact design perfect for camping. Clear, zip-up front for heat retention. Good for year-round use. Comes with multiple cooking accessories. Gets up to 285°.
Check Price at Amazon
The Sunflair Deluxe kit is a great option for those who want to try all different kinds of solar cooking, It comes with a thermometer, two baking trays, two baking racks, an enameled pot, two smaller silicone pots, and a convenient carrying bag. As an added bonus, some of the proceeds from each sale go to charity, so this is a cooker you can feel good about buying as well as using.
This cooker is designed to work in all weather, as long as the sun is out you can cook. It can get up to 285°, making it great for cooking, baking, and even dehydrating. It comes with a zip-up clear front panel to help keep the heat in, even when there is snow on the ground.
It is a collapsible panel cooker that folds flat for easy portability. The cooker itself only weighs 1lb 2oz, making it a great lightweight option for camping. One of the cool features of all the extra accessories is that the baking racks can be stacked for multi-layer cooking.
Learn More and Buy Now at Amazon
---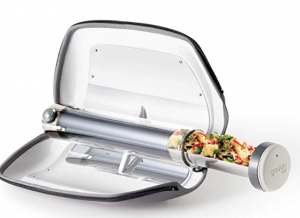 Quick Look: Super-efficient vacuum tube cooker. Perfect for single-serving, high-heat cooking on the go. Comes in a convenient carrying case. Gets up to 550°.
Check Price at Amazon
The GoSun Go cooker was designed for fast cooking on the go. This mini vacuum tube cooker will cook meals in as little as 20 minutes and when we say cook, we mean it. On a clear sunny day, this unit can get up to 550°. It comes with four silicone pans and a mini-cookbook to help you on your solar cooking journey.
This cooker comes as a single-unit piece cooker. The EVA hardshell case that serves to carry it and protect the glass tube also serves as the stand and reflectors. Simply pop the case open, set it in the sun and you are ready to bake, cook, or heat up your chosen beverage.
The whole unit weighs in at 2lb and measures 14.2" x 7.1" x 3.4", making it a great option for hikers. It only makes single-serving sizes, approximately 14oz, so if you want to cook for a group this may not be a good option. On the other hand, if you are trekking through the wilderness alone or with a friend, this would be a great tool to take along.
Learn More and Buy Now at Amazon
---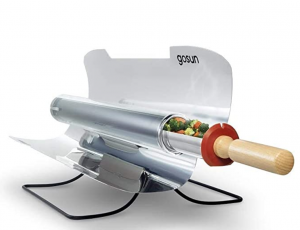 Quick Look: Portable design, perfect for camping or picnicking. Simple to set up, great for high-heat meals. Comes with cookbook. Gets up to 550°.
Check Price at Amazon
Want the fast cooking power of the vacuum tube, but on a bigger scale? Then this is the cooker for you. The GoSun Sport has the same super-heating power and speed as the GoSun Go, combined with a larger cooking capacity. The culinary grade stainless steel cooking tray measures 2.3" in diameter and is 24" long.
This unit is a little heavier than the other portable units we have looked at, it weighs in at about 7lb and it is a little cumbersome for carrying around since it is so long. But, for what it lacks in portability it makes up for in cooking ability. This is a single unit cooker that folds up into a clamshell-like case. The shell opens up to reveal two anodized aluminum parabolic reflectors that surround the glass cooking tube. The powerful reflectors channel the sun's heat to cook most meals in 20 to 30 minutes.
One of the great features about this cooker is that the double-walled glass that holds the heat in so efficiently also helps to keep the outside of the tube cool, so there is no fear of burns if someone accidentally touches the outside of the tube. This would be a great addition to any cookout or picnic.
Learn More and Buy Now at Amazon
---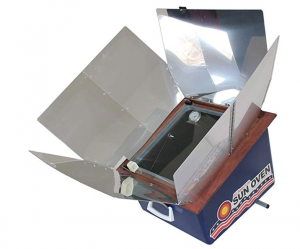 Quick Look: Solar baking at its finest. Anodized aluminum reflectors that fold in when not in use. Durable construction. Wind resistant. Gets up to 400°.
Check Price at Amazon
If you would like to incorporate solar cooking into your regular cooking regime, then the All American Sun Oven may be the cooker for you. As the name implies, this is more of an oven than just a cooker. The outer box measures 20.5" x 15.5" and with the reflectors open it measures 24" across.
The reflectors do fold in for easy storage and it has a handle for transport, but it also weighs 22lb, so this is not a unit you would want to take backpacking or hiking. You would, on the other hand, want to have this around in the summer when you want to bake but do not want to heat up the house.
The cooking space is 14" x 14" x 7" and is completely enclosed, maintaining more consistent heat. The reflectors are anodized aluminum, helping it to get up to 360° to 400°. Since it is fully enclosed and maintains heat, you can use this cooker all year-round. Whether summer or winter, you can use it for everything from roasting a chicken to baking brownies.
There is an adjustable leg on the back of the cooker to help keep the reflectors perfectly lined up with the sun. It also comes with two easy to use sun track indicators right on the lid, so you never have to wonder if you have the cooker lined up correctly. On the inside of the oven, you will find a swinging baking rack. The swinging rack makes it possible for you to adjust the cooker during baking and not have to worry about spilling your food.
Learn More and Buy Now at Amazon
---
How We Chose The Best Solar Cookers
Everyone has different needs when it comes to solar cooking, so no one cooker would work for everyone. That is why we chose six. Each one has different features that make it unique, but these are the features we focused on in our search for the perfect solar cooker.
Portability
One of the biggest benefits of solar cooking is that you aren't tied to a fuel source. This means that most solar cookers are portable. We looked for cookers with different levels of portability because sometimes you need something you can carry on a hike and sometimes you need something to take to a picnic. Whichever level of portability you need, there is an option here that should fit your needs.
Quality Construction
Quality construction is always important, but it is particularly important when it comes to a product that you plan on taking with you into the wilderness. When you are out hiking and are depending on your cooker to heat water or cook your dinner, you want to know that it is going to hold up to the journey. With that in mind, we looked for materials like metalized polyester foam for durability and anodized aluminum for quick-heating.
Ease of Use
We also looked for models that were simple to assemble initially as well as being simple for daily use. Cooking with the power of the sun is a pretty straight forward process and there is no need to complicate it. Each of our picks is simplistic and easy to use. Some even come with recipe books for those who are new to solar cooking.
What You Need to Know About Solar Cookers
Before we talk about what you should look for in a quality cooker, let's take a quick look at the different types of cookers on the market.
Parabolic Cookers
These are large, expensive, and not very portable. There were no parabolic cookers on our list of reviews because these are really more for those who are serious about solar cooking on a daily basis.
Panel Cookers
Panel cookers are more like the grade school science project on steroids. These cookers have large reflective panels that often come up around the sides of your cooking pot, reflecting the light of the sun onto the pot from every angle, creating the perfect slow-cooker effect. This type of cooker is great for cookouts or camping.
Vacuum Tube Cookers
This is a somewhat newer form of solar cooking that really combines the magic of modern science with the basic principles of solar cooking. Vacuum tube cookers are long, double-walled glass tubes that are suspended over parabolic reflective panels. The double-walled vacuum-sealed tubes absorb the heat of the sun very quickly and become extremely hot on the inside while staying fairly cool on the outside. These cookers are perfect for those who want to cook quickly and at high temperatures. The trouble with these cookers is that cooking space can be limited and everything you cook has to be able to fit into the cylindrical cooking tube.
Box Solar Ovens
Solar ovens are pretty self-explanatory. These are boxes with reflective panels that fold out from the top. The panels reflect the sunlight through the glass lid of the oven and into the insulated box that acts as the oven. These are usually designed to be tilted up to better catch the sun's rays. Solar ovens work really well, but they are not particularly portable, some weighing upwards for 30 or 40 pounds. These are great for solar baking at home or bigger outdoor events where you wouldn't mind bringing a heavier unit along.
How To Choose
The best way to choose the right solar cooking device for you is to ask these age-old questions: What, When, Where, and How?
What Are You Cooking?
Consider what types of foods you would like to cook. Panel cookers are great for your favorite crockpot recipes where a vacuum tube cooker would be a much better choice for quick meals such as hot dogs or shishkabobs. If you want to do some baking, then perhaps the solar oven is the one for you.
Where Are You Cooking?
As we mentioned in the section about portability, these types of cookers are often used by campers and hikers. If you plan on using your cooker while backpacking, then you will definitely want to choose one of the lighter models, so it will not weigh you down. If you plan on staying stationary, then a bigger unit might suit you a little better.
When Are You Cooking?
Some units are better suited to cooking on warmer days with lots of sunshine where others are designed to work even when the temperatures drop. If you would like to be able to use your cooker during the colder months then you would want to choose a cooker with year-round capabilities.
How Much Cooking Will You Be Doing?
You will also want to consider the size of the cooker if you want to use it for bigger cooking projects. Most panel cookers can hold an average-sized dutch oven where the vacuum tube cookers can only cook the amount of food that will fit in the provided tube. Solar ovens can usually hold bigger dishes, such as a 9 x 13, depending on the model.
Bottom Line
Solar cooking is a great way to save money, protect the environment, and have a little fun with science. It's hard to go wrong with any of our top solar cooker picks, but we recommend the Haines 2.0 Cooker with Pot for their affordability, durability and performance.
Compare all of your options before making a final decision, though, to make sure that you're choosing the right model for your circumstances.
Top 6 Best Solar Cookers for 2021