Having clean floors can improve your life. That may seem like a bit of an exaggeration, but it's true. Having debris in your carpet can be painful for your feet and bad for your health. Cleaner carpets mean less chance of stepping on something unpleasant as well as improved air quality in your home. Most cleaning experts recommend that you vacuum at least once a week, two or three times a week if you have heavy traffic or pets.
If that sounds like too much extra work for you, not to fear, this is where the handy robot vacuum comes in. Although a robot vacuum cannot completely replace the cleaning power of a manual vacuum, they are a great addition to your cleaning routine. Best of all, they decrease the amount of cleaning you have to do. Here are a few of our picks for the best robot vacuum. After you peruse these awesome vacuums, we will tell you how we chose them and give you some tips about what to consider when choosing your new robotic vacuum.
Top 3 Best Robot Vacuums of 2021
---
Reviews of the Best Robot Vacuum Options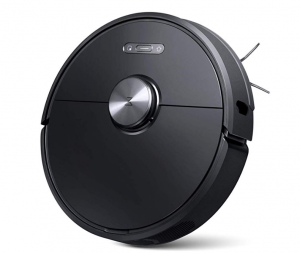 Quick Look: Powerful suction, 3-hour running time, App and Alexa compatible, and comes with mopping option. Has won multiple awards for best robotic vacuum. Comes with a 1-year warranty.
Check Price at Amazon
If you are looking for top of the line power and features, then look no further than the Roborock S6. This vacuum comes with all the options you need such as powerful suctions and long running time. The S6 is powerful enough to pick up AA batteries and can run for up to 3 hours on one charge.
This is a great choice for those who have multiple rooms, but only want one vacuum robot running around. With its adaptive routing algorithm, it will measure each room and use the most efficient path to clean the entire floor in no time. You can control the vacuum from your phone or use voice control with your home Alexa device. You can start or stop the vacuum or set up a room-by-room cleaning schedule. You can also use the app to set up virtual 'no-go zones'. This means that if you have a particular area that you do not want to be vacuumed, you simply program it into the map on your app and you never have to worry about your vacuum going through that area.
With 2000Pa suction power, this vacuum is great for hardwood, tile, linoleum, or carpets. The S6 also has a mop attachment for extra cleaning on hard surfaces. It automatically senses the different surfaces and adjusts suction power accordingly. This model has automatic charging, so as soon as the battery runs low it will return to the docking station, recharge, and resume cleaning where it left off.
This vacuum is thin, 3.8", so it will not have any trouble cleaning under beds or raised furniture. It is also ultra-quiet, running at about the sound level of a normal conversation, so you can run it anytime without the sound interfering with your day.
Learn More and Buy Now at Amazon
---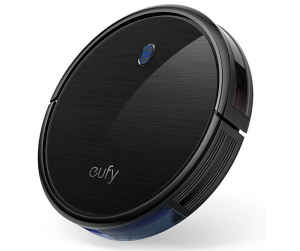 Quick Look: Super slim, quiet, simple set up, and large dustbox. Automatically recharges. Has multi-sensor navigation. Comes with extra filters and side brushes. Comes with 1-year warranty.
Check Price at Amazon
The Robovac 11S is the perfect choice for those seeking a compact robotic vacuum with straightforward operation options. This vacuum has 1300Pa suction power and works well on multiple surfaces including hardwood and shorter carpet.
This model uses infrared sensors to navigate your space and efficiently clean around larger obstacles such as furniture. You can control the vacuum with an easy to use remote control. It can run for up to 100 minutes and will automatically redock and recharge when necessary.
This vacuum is simple to set up and operate and comes with a very budget-friendly price tag. These features make it perfect for those who want to try out a robotic vacuuming without breaking the bank. This model is best for single-room use but can be manually moved to different rooms depending on your needs.
The attached dustbox holds 0.6L, so it does not need to be emptied as often. This model is also super slim, so it can easily reach the dust bunnies under the bed or couch. It does all of that while running as quietly as the average microwave.
Learn More and Buy Now at Amazon
---
Quick Look: Compatible with Alexa, Google Assist, and Bixby. Rubber edge blades, onboard camera and multiple sensors, and 3510Pa suction power. Comes with 1-year warranty.
Check Price at Amazon
If you are looking for a robotic vacuum that has the power to really clean those hard to reach corners and edges, then the Samsung R7040 is the model for you. With 3510pa suction power and rubber edge blades, the R7040 is sure to deep clean your floors.
This vacuum was designed to handle heavy-duty vacuuming on multiple flooring surfaces such as wood, tile, and carpet. It has three different cleaning modes as well as three suction settings and will automatically adjust to your flooring. Using an onboard camera and multiple sensors, the R7040 creates accurate room maps and develops the most efficient cleaning path through multiple rooms.
This model offers 60 minutes of running time after which it will automatically redock and recharge. Once it is recharged it will resume cleaning exactly where it left off, so no wasting time cleaning the same areas over and over.
Learn More and Buy Now at Amazon
---
How We Chose The Best Robot Vacuums
Choosing the best robotic vacuum for you is something that only you can do, but here are a few criteria that we used to choose our favorites.
Suction Power
Considering that the sole purpose of a vacuum is to use suction power to lift dirt and debris from the floor, suction power is clearly one of the most important elements. All of our picks have enough power to handle everyday messes and some of our picks have the power to handle heavy-duty messes. Each model's power is measured in pascals (Pa), which is a unit of pressure, meaning the higher the Pa the more powerful the suction. We chose a range of Pa levels so that you could see the quality options that are available.
Quality Features
We chose models that have the features you need such as multi-surface cleaning, quiet operation, and automatic recharging. Although there are lots of other features available, these are the basic requirements of a quality robotic vacuum.
Multi-Surface Cleaning: Most homes have at least two different types of flooring, so it only makes sense that your vacuum should be able to handle at least two types of flooring, if not more.
Quiet Operation: The biggest selling point for robotic vacuuming is that it is convenient. A good robotic vacuum should be quiet enough to be run whenever it is convenient for you, even if the best time for you is the middle of the night.
Automatic Recharging: With automatic recharging you never have to worry about coming home to find a dead vacuum and the floor only half-vacuumed. Automatic redocking and recharging means that your vacuum is sure to get your entire floor vacuumed, no matter how long it takes.
Maintenance
Like any vacuum, robotic vacuums have to be emptied, cleaned, and maintained. So we chose models that were simple to empty and maintain. You should empty the dustbox on your vacuum after every use as well as clean the filters every week or so. You may have noticed that some of these models come with extra brushes and filters. That is because these parts should be replaced every few month, depending on usage. With this in mind, we chose models with replacement parts that were not too expensive and readily available.
Ease of Use
As always, ease of use played a big part in our choices. There is no sense in investing in a product that you are not going to use. Each of our picks is simple to set up and control. Most of these vacuums can be controlled from your phone or you can use voice commands through your home Alexa or Google Assist device. Again, the whole point of robotic vacuuming is convenience, so we wanted to choose the models that would be the most convenient for everyday use.
What You Need To Know About Robotic Vacuums
Now that you know the specifications we were looking for in our picks, now let's take a look at what you should consider when you go out to purchase your robotic vacuum.
Your Flooring
The type of flooring you have in your home should be your first consideration. If you have mostly hardwood or tile then you won't need quite as much power as you would if you have a lot of carpeted areas. Deep cleaning carpet requires more suction power, especially if you have thicker carpet. Most robotic vacuums are not recommended for very thick or fluffy carpet, so if you have shag carpet you will want to stick with your manual vacuum.
Your Rooms
The number of rooms you want vacuumed will also impact your decision. Most smaller models are only meant to be used in one room at a time. You can move the vacuum and dock from room to room, of course, but if you have a lot of rooms you may as well invest in a bigger model that can handle multi-room cleaning.
Your Control Options
This is the part of the equation that is completely up to you. How much precision and control are you looking for when it comes to your vacuum? If you just want to turn it on and let it go, you can choose one of the simpler models. The trouble with these is that although they are sufficient for a little extra cleaning, they are not as precise as the models that actually map out your rooms. Since the smaller models do not map out the floorplan, you have to be sure to pick up anything that the vacuum could get stuck on, such as smaller rugs or cords, before vacuuming begins. You will also have to physically block off any areas that you do not want to be vacuumed.
The more complex models can be programmed to clean each room on a schedule or to clean an entire level of your home without interference. These models also come with the ability to have programmed 'Do Not Enter' areas. This means that if you have a spot that you do not want vacuumed, you can program the vacuum to clean around it. This is a very handy feature if you have an area with a lot of wiring, such as around your media center. Or, if you have pets, you can program the vacuum to go around their bedding or food and water dishes.
Bottom Line
A robotic vacuum is a great addition to your cleaning routine because it will help to keep your home cleaner without actually adding any extra work to your cleaning routine. Since robotic vacuums are available in a multitude of models, we have sorted through them to make you a convenient list of quality options. Each of these models has features that make it unique and perfect for different situations.
It's hard to go wrong with any of our top robot vacuum picks, but we recommend the Roborock S6 for their power, run time and overall durability. Compare all of your options before making a final decision, though, to make sure that you're choosing the right model for your circumstances.
Top 3 Best Robot Vacuums of 2021