Single-use plastic is the bane of every earth-friendly person's existence. We all know how damaging it is to the environment, but we can't seem to escape it. The trouble is that it is so convenient, especially when it comes to food storage. Well, the time has come to cut that single-use plastic out of your life! Instead of buying hundreds of disposable food storage bags every year just to throw them out after a single-use, why not switch to earth-friendly reusable ziplock bags?
A single reusable food storage bag can replace over 300 disposable ones, making it not only better for the planet but also better for your wallet. These handy little storage bags have gained a lot of popularity over the last decade or so, which means there are a lot of brands to choose from. To help make your transition to reusable bags a little easier, we have compiled a list of some of the best reusable bags on the market. Go ahead and look them over, then keep reading for some useful tips about how to choose the best reusable ziplock bags for you and your family.
Top 4 Best Reusable Ziplock Bags of 2021
---
Reviews of the Best Reusable Ziplock Bag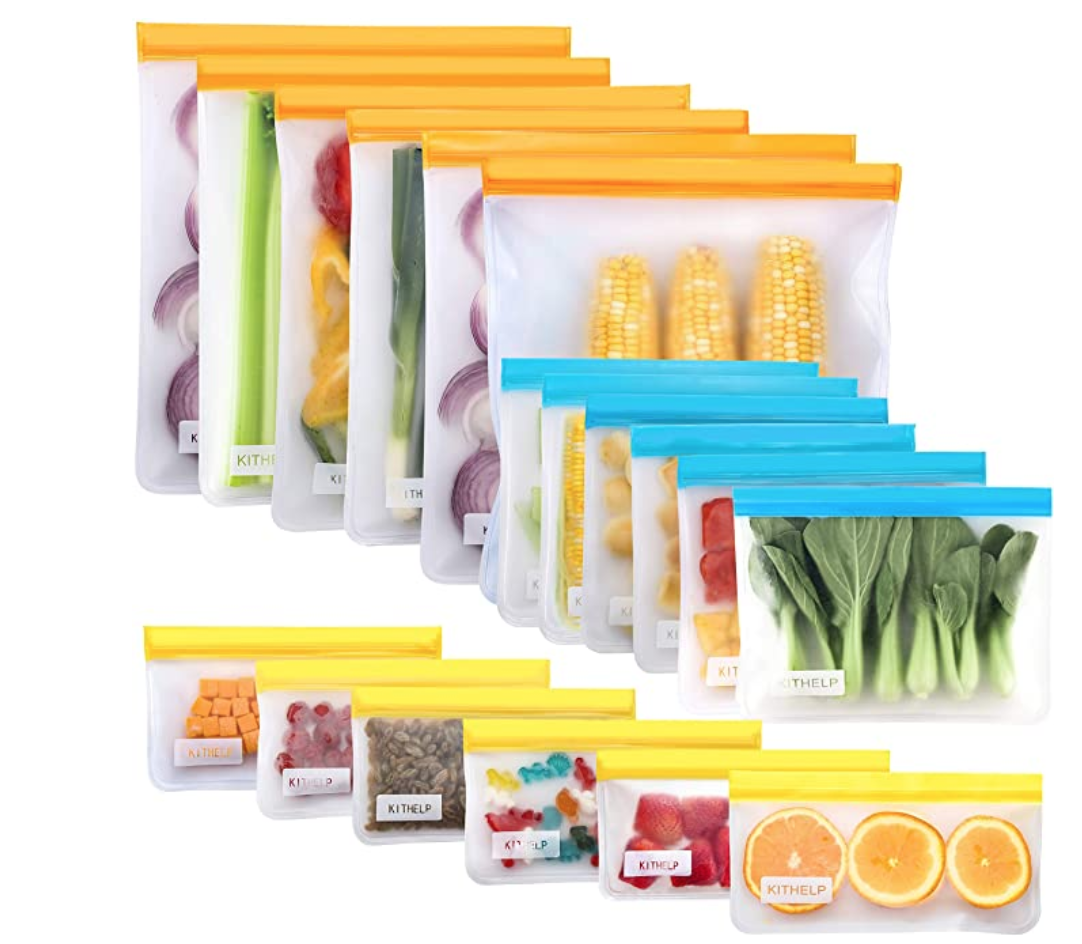 Quick Look: Multipack of PEVA reusable bags. Comes with 18 bags, six each of small, medium, and large. Leak-proof and freezer safe. Non-toxic, made with food-grade recyclable PEVA.
Check Price at Amazon
If you're looking for a budget-friendly way to store all your leftovers and snacks, then look no further than this multipack of reusable bags from KITHELP. These bags are designed to safely store your food in both the fridge and freezer.
Their heavy-duty ziplock seal makes these bags a great choice for traveling. You can use them for everything from granola to makeup. No matter what you store in them, you can rest assured that it is secure and not spilling all over the inside of your luggage.
These bags are not dishwasher or microwave safe, so they are not a good choice for high-temperature situations. That being said, they can be used for all your other food storage needs and they are easy to clean, making them a great addition to any kitchen.
Learn More and Buy Now at Amazon
---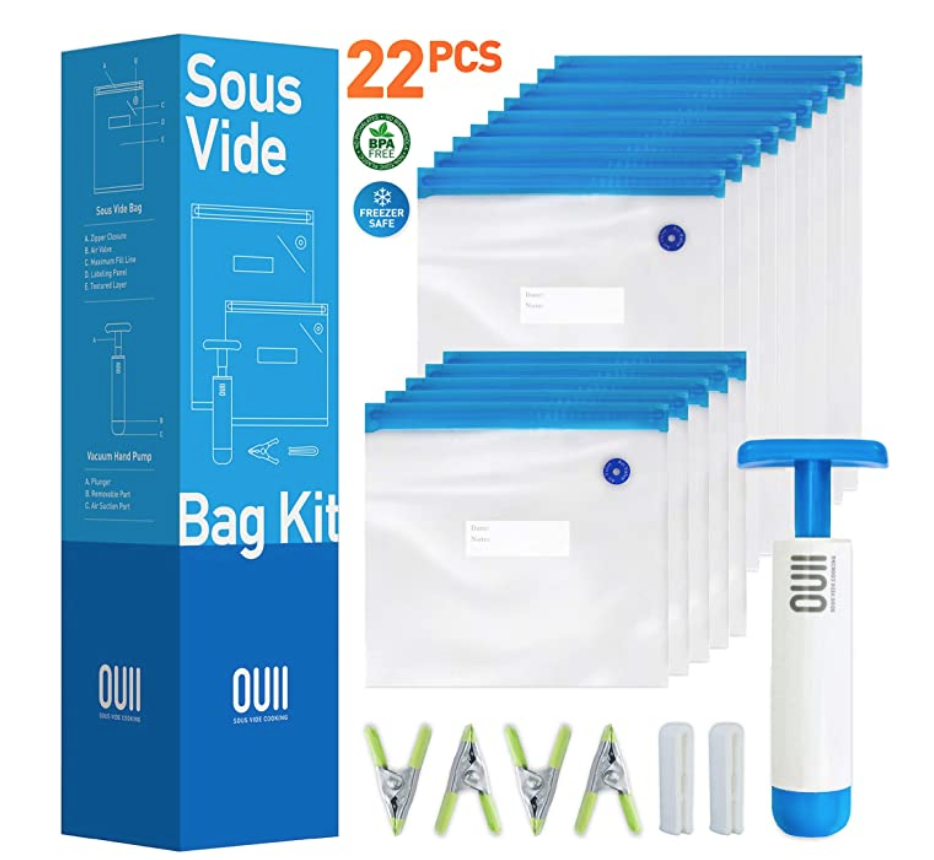 Quick Look: Multipack of nylon/PE reusable bags. Comes with 15 sous vide safe bags, 10 large and 5 medium. Airtight and vacuum-sealable. Comes with handheld vacuum pump, zip clips, and bag clips.
Check Price at Amazon
Whether you enjoy sous vide cooking or just want to enjoy the benefits of vacuum sealing your food, the OUII Vacuum Sealable Food Storage Bags are the reusable bags for you. This set comes with 10 large bags and 5 medium-size bags. They are made of food-grade nylon/PE and are BPA-free for safe long-term food storage.
These bags are specifically designed for sous vide cooking, so they are somewhat heat resistant but only to 185℉. These are not meant for the dishwasher or microwave, but they are perfect for storing food in the freezer.
The airtight, leak-proof design makes these perfect for food prepping. You can use these for everything from fresh fruit to steaks. Simply use the compact handheld vacuum pump to remove all the excess air from the bag and your foods are sure to stay fresher longer.
Learn More and Buy Now at Amazon
---
Quick Look: Multipack of PEVA reusable bags. Comes with 10 quart-size bags with double-zipper seals. Leak-proof, clear design.
Check Price at Amazon
What size ziplock bags do you use the most? For most people, the answer is quart-size. This is the perfect size for sandwiches, trail mix, cheese sticks, and more, so it only makes sense that you need more of this size than any other. Well, thanks to RLAVBL, you can still have your quart-size bags and be earth-friendly at the same time.
This set comes with 10 food-grade PEVA bags with double-zipper seals. They are airtight and leak-proof, making them perfect for camping and backpacking. These heavy-duty bags are designed to keep your food safe and fresh while protecting the rest of your belongings from leaks or spillage.
Their extra tight seal and heavy-duty design also make these bags perfect for freezer storage. These are hand wash only, but still easy to clean with just a little soap and warm water.
Learn More and Buy Now at Amazon
---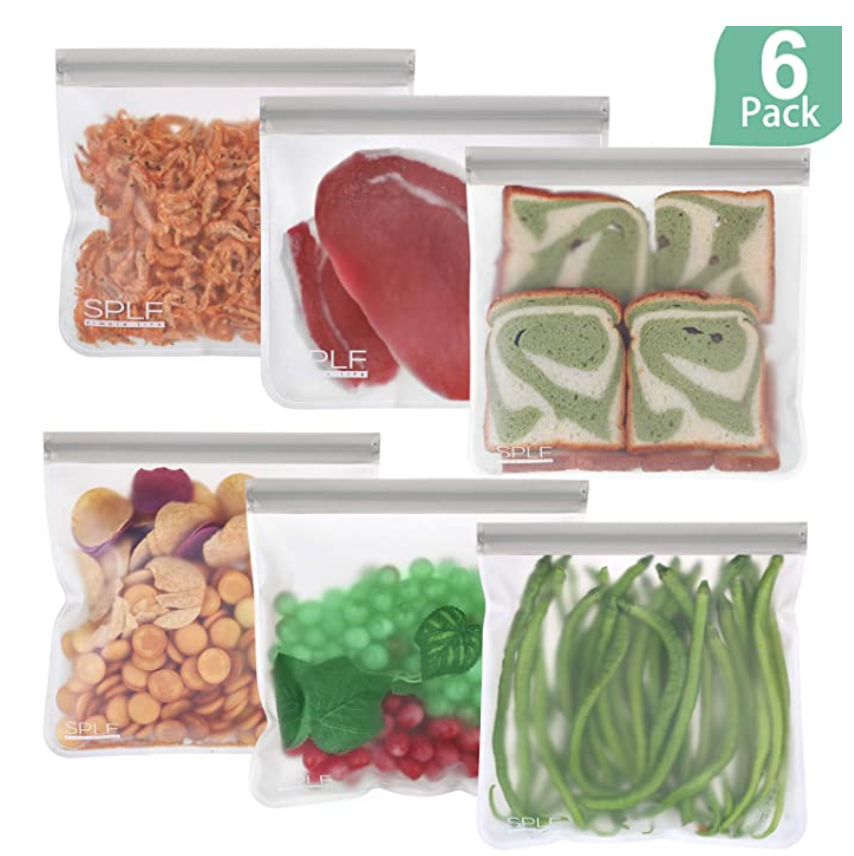 Quick Look: Multipack of PEVA reusable bags. Comes with 6 gallon-size freezer bags. Hand wash only. Free of BPA, lead, PVC, and chloride.
Check Price at Amazon
There are few things more frustrating than going through all the trouble to freeze meals only to find out that they have become freezer burnt. With these gallon-size reusable bags from SPLF, you can know that your frozen foods will stay fresh and be protected from freezer burn.
These chemical-free bags seal tightly with a double-zipper design and are completely leak-proof. You can use them for all your liquid food storage, from applesauce to soup, and never worry about a loss of freshness or leakage. Their clear design makes it easy to keep your freezer tidy and well-organized.
Although these bags are mainly meant for freezer storage, they're also tough enough for your other storage needs. You can use them to pack toiletries for long trips or organize craft supplies. These bags are not heat resistant, so be careful not to put them in the microwave or dishwasher.
Learn More and Buy Now at Amazon
---
How We Chose The Best Reusable Ziplock Bags
Since there are so many brands of reusable bags on the market, choosing the best options was a bit of a challenge. To narrow our search, we chose to focus on two main factors: quality materials and ease of use.
Quality Materials
Choosing bags that are made out of quality materials is an absolute must for two reasons. The most obvious reason is that you want them to last for a long time. The less obvious, but much more important reason, is that you want them to be safe. Many plastics are full of harmful chemicals that can leach into your food and cause serious health problems. With that in mind, we looked for reusable bags that were made out of food-grade materials that are both durable and safe for long term food storage.
Ease Of Use
This is a product that is supposed to make your life easier while helping you go green, so we wanted to highlight brands that could do that to the fullest. All of our picks come with features that make them more useful than the average storage bag such as the ability to be double sealed for sturdy liquid storage or the option to be used as a steamer bag. All of our picks also offer easy maintenance. They are all easy to clean and simple to store, making them even more convenient for everyday use.
What You Need To Know About Reusable Ziplock Bags
Reusable ziplock bags are similar to disposable bags in many ways, but there are few differences. Here are a few things you should know before making your purchase.
Cleanliness Is Next To Healthiness
The biggest difference, of course, is that you have to clean them. That may seem simple enough, but there are a few things you should know before you purchase your first reusable ziplock bags.
Firstly, not all brands are dishwasher safe. This won't be a deal-breaker for some, but for those who are seeking the most convenient option, you will want to make sure they are dishwasher safe before making your purchase.
Secondly, the design of the bag can affect how easy they are to clean. For example, some brands are designed to stand up on their own. This makes it easier to fill them, but it also means more creases on the inside of the bag which means more crevices for food particles to get stuck in. Bags with minimal creases will be easier to clean, thus more convenient for you in the end.
Lastly, whether you wash your storage bags by hand or in the dishwasher, make sure they are fully dry before putting them away to avoid mold and mildew. There are several drying options, but the simplest process is to set a glass or jar on the counter and slip the bag over the top. The glass will hold the bag open, allowing it to dry completely.
Multipurpose
As you may have noticed, some reusable bags are heat-resistant and some are not. If you want to be able to heat food in your reusable bags, then look for silicone bags. These are quite handy, especially if you like to just toss your leftovers in the microwave, but they are quite a bit more expensive than bags made out of other materials. If you're more interested in just using the bags for storage, then you'll probably want to choose bags that are made of PEVA since they're more cost-effective.
Sharing Is Caring
Now that you're switching to reusable bags, what are you supposed to do when you want to share snacks and goodies with your friends or send snacks to school with your kids? You don't want to be handing out your reusable bags and having to worry about whether or not you'll ever see them again. So what do you do? Simple, use paper bags instead. Don't laugh, we're not talking about the giant paper bags from the grocery store or the classic paper sandwich bags. We're talking about sealable snack bags that are easy to use, but also recyclable. With these bags, you can share all the snacks you want without having to worry about whether or not you'll get your reusable bag back.
How to Choose The Best Reusable Ziplock Bags For You
Now that you know all about reusable food storage bags, choosing the best ones for you should be very simple. There are only three main things you have to consider: size, style, and features.
Size
Just like disposable ziplock bags, reusable bags come in all different sizes and can be used for a lot more than just storing snacks or leftovers. You don't want to waste money on something you aren't going to use, so before you make your purchase you should consider what you plan on using the bags for and how often you plan on using them.
For example, do you mainly just use zip-top bags for packing snacks or small leftovers? Or perhaps you like to meal prep using gallon size bags. Simply consider the sizes of the bags you're using now and replace those with reusable ones. That may mean purchasing a full multipack or perhaps just one size. Simply choose the size that best fits your needs.
Style And Features
Now that you've chosen a size, it's time to consider style and features. The best place to start is to consider the types of things you'll be storing in the bags.
For example, if you're a food prepper, you probably store a lot of liquids, such as soups and marinades in ziplock bags. In that case, you will want to choose a style that has a sturdy zipper meant specifically for liquids. You will also want to choose this style if you're planning on using these bags to store food on hiking trips or packing items in your luggage for long trips.
For those of you who use zip-top bags more for solid leftovers and snacks at home, you may want to choose bags more like the RLAVBL bags on our list. These still have tough seals, but they're easier to get into.
Last, but not least, remember to look for silicone if you want heat-resistant bags. Although most reusable bags are meant for freezer use, not all are meant to be used in the microwave or dishwasher, so be sure to read the fine print before making your purchase.
Bottom Line
Every time we choose a reusable option over a disposable option we're taking one more step toward protecting our environment and saving the planet from toxic plastic waste. One of the changes that you can make today is switching to reusable food storage bags. Many of us have become accustomed to the convenience of disposable bags, but we can now make the change without sacrificing that convenience.
Choosing the best reusable bags for you is as simple as considering the types of disposable bags you're using right now. Whether you only use a few snack-size bags each month or you're addicted to food prepping with gallon-sized bags, there is a reusable option for you. Reusable ziplock bags are designed to help us store food in a simple way that is better for us and better for the environment, so why not make the switch? We hope you've found this information helpful and that it has encouraged you to ditch the disposable ziplock bags for good.
Top 4 Best Reusable Ziplock Bags of 2021