The best portable solar chargers give you the freedom to take your electronic devices into the great outdoors without fear of dead batteries. Solar panel technology has improved, but there are still considerable differences in the quality of portable solar chargers on the market today.
We found four portable solar chargers worth recommending for different applications based on features, quality and customer reviews. You can check them out by clicking on the links below or keep reading to see our full reviews of our top five portable solar chargers.
Top 4 Best Portable Solar Chargers for 2021
---
Portable Solar Charger Reviews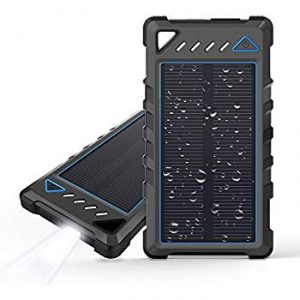 The BEARTWO Solar Charger is popular with hikers and backpackers due to its compact size and light weight. At just 7.4 ounces, it's one of the lightest portable solar chargers on the market and this is essential when you're trying to minimize the weight you're carrying. The solar panel is built right into the side of the device, so there's no folding or unfolding required. The sturdy plastic housing is water- and dustproof and it contains rubber layers to help it better absorb shocks when it falls, so you don't have to worry about durability with this device.
The manufacturer doesn't publish information about the energy efficiency of the solar panels, but it does say it'll take approximately four to five hours to fully charge the solar charger's battery. It also doubles as a power bank and you can charge it via a wall outlet before you leave home. A single charge has enough power to charge a smartphone about four times, so that should be enough for all but the longest hikes.
Users appreciate the device's compact size and the included hook to attach it to a bag or clothing for hands-free carrying. The charger's built-in three-mode flashlight is also a nice touch for those who'd like to eliminate one extra thing from their pack. However, using the flashlight will also run down the solar charger's battery, so you may still want a separate flashlight if you want to keep the solar charger exclusively for charging.
Learn More & Buy Now at Amazon
---
The Anker 21W Dual USB Solar Charger comfortably charges two smartphones or tablets at the same time. It's similar in design to our top pick with a flat panel design and a storage pouch for carrying your devices while they charge. The solar panels are sewn into a durable polyester fabric that resists tearing and water while remaining flexible enough to fold up for compact storage. It contains loops you can use to attach the solar charger to a bag or, if you're camping, secure it somewhere where it'll get full sun.
The solar panels are similar to those of the RAVPower Solar Charger and are 21.5% to 23.5% efficient. While the wattage is slightly lower than the RAVPower charger, it shouldn't significantly impact your experience with the charger. Several users have commented that they took the Anker Solar Charger on week-long camping trips and it kept their devices powered the entire time.
The ability to attach the solar panel to a backpack makes it an ideal choice for camping trips where you plan to do a bit of hiking or where you plan to hike into the campsite because you can use it the entire time with no special setup required. When you arrive at the campsite, you just place the solar panel in an area of full sun and use it as necessary.
Learn More & Buy Now at Amazon
---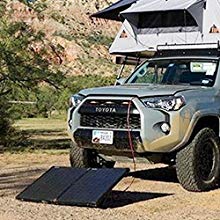 The Renogy 100W Portable Solar Charger is prohibitively large and heavy to use for hiking or backpacking, but it's ideal for RV campers and those who need a powerful solar charger to power larger devices. You can't actually plug phones, tablets or computers directly into the solar charger. Instead, you attach your RV's 12-volt battery to the solar charger. Then, when this is fully charged, the RV will be able to draw upon that stored electricity to power your devices.
The solar panels are large and provide an impressive 100 watts of power, which is significantly more than most portable solar chargers. The frame is made of corrosion-resistant aluminum and has an adjustable kickstand so you can position the solar panels to catch the most sun. Store it in its sturdy canvas case so you can protect the panels from damage when you're not using it. There's also a built-in controller which helps you monitor the charger's amperage, current and other key details, which is a rare feature among portable solar chargers.
This charger is significantly more expensive than the others listed here, so it's not the best option if you're on a budget or if you use your RV infrequently. But if you camp or travel in your RV often, this could save you a lot of time and hassle because you'll be able to charge your RV battery wherever you go.
Learn More & Buy Now at Amazon
---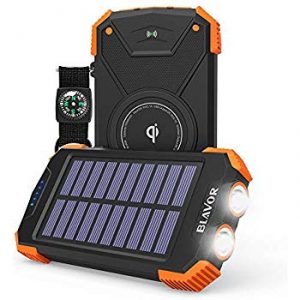 The BLAVOR Solar Power Bank and Charger stood out from the rest because, unlike most portable solar chargers, it can charge more than USB devices. It has one USB, one Type-C and one Micro USB port so it can charge a variety of devices without the need for adapters. There's also a wireless charging pad on the back. This makes the BLAVOR charger a popular choice for groups who need to charge multiple devices at the same time. However, if you charge too many devices at once, you'll deplete the battery more quickly. Because it's also a power bank, you can charge the device at home before you head outdoors so you already have some power saved up before you go.
The compact device fits easily in the palm of your hand and it has a clip so you can attach it to a bag or clothing if you don't want to carry it. The rugged plastic case can easily withstand drops and the elements without damage, and outdoor enthusiasts will also appreciate the built-in two-mode flashlight and compass. The unit is also dustproof and contains covers for the charge ports when they're not in use to prevent debris from clogging them.
Users love the versatility of this portable solar charger and power bank and are impressed by how quickly it can charge devices and how long the power bank itself can hold a charge. Its extra features make it a great choice for camping or hiking, but you can use the solar charger anywhere and even on cloudy days, assuming the power bank is charged.
Learn More & Buy Now at Amazon
---
How We Chose the Best Portable Solar Chargers
We selected the best portable solar chargers by evaluating their durability, efficiency, the number and type of devices charged, and the size and weight of the charger.
Durability
Solar chargers are meant to be used outdoors and they're often taken on camping or hiking trips where they could be exposed to all kinds of elements from rain to high winds to excessive heat. A good portable solar charger must be able to withstand all of them without tearing, wearing out or losing efficiency.
It should have a sturdy outer housing, whether durable fabric or plastic, and the best portable solar chargers are water-resistant or waterproof as well to prevent water from seeping in and damaging the internal components. The charger should also be able to withstand falls, and if it has clips to secure it to a backpack, you need to pay attention to the sturdiness of these as well.
Efficiency
A good portable solar charger is about 20% to 25% efficient at converting the sun's rays into electricity. The manufacturer often publishes this information, and it's important to pay attention to. A more efficient solar panel requires less sunlight in order to charge devices completely.
Some solar panels with multiple charge ports have built-in chips that help optimize the distribution of electric current to each port based on which devices are plugged into them. This can speed the pace at which your devices charge. You probably won't find details on exactly how long it'll take to charge your device with the portable solar charger because there are several factors that play into this, including your device's battery capacity and the wattage of your solar charger. But in most cases, portable solar chargers can charge cell phones in an hour or two.
Number and Type of Devices Charged
Most portable solar chargers these days can charge two devices at a time, and there are some that can do three. USB ports are the most common and versatile port for solar chargers, but some chargers offer Micro USB, Type-C or other types of ports so you can charge a variety of devices without using an adapter.
Think about which types of devices you plan to charge with the portable solar charger and let this guide your decision-making. If you cannot find a charger that appeals to you and offers the ports you need, you may need to purchase an adapter in order to use the solar charger.
Size and Weight
The size and weight of the solar charger is mostly an issue for campers, hikers and backpackers where space and weight are at a premium. Some solar chargers come in compact bricks while others are large sheets that you can fold up when you're not using them. Manufacturers usually list their chargers' size and weight online so you can quickly determine which is right for your needs.
For some, like RV campers, size and weight may not be an issue. In that case, a larger, more powerful solar charger may be a better fit than the more compact models used for hiking and camping.
What You Need to Know About Portable Solar Chargers
Here are some tips to keep in mind so you can select the best solar charger for you.
The wattage of your devices affects the solar charger you need.
You want to make sure the portable solar charger you choose has enough wattage to power the devices you need charged. Smartphones typically need about 5 watts each. Tablets may need 10 to 15 watts while laptops may need 25 watts or more. If you intend to charge multiple devices at the same time, you'll need to add the devices' combined wattages.
You should also add a little extra to that total. The solar panel may not always be in full sun or it may be a partly cloudy day where it can't function optimally, so by choosing a solar charger that's a little more powerful, you can still charge all of your devices even when weather conditions are less than ideal.
Different portable solar chargers are better for different applications.
Many portable solar chargers are versatile enough to be used in multiple settings, but some work better for certain applications than others. Backpackers, for example, need to focus on finding a compact, lightweight solar charger that won't weigh them down too much. They may also appreciate a solar charger that also doubles as a flashlight so they can eliminate one item from their gear.
Families who intend to take the solar charger on a camping trip may not have the same space constraints, but they may need a solar charger that has more charge ports to accommodate more devices at the same time. Consider how you plan to use the portable solar charger and let this guide your decision.
You may want a backup power source, just in case.
Portable solar chargers need sunlight in order to work properly, and sometimes Mother Nature doesn't want to cooperate. If the weather is looking cloudy or you know you'll be in a shady area where the charger may not get much sun, consider bringing a backup power bank to help charge your devices.
Some portable solar chargers, including the BLAVOR and BEARTWO chargers mentioned above, also double as a power bank, so you can charge them before you go anywhere and then draw upon that power later whether or not there's sun.
The Bottom Line
The right portable charger for you depends on how you intend to use the charger and what devices need charging. In any case, you should consider the charger's durability, efficiency and size as these have a significant impact on its performance.
Compare the Best Portable Solar Chargers for 2021