Many people falsely assume that going green and using earth-friendly products means that you have to give up the things you love like quality hair care products. Thankfully, that is not true. There are many great natural products that are safe for the planet and good for your hair. You may be picturing bowls of baking soda or bottles of vinegar, but that is not what we're going to discuss today. We're talking about high-quality shampoos that you can use all the time without having to turn your kitchen into a hair laboratory.
One of the best things about switching to a natural shampoo is that not only will you be helping the environment, but you will be helping yourself as well. Many hair care products, including some of the high-end salon brands, contain a myriad of dangerous chemicals that can harm both your health and your hair. That is why we decided to do a little research and create a list of the top five best natural shampoos of 2021. These are high-quality products that you can feel good about using.
Top 5 Best Natural Shampoos of 2021
---
Reviews of the Best Natural Shampoos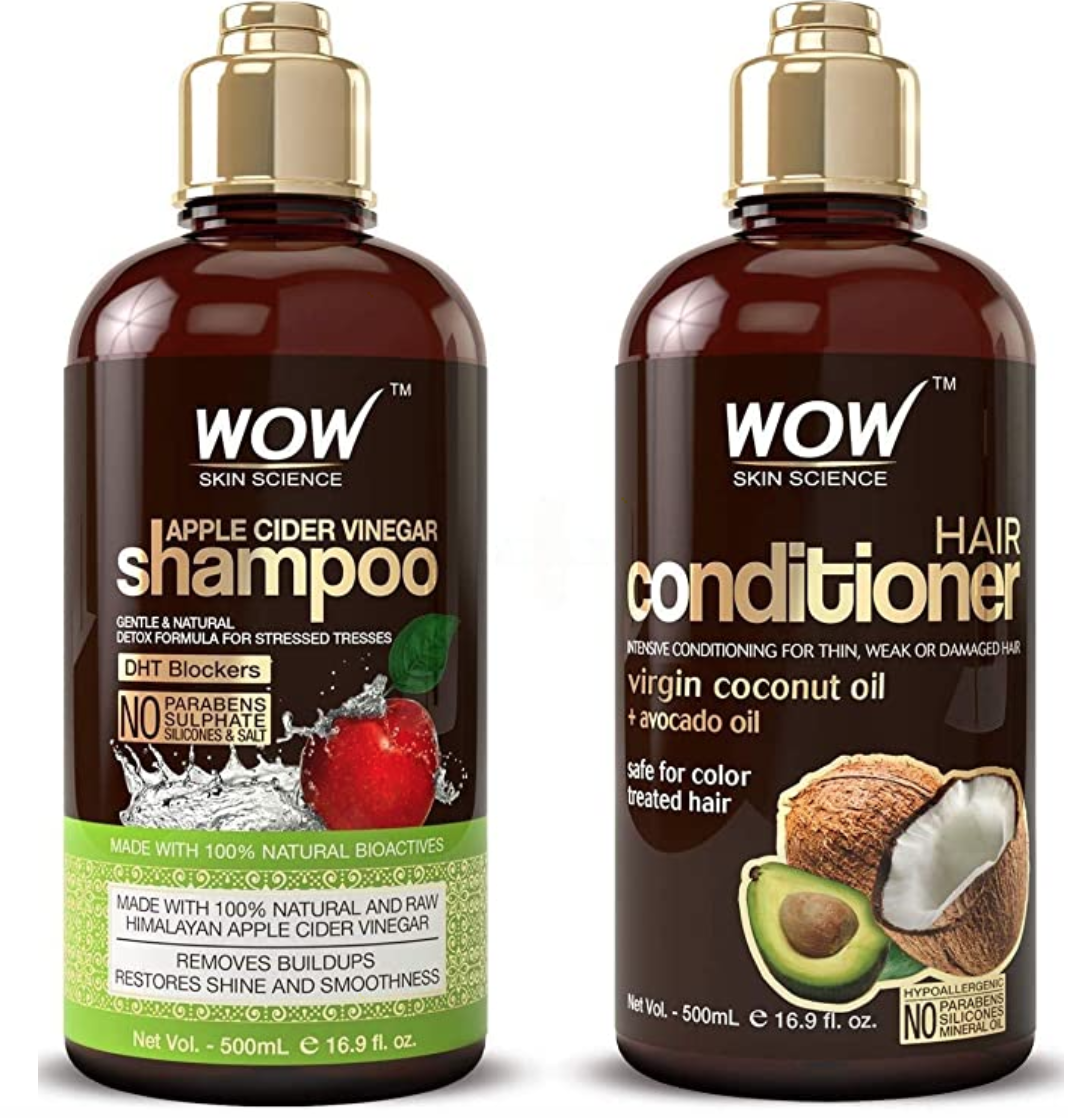 Quick Look: Natural shampoo and conditioner set for all hair types and genders. Apple cider vinegar based shampoo with avocado and coconut conditioner. Free of parabens, sulfates, silicons, and salts. Hypoallergenic and cruelty-free.
Check Price at Amazon
Anyone who has had hair troubles knows that finding a good shampoo can be extremely difficult. There are so many options to choose from nowadays that it can be overwhelming. Well, set aside your stress because there is an option that is both non-toxic and designed to work for everyone.
This apple cider based shampoo from WOW Skin Science is made from organic ingredients. It is designed to gently cleanse your hair of all unwanted residue without stripping away healthy natural oils. This formula is full of vitamins and minerals that will strengthen hair and encourage healthy new growth.
WOW shampoo is designed to clarify and repair your hair by balancing the pH of your scalp. A healthier scalp means less hair loss, fewer split ends, and richer, shinier hair. Best of all, this shampoo is meant for all hair types, so you don't have to buy different shampoo for every member of the family. Unless you don't want to share, in which case, carry on.
Learn More and Buy Now at Amazon
---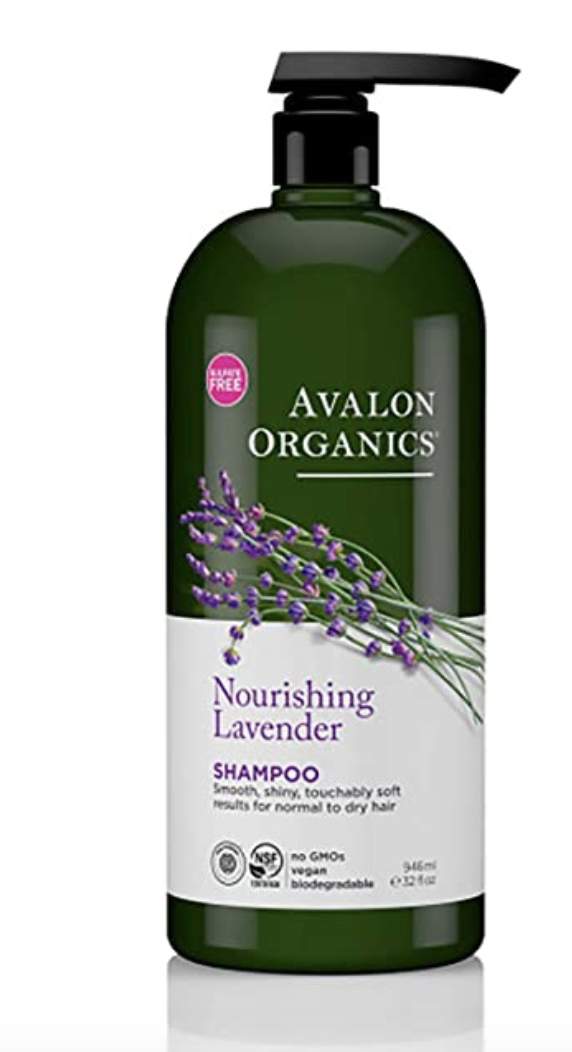 Quick Look: Organic lavender shampoo for dry to normal hair. Made from botanical ingredients and essential oils. Non-toxic. Free of parabens, sulfates, phthalates, harsh preservatives, and synthetic colors/scents. Vegan and cruelty-free..
Check Price at Amazon
One unfortunate side effect of natural products becoming more popular is that with popularity, you usually get higher prices. Thankfully, there are still companies like Avalon Organics that produce quality natural hair products at a price that is accessible to everyone.
This gentle cleansing shampoo is perfect for anyone who likes simplistic products that they can trust. This shampoo is certified organic, meaning that it is made from quality botanical ingredients such as citrus peels, aloe, lavender essential oil, and quinoa protein.
These ingredients work together to cleanse your hair without damaging it. This is a good choice for those who have normal to dry hair. The essential oils work to protect and nourish each hair, leaving your hair light and moisturized.
Learn More and Buy Now at Amazon
---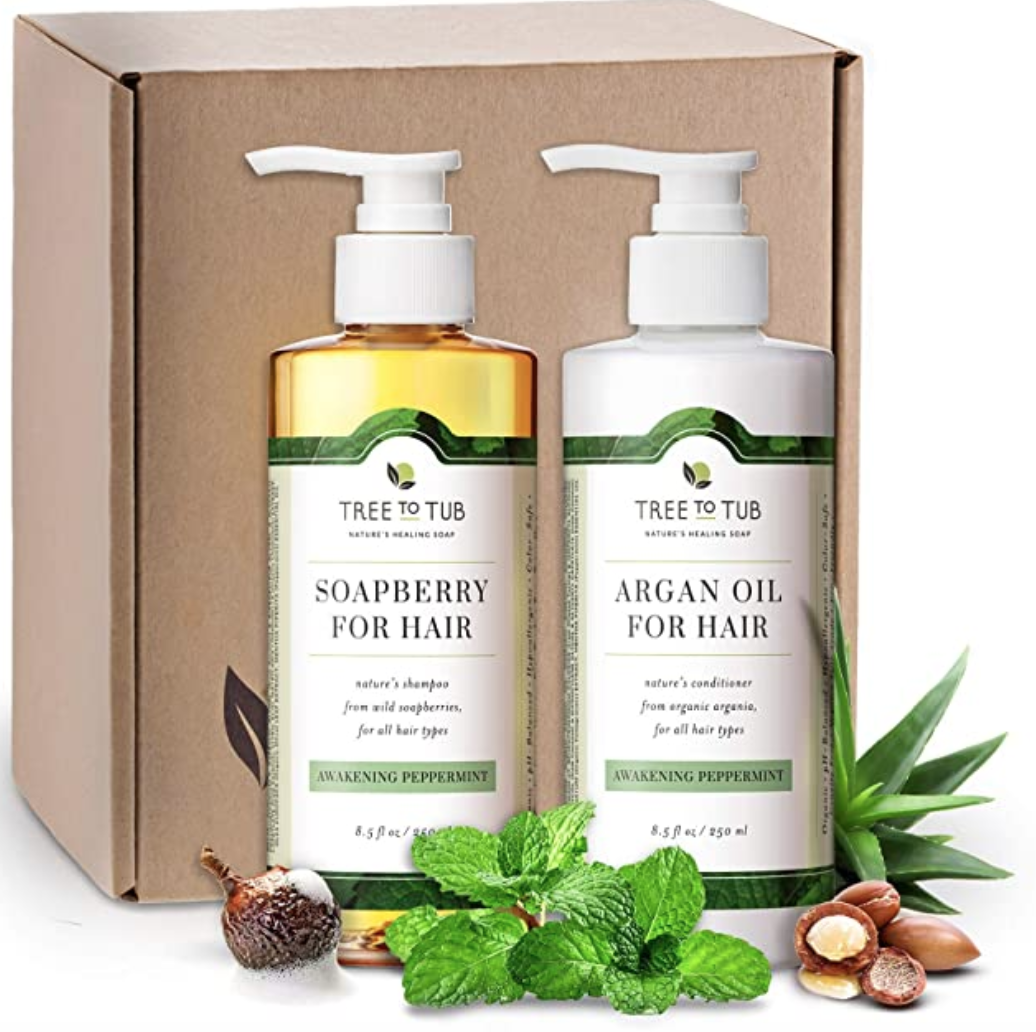 Quick Look: Peppermint soapberry shampoo and Argan oil conditioner. Non-toxic. Free of sulfates, parabens, silicone, and artificial colors. Free of common irritants. Vegan. Cruelty-free. Good for all hair types and genders.
Check Price at Amazon
Achieving the right pH balance is a vital part of restoring your hair's natural beauty. This natural shampoo from Tree To Tub is made out of organic botanicals specifically chosen to help balance the pH of your scalp. With ingredients like Argan oil, biotin, coconut oil, and fresh peppermint, this formula is designed to nourish and brighten your hair.
Is there anything more refreshing than a bit of peppermint? Not only can it freshen your breath, but it can also liven up your hair. The peppermint helps to cleanse and stimulate the hair follicles to encourage healthy new growth. This shampoo also contains caffeine, another stimulating element that will give your scalp the energy boost it needs to grow healthier hair.
The main benefit of this shampoo is that it is designed for sensitive skin. Since it is free from all common irritants, this is the perfect choice for those with sensitive skin. It is safe for those with eczema, psoriasis, scalp acne, and dandruff.
Learn More and Buy Now at Amazon
---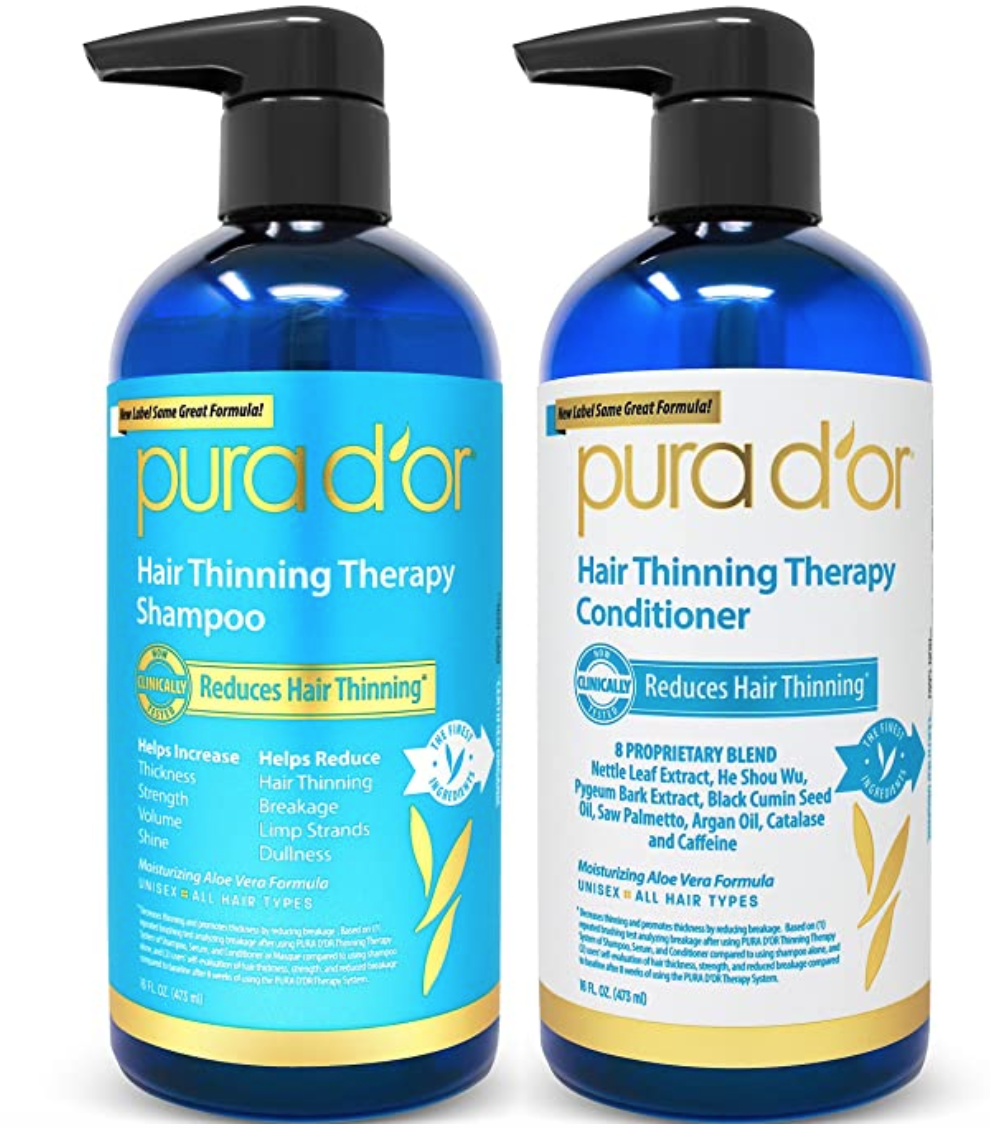 Quick Look: Natural shampoo and conditioner for thinning hair. Non-toxic. Free of phthalates, parabens, mineral oil, and all other common irritants. Cruelty-free and vegan. Hypo-allergenic. Good for all genders.
Check Price at Amazon
Thinning hair can be caused by several things, including age. Growing older should not mean that you can't have strong and healthy hair. With this thinning therapy formula from Pura D'or, you can expect to see a decrease in thinning and an increase in smooth healthy hair.
This formula has 15 key ingredients including caffeine, saw palmetto, catalase, argan oil, and more. All of these ingredients combine to create the perfect shampoo for damaged brittle hair that needs a boost. Not only will this shampoo cleanse and repair your thinning hair, but it will also nourish it. Well-nourished hair is thicker, stronger, and more manageable.
Not only is this product good for your hair, but it's eco-friendly as well. It is hypo-allergenic, free of all harsh chemicals, and it is manufactured using environmentally responsible techniques. It is also vegan and cruelty-free, making it a feel-good product from start to finish.
Learn More and Buy Now at Amazon
---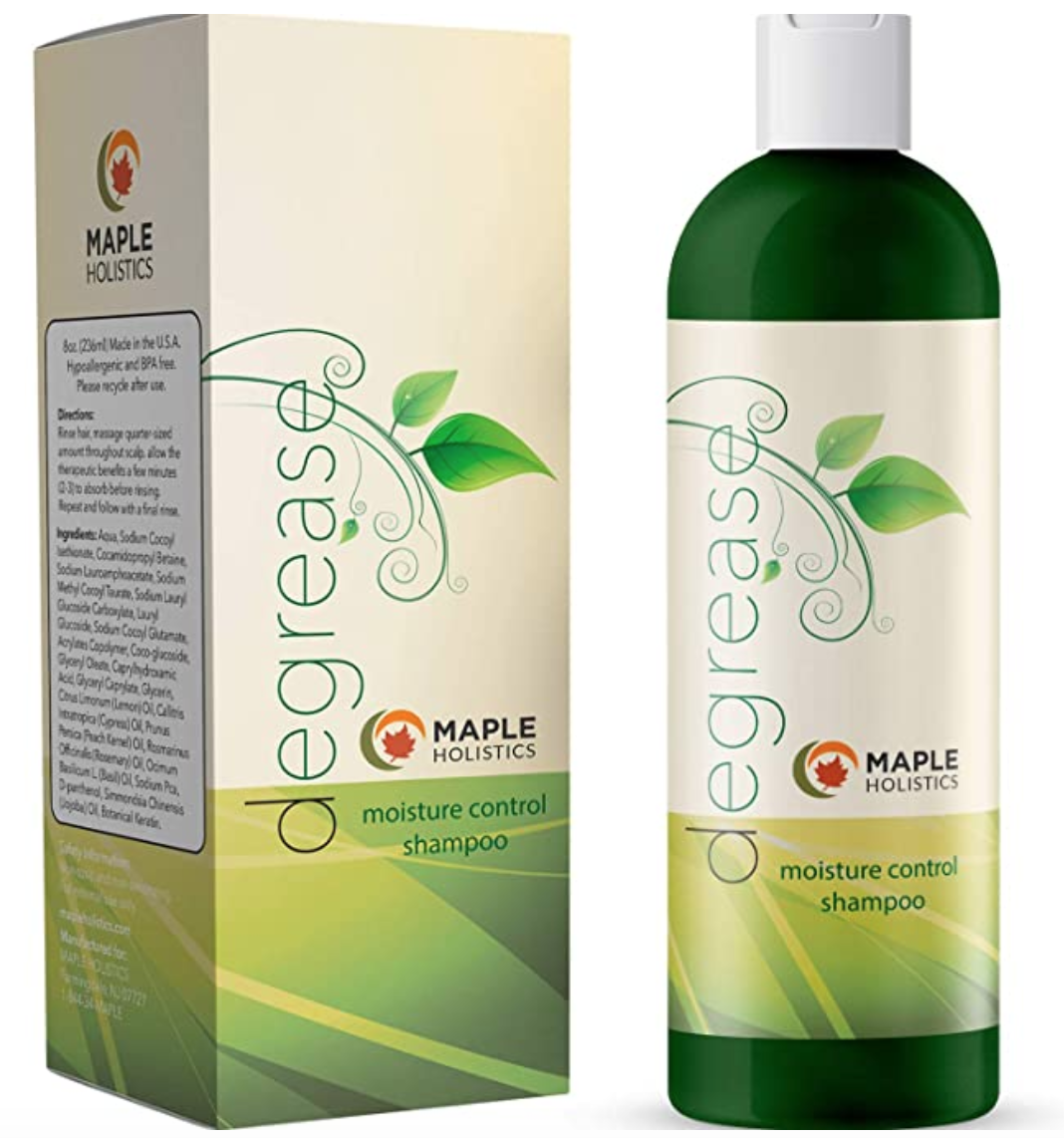 Quick Look: Jojoba and rosemary formula for oily hair. Non-toxic. Free of parabens, sulfates, and other common irritants. Safe for sensitive skin. Cruelty-free. Good for all genders.
Check Price at Amazon
Many people with oily hair struggle to find a quality natural shampoo that is capable of removing oily build-up. Many of the harsher shampoos that are capable of remove oil are actually too harsh. They often remove all of the natural oils from your hair which causes your scalp to overcompensate and produce even more oil.
Stop that oily cycle by switching to this natural degreasing shampoo from Maple Holistics. This shampoo uses natural ingredients to safely remove oil without stripping or damaging your hair. These ingredients also add natural oils back into your hair to nourish and protect it, creating a healthy balance.
This clarifying shampoo can help with hair thinning or loss as well as dandruff. The cleansing and uplifting jojoba and rosemary work to gently increase scalp circulation and stimulate the hair follicles. This results in stronger, healthier hair that is no longer oily.
Learn More and Buy Now at Amazon
---
How We Chose The Best Natural Shampoos
There are thousands of quality natural shampoos to choose from. You can find everything from expensive boutique formulas to drug store options, so how did we choose from so many? We chose to focus on a few simple criteria such as quality ingredients, quality manufacturing, and reasonable prices.
Quality Ingredients
As you would probably imagine, quality ingredients are the most important factor when it comes to choosing a natural shampoo. Just because they put "natural" on the label doesn't mean that the product is actually made from quality materials, so we kept a close eye on the ingredient lists. We looked for truly natural and organic materials such as aloe and essential oils. We also looked for non-toxic formulas that were safe for all skin types.
Quality Manufacturing
Everyone interested in protecting the environment knows that just because a product is called "natural" does not mean that it is made in an environmentally conscious way. With that in mind, we looked for companies that had higher manufacturing standards. Things like BPA-free packaging, eco-friendly production, and cruelty-free testing are all signs of a company that is doing more than just jumping on the natural product trend. These are companies that are working toward making better products in a better way.
All of the products on our list are non-toxic and free of all the harsh chemicals commonly found in commercial shampoos. This makes them a better choice for you, your home, and your planet.
Reasonable Pricing
Speaking of the natural product trend, let's talk about pricing. As we mentioned earlier, reasonably priced natural products can sometimes be hard to find, but it isn't impossible. Although a few of our picks may be a little outside of the budget for some, most of them are priced significantly lower than salon prices. Everyone deserves to have healthy hair, no matter what their budget, so we wanted there to be something for everyone.
What You Need To Know About Natural Shampoo
Any amount of research about natural hair care will reveal a massive amount of information and advice, some good and some bad. Opinions vary wildly, but there are a few simple things that most professionals agree on when it comes to purchasing a quality shampoo.
The Fine Print
The very first thing that you need to do is learn to read the fine print. The words 'natural' and 'organic' are not protected terms in the hair care industry. Companies are allowed to have names that imply eco-friendly or natural even if their products are not. They can also use terms like 'organic formula' when in fact only one item on the ingredient list is organic. For this reason, it is a good idea to get into the habit of reading the ingredient list before purchasing a new product, no matter how compelling the front of the label is.
What To Look For
Okay, so now you're reading labels, but what should you be looking for? Well, some of the most obvious harsh chemicals that you should avoid are sulfates, silicones, phthalates, and parabens. If you have extra dry or brittle hair, you should also avoid all alcohol products. Names like dimethicone, sodium chloride (salt), triclosan, quaternium-15 (formaldehyde), and diethanolamine are good ones to watch out for. Sadly, the list of dangerous chemicals often found in hair products is very long.
Every store-bought shampoo is going to have some chemicals in it, but not all chemicals are bad. Rather than trying to memorize all those long chemical names, you're better off doing a process of elimination. Look for a product that has mostly recognizable ingredients such as water, aloe, almond oil, and so on. Then look up any of the ingredients that you don't recognize to see what they are and why they're in your shampoo. This way you can just spend a few minutes doing research rather than hours and hours of memorizing chemicals and then pouring over ingredient lists.
Expert Tip: Read the ingredients on both your shampoo and your conditioner, even if they are sold as a set. Just because one is free of harmful ingredients does not mean the other is. Particularly look for silicones in conditioners. Oftentimes, companies will proudly display their "silicone-free" shampoo right next to its matching conditioner that is full of silicones.
When To Wash
Natural hair care is more than just choosing the right shampoo, it's also about how you use it. Some people say you should only wash your hair once a week or once every other week. Some people swear by "co-washing" or cleansing their hair with just conditioner. Some people even say that you shouldn't wash your hair at all. Well, here is what dermatologists and hair care specialists say: Do what works for you and your hair.
That may not have been the answer you were hoping for, but there isn't a single method that will work for everyone. It depends on your hair type and your body chemistry. The best way to know what will work for you is a bit of research and some experimenting. Ask your stylist or look for a stylist with hair similar to yours and see what they would recommend. From there, you'll have to design your routine that fits your style and hair type.
How to Choose The Best Natural Shampoo For You
Since every person is different, finding the best natural shampoo for you may take a little trial and error, but here are a few tips that can help.
Learn Your Hair Type
Understanding your hair type is a key ingredient involved in achieving healthy hair. Your hair type determines the types of hair products you should use as well as how you should care for your hair. If you don't already know your hair type, it's time for some research. Learning your hair type only takes a few moments. You can either ask your stylist or watch some of the helpful tutorials available online. Once you know your hair type, you can begin to gain a better understanding of what you need to do to develop a healthy hair routine.
Research Time
Knowing your hair type will also help you to discover the type of products you should be using. Do not be intimidated, this will not require a degree in chemical engineering. Thanks to the popularity of online product reviews, chances are pretty good that there is someone out there with hair similar to yours who has already done their research and has shared their experience. Looking into the experiences of others will give you a general idea of the types of products you should try. You may still have to try a few before you settle on the one you like best, but the experiments will be worth it.
Bottom Line
Choosing a natural shampoo can affect so much more than just how shiny your hair is. Many of the ingredients in chemical-based shampoos have been found to cause health problems ranging from dry scalp and irritation to cancer and hormone imbalances. These chemicals are simply not good for you and they're not good for the environment. Switching to a natural shampoo will help you to feel better about your hair as well as feel better about your environmental impact.
Top 5 Best Natural Shampoos of 2021